A yard full of flowers,Green Pergola  is indispensable.Plant climbing plants on the column feet,
Next spring Green leaves and flowers wrapped around a Pergola in a courtyard would be a
different scene.The pergola  should be built in a sunny position.It can be designed as a work
of art,Because the ornamental effect of grape pergola still should combine the design of courtyard.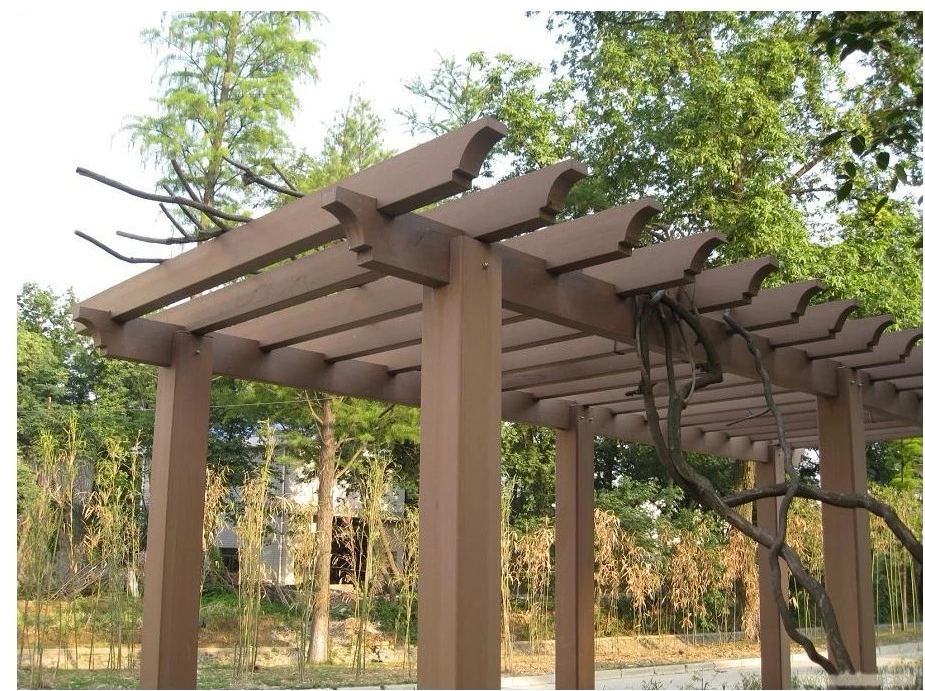 Plastic wood outdoor materials are more and more used in garden engineering, including the
plastic wood Pergola and plastic wood pavilion ,etc.It solved the problem of dull color on the
surface of  wood,The plastic wood profile surface has rich color simulation wood grain effect,
Change the single effect of metal surface,With a natural noble and gorgeous appearance of
wood grain in front of the world,Thus enhanced the decoration effect.
Plastic wood Pergola  has Features of high strength,Easy to process and install.Basically
maintained the original advantage of plastic,At the same time, it has a noble and elegant
appearance of wood,The surface of plastic wood profile is smooth and can with natural
wood grain,Solved the vexation that lumber needs to paint in construction,Can raise
construction speed.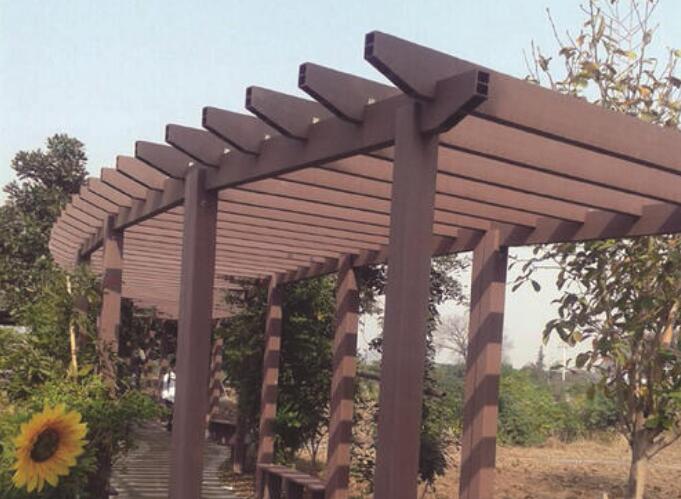 WPC  materials in the process of use,Having the characteristic of being resistant to
acid-base corrosion,At the same time, it has the characteristics of water-proof, sun-proof and
flame retardant.Plastic wood has been recognized by more and more landscape designers.
With the continuous improvement of spraying and transfer process,At present, plastic wood
has achieved the effect of solid wood from visual and hand feeling,It has both natural texture
and feel of wood, and has excellent characteristics of wood preservative and weather resistance.
The appearance advantage:plastic wood material appearance is exquisite,The wood
grain pattern is rich,The imitation wood effect is true to life,non-fading,Has a good visual
effect.pollution-free,Can satisfy people's original ecology, imitate nature, return to nature,
human and nature harmonious unity of all kinds of needs and expectations.
Plastic wood has strong applicability,Suitable for indoor and outdoor occasions,
It doesn't fade,Its anticorrosive weather-resistant coating adhesion and strength of materials,
other materials can not compare.It is the building decoration profile products in the strongest
application of the profile.With the natural appearance of wood texture,Better than the size
stability of wood, no timber nock, no crack warping deformation, products can be made into
a variety of colors, the surface without second paint can be long new color.
Performance advantage: high strength, good hardness ,Prevent slippery, wear-resisting,
no crack ,Don't eat by moth, small water imbibition, ageing resistance, corrosion resistance,
Antistatic and ultraviolet ,flame retardant, can resistance to high temperature  75 degree
and – 40 degree low temperature ,does not contain toxic substances,  formaldehyde-free
benzene and other harmful material release, not cause air pollution and environmental pollution.
If you are interested in WPC Pergola, Pls send email to nick@hanmingwpc.com 
Published on: Oct 20, 2018 12:18