BPC/WPC decking is made from composite materials which are a combination of recycled Bamboo/wood fibres and PE OR PVC.
The first form of bamboo plastic composites or wood plastic composite was introduced into the decking market in the early 1990s. Since then, manufacturers, suppliers, architects as well as the end users have referred to BPC or WPCs as the more environmentally-friendly and easier to maintain counterpart of natural wood decking or solid wood decking that are treated with preservatives.
Although Bamboo/Wood Plastic Composites Decking are typically synthetic, they offer more advantages than natural wooden decks mainly because of the following reasons:
BPC/WPC Decking do not corrode

BPC/WPC Decking are highly resistant to rot and decay

BPC/WPC Decking have better workability and can be molded into naturally looking wood timber decks with real looking wood grains

BPC/WPC Decking are considered sustainable building materials as they are made from recycled plastics and waste products of the wood industry

BPC/WPC Decking have great durability and stability

BPC/WPC Decking are safe for use because they so not splinter or crack unlike traditional timber deck
Wood/Bamboo Plastic Composites are not only used in decking flooring. Due to their huge popularity in the sustainable building materials category, a lot of building professionals are using WPC/BPC for railings, fencing, landscaping timbers, mouldings and trims, as well as indoor furniture.
In Many countries , the most widely  usage of Wood/Bamboo Plastic Composites is for outdoor decking , owing to the rise of condominium properties with most requiring pool decking and more high-end units having their own balconies. While having a balcony extends a household's living space, most homeowners are practically choosing balcony units because it increases their property's real estate value.
While there a lot of WPC/BPC Decking suppliers in China, Changxing Hanming Technology Co.,LTD only provide high quality WPC Products.
if you are interested in WPC or BPC Products, Pls mail to Nick@hanmingwpc.com 
                                         WPC COMPOSITE DECKING PROJECTS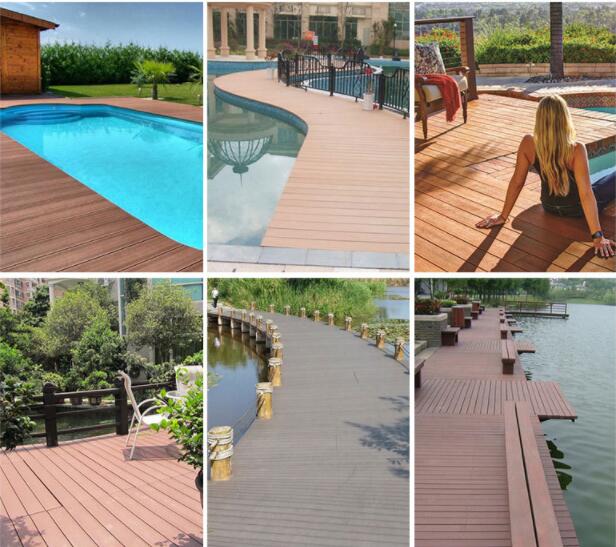 BPC floor is light and easy to install, it can be directly paved on the original floor without compressing the space, so it is very suitable in the reconstruction of the old building. And ceramic tile is very heavy, installation is more difficult, and after installation is very difficult to remove, can not be reused.

Advantages of BPC Material From china.
It will not be out of shape after a long testing of 10 years and there is no crack under the test temperature between -40°c to 60°c

Material Safety
Low flame spread / High slip resistance / No sting of wood / Contains no toxic chemicals or preservatives / Environmental friendly / Can be recycled with 100%

High Strength
Outstanding screw and nail retention / High impact resistance / Great Compressive-tensile-shear strength / Modulus of elasticity: 20% greater than PVC

Good appearance & nice touch
Natural feel & wood touch / Broad range of finishes and appearance, Multicolor, and needn't to painting

Longevity
Its lifespan at least 10-15 years in the outdoor weather condition

Install & Maintain easily
Easy to produce and easily fabricate / Easy to cut, fix and glue; Easy to tenon, drill and nail / Require less routine maintenance / No need staining & water Sealant