Best wpc outdoor flooring for sales | Exterior WPC Flooring
Price: 14usd/sqm-19usd/sqm
Exterior WPC Flooring for sales
Waterproof, resistant to salt water corrosion
Fade & stain resistant
Will not warp rot or split
Mold & mildew resistant
Grooved, our decking is non-slip
whether wet or dry which enables it to be used in wet places, ideal for marina.
WPC outdoor flooring board is a new type of environmental protection decorative board suitable for outdoor use. WPC refers to wood-plastic composites. The WPC decorative board is made of 55% recycled plastic and 35% wood fiber. Recycled plastics are very sustainable. wood Power is very environmentally friendly.
WPC has a high density. We get the recycled plastic to make PE, in our town, it's the home of the poplar  which make the wood power. wood and recycled plastics are both a waste of production and life. the wpc can re-use them to make a sustainable decorative product.
The WPC uses a professional wood-plastic extruder to produce the profiles at high temperature and high pressure. The WPC's standard length is 2. 2 m and 2. 9 m
The Best exterior WPC flooring depends on its material and formula &Production Process.Our WPC flooring is got good feedback from our Customers.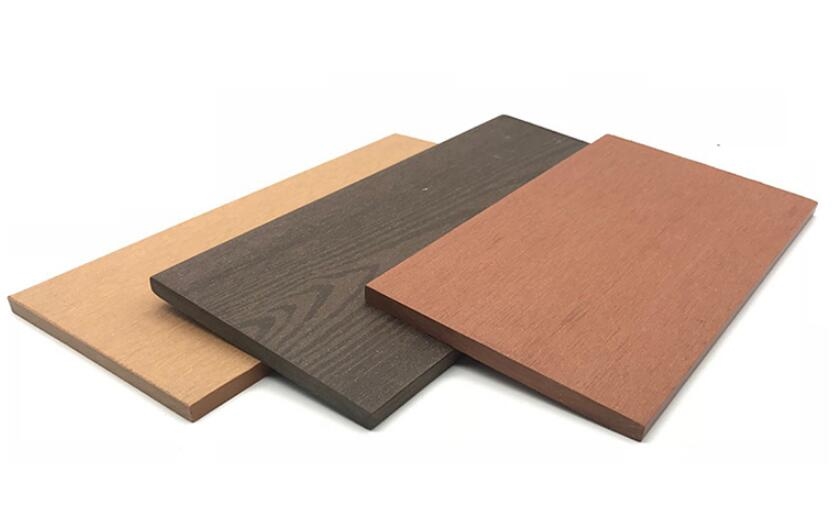 Composition of outdoor flooring:
35% environmental plastic materials(Grade A Recycled HDPE )
55% natural wood fiber
10% chemical additives. (Anti-UV agent, Anti-oxidation agent, stabilizers,    colorants, anti fungus agent, coupling agent, reinforcing agent, lubricants.)                      
Surface Treatment
Surface Finish Selections: Available in 5 finishes: Sanded(T01), Brushed(T02), Wood Grain-Z(T03), Wood Grain-X(T04), Wood Grain-P(T05). 
Custom made, For more size, please send an inquiry to us.
Colors
Color Selections: Popular in 6 colors:, black walnut(C01), walnut(C02), redwood(C03), original wood(C06), reddish brown(C07), teak(C08). And total 9 colors(besides: walnut(C02), light grey(C04), cedar(C05)).
Application
Garden, Lawn, Balcony, Corridor, Garage, veranda
Pool&SPA Surrounds, Boardwalk, Playground
Characteristics
1. Looks and feels like natural wood
2. Durable, firm because of its high density
3. High degree of UV and color stability,
4. Easy to install and low labor cost
5. Requires no painting, no glue, low maintenance
6. 100% recycle, environmental friendly, saving forest resources
7. Barefoot friendly, anti-slip, no cracking
8. Weather resistant, suitable from -50 to 60.
Installation Guide of composite decking :
Step 1:Put the keel in the bottom with the recommended 30-40cm distance
Step 2:Dig a 1.5cm-deep hole and put the nail in.
Step 3:Combine the two boards and tighten the screw.                                                                                                      Exterior wpc flooring

Products Name: WPC outdoor flooring for sales 
Brand: Hanming wpc
Size:140X25mm ,150x25mm, 146X21mm, 146X24mm,etc
Color:Black, Gray, Olive Green, Red Wood, Coffee, Wood
Surface:Smooth, Brushed, Scratched, Grain & Sanded
Component:30~35% HDPE+ 55~60% Wood Fibers +10%chemical additives
Material Introduction:WPC ( Wood Plastic Composites), a new kind of composite material.Plastic and wood powder are mixed according to above proportion after hot extrusion molding plate.
Applications:Garden, Lawn, Balcony, Corridor, Garage, Pool & SPA Surrounds, Boardwalk, Playground.
Advantage:Waterproof,mildew resistant,Moisture resistant,no rotting,low flame spread ; Available in different colors and wood grain design ;Green ecological, Innovative technology, Lifestyle
.FAQ
1 What shape of WPC profile can be made?
The Width is no more than 400mm, the thickness is no more than 50mm, the length is less than 6m, in the same direction consistent with the structure profiles.
² What's the using life and how about the durability?
WPC material has superior performance, service life is more than 15 years.
² Can it be used in outdoors?
Various properties of the material make it is very good for outdoor use, the product itself is used in outdoors.
² Is it Toxic?
No toxicity.Weather the WPC decking, tiles, and wall panels are no human toxic effect.
If you want to buy from us, please remember to contact us through email,Our email address is: Nick@hanmingwpc.com