WPC decking is more environmentally friendly and requires less maintenance than the alternatives of solid wood treated with preservatives or solid wood of rot – resistant species. Resistant to cracking and splitting, this material can be molded with or without simulated wood grain details. As this is a processed wood, it does not have the natural weakness of wood, making it a durable product that is sure to last.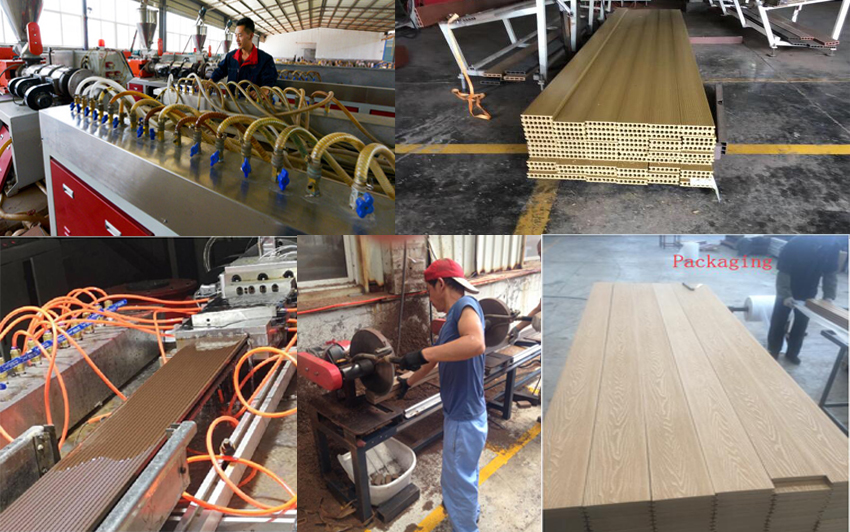 、
Why Choose Composite Wood Decking for outdoor?
In Outdoor, due to the direct sunlight, summer temperature is very high, winter is very cold, and then rainy day water soak, traditional outdoor materials generally use logs and corrosion wood, For corrosion wood, It mainly by adding CAA  wood preservative, and the preservative is a combination of elements harmful to human health, while protecting wood from damage, but also bring great threat to people's health, anticorrosive wood has a series of advantages, but this kind of wood in the process of use of corrosion will change color, black, seriously affect the beauty of wood.
Woods also have many disadvantages,Log have biological defects.There are mainly decay, discoloration, and moth decay.The edge of wood is lighter, the core is darker, wood is a natural growth material, there must be edge and core material; There is a color difference between the early material and the late material & the texture stripes.
Durability And Low Maintenance – The biggest advantages of composite wood decking are its durability and low maintenance. It never needs to be painted, stained or treated with a protective coating. Unlike wood, WPC decking won't shrink, rot, warp, crack or harbor insects, so you'll never have to worry about replacing damaged boards.
Never Splinter – Composite wood decking doesn't splinter and requires no toxic chemical preservatives, making it a safe option for families with children and pets. Wood plastic composites are also an eco-friendly decking choice, since they contain a high recycled content that creates sustainability.
Look Alike Wood – From a visual standpoint,WPC decking is getting harder and harder to distinguish between composite decking and a traditional wood deck. Today's WPC decking features natural woodgrain patterns and colors that mimic stained or painted wood.
HANMING WPC DECKING
Unlike wood decking, Hanming's composite wood material resists fading, weathering, rotting and warping – it stays looking as good as new, year after year.Hanming WPC decking is also backed with a 20-year residential warranty. Our patented manufacturing process uses a variety of cellulose materials, clean, known sources of wood flour and PE. The result is a composite decking product which is more consistent, more natural looking and higher quality than composites that use post domestic recycled materials. Why? As recycled materials that is difficult to segregate and remove all contamination from the raw material. Our composite decking is fully recyclable.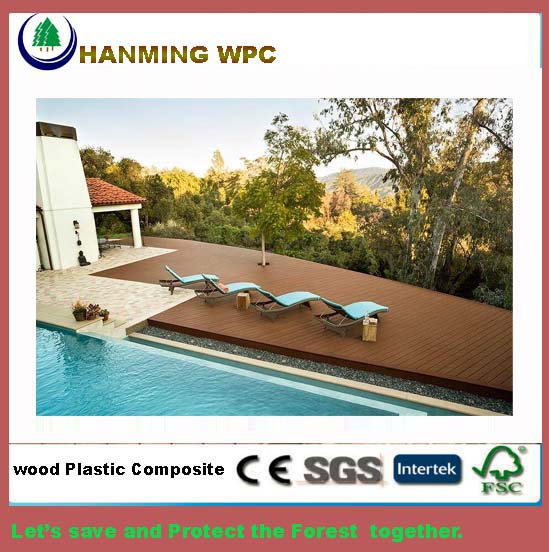 Surface treatment:sanded, brushed, wood grain, groove
Advantages:Use of waste and recycled materials
Our WPC decking and others are slip resistant.
The raw material of the decking and others: 55% bamboo powder, 35% HDPE, 10% additive.
Where are composite wood Materials used in Outdoor ?
Composite wood material has a wide range of applications,It can be used for indoor and outdoor decoration ,like wall panels, outdoor  road floor, Outdoor pavilion, Pergola, garden guardrail,  fence,  bench,Pool deck, flower box, etc.
Plastic wood composite materials do not need daily maintenance, the service life of  WPC is several times than wood,And to simulate the visual effect of logs, to meet the pursuit of nature.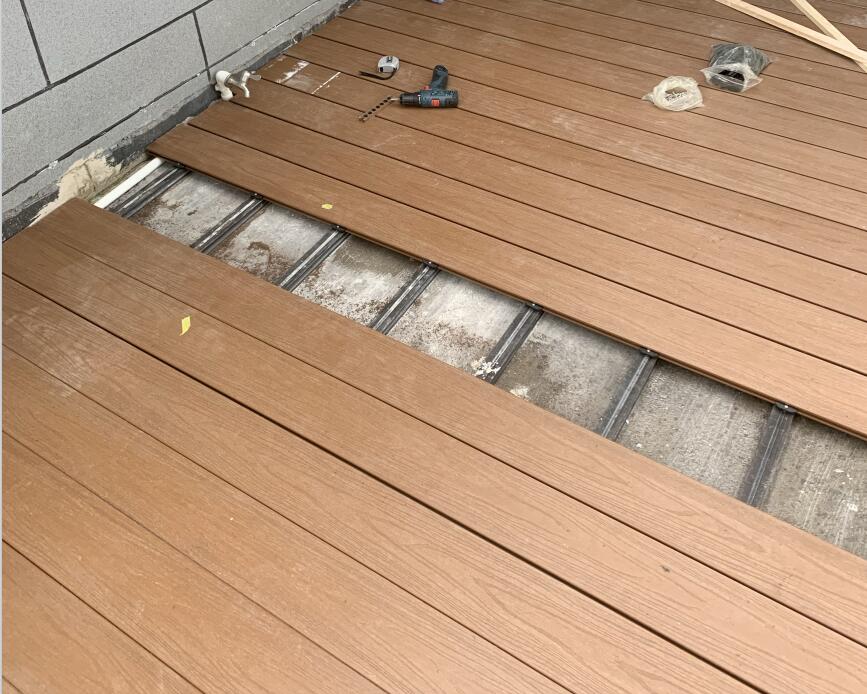 Durable of WPC  is not only to say, It needs to stand the test of time, In China,quality wood plastic decking service life is more than 15 years.