In recent days, there have been some wood plastic products with guests through the characteristics of the problem. Now we can often see wood-plastic decking, fences,composite Railing, Pergola and other products in the outside parks,  scenic spots, and so on, but from the appearance, such as fence, Railing can not see the inside of square steel, some customers do not know very much, whether it is possible not to Put steel to deal with it? We said it would be better not to.

In fact, although wpc is imitation wood, and then replace wood, but after all, there is still a fundamental difference between the two items.wpc is imitation wood. I think it can only be said that the use of wood appearance, landscape effect and so on. But the natural toughness, rigidity of wood are still difficult to imitate.

The natural fiber arrangement of wood grows little by time, and the fiber arrangement is close and orderly, so the macroscopical toughness and rigidity are good, so it can be used as structural material. Especially for bamboo, you must be familiar with bamboo, bamboo because of its internal fiber into a hollow structure, the weight is lighter, but the toughness is better.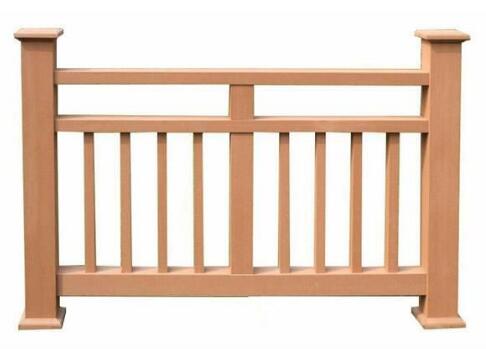 So if you use wood to make some fences,Pergola, or Railings, you can just look for thicker caliber to carry on the load and support the structure. There is no problem at all. In the past, the outdoor use of very hot anticorrosive wood, that is, direct wood and nails can be done.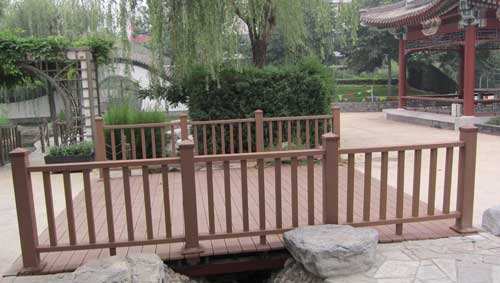 But for WPC, the situation is a little different. There are 30% less than 40% of the plastic in the wpc material, regardless of whether he is HDPE,PVC,PP,PS.. As far as plastics are concerned, their own structure is composed of polymer macromolecules, and the structure between macromolecules and macromolecules is loose and unstable. At high temperature and high pressure, macromolecules can be stretched out, just as people bend for a long time and stretch out. As soon as they stretch, the structure changes and the shape changes. This professional term is called creep property.

Therefore, wood-plastic platforms, fences, especially those with relatively large height, the root of piercing steel is not to let the bending deformation caused by the creep properties of wood-plastic affect the overall work. Because after you creep over, there's square steel here, and there's no further deformation.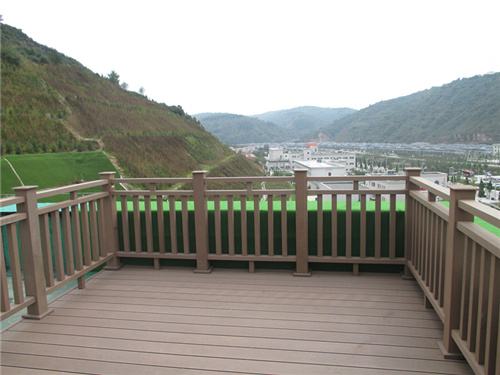 Comparison of wood plastic Railing and conventional Items:
1. Compared with the cement Handrail, the WPC Railing is lighter, which will not cause accidents similar to the personal injury caused by the collapse of the brick wall.
2.Convenient installation;DIY combined installation of WPC BOARDS and aluminum alloy is adopted,Extremely simple and convenient, 4 workers can install over 100m per day, which can greatly improve the construction speed and reduce the construction cost synchronously.
3.Maintenance free: wood-plastic fence plate material has excellent weather resistance, sun, wind and rain, still no deformation, no fading and no aging, has strong corrosion resistance to various chemicals on the site, and has overcome the defect of iron sheet easy to rust and rot.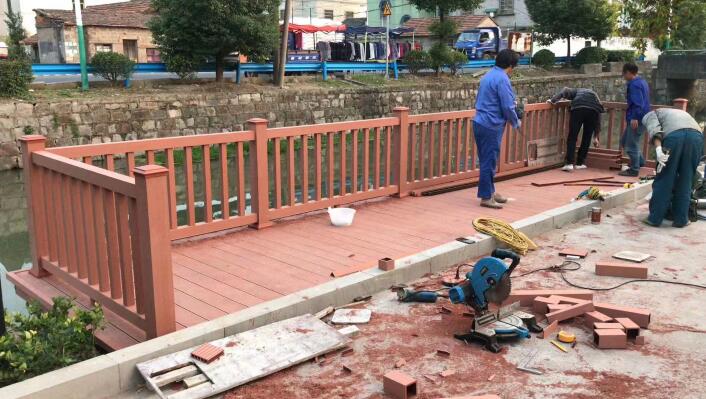 Author: Jean 
Jean@hanmingwpc.com