WPC DIY decking is a kind of outdoor flooring which highlights the individualization and reflecting personality, fashionable and eco-friendly.
WPC DIY decking is equipped with exclusive plastic base which makes it easy to assemble. there are several different mosaic types as options, and it can also be customized according to clients' preferable colors and types. It is waterproof, anti-slippery, lovely-shaped, and favored by many users. compared with traditional construction materials, it has a better decorative level with its wood-approximate surface treatment, which reflects the idea that human and nature live harmoniously, creates green and healthy leisure environment and gives people a comfortable, quite and relaxing living space.
Advantages:
1. Water-proof, moisture-proof. water absorption is far lower than wood and its anti-corrosion future( such as acid rain, seawater) completely solved the natural wood products' problems of moisture-absorbing, corrosion , dilatancy and deformation under the wet and rainy circumstances. therefore, it could be greatly put into practices to take places of traditional wood products.
2. Pest control, anti-termite, anti-moth-eaten, prolong the lifetime.
3. High fire-resistance. effective flame retardant, fire self-extinguishing and no hazardous gas radiation.
4. High environmental protection, no pollution, no hazardousness, recycling. the material is free of benzene, lead and other hazardous, meeting the national standards and international level.
5. Good machinability, clinching, planing, sawing, drilling and painting are all available.
6. Easy assembly, simple construction and no complex processing method, time and money saving.
Changxing Hanming Technology Co.,LTD
1. Application:

 Home and garden decoration/ Public or private landscaping

 2. Size:

 300×300 mm

 3. Package Details:

 11pcs per carton or customized

 4. Weight:

 1.3 kg/pc

 5. Loading Qty

 13090 pcs /1190 ctns (1×20 GP)

 18480 pcs /1680 ctns (1×40 GP)

 6. Colors available:

 Dark grey/ Light grey/ Red cedar/ Brown/ Black/ Apricot

 7. Surface treatments:

 Sanding/ Brushing/ Embossing

 8. Appearance:

 Natural wood look texture

 9. Installation:

 Interlocking design for DIY installation

10. Usage environment:

 -40-60 degrees celcius

11. Place of Origin

 Made in China
Composite Decking Benefits are endless. So, why use composite decking as a posed to real wood decking? Well, composite decking offers a range of benefits that concern aesthetic beauty, maintenance and durability. Furthermore and most importantly composite decking will not rot, swell, splinter or split. Will not require any specialist cleaning or treatment and is environmentally friendly. Other added benefits as if that's not enough are that the composite decking will have minimal discoloration over time. They are slip resistant and all fixing materials are hidden so the finished look will be clean and minimalist in appearance.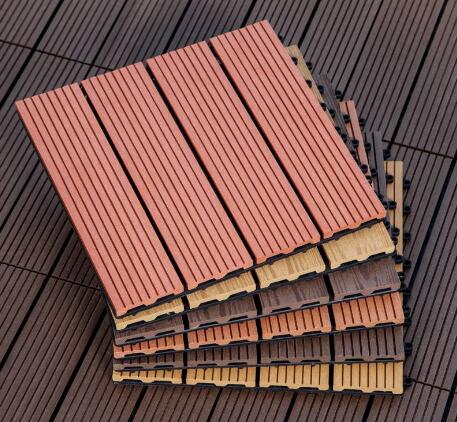 1. WPC DIY Decking Tile Detailed Features:
1. Made of recycled plastic (HDPE) and wood powder, plus non-hazardous chemical additives such as anti-UV agent, light stabilizer, lurbicant, culping agent and etc.
2. Eco friendly to nature without formaldehyde contained
3. Waterproof, fire retardant, UV resistant, Anti-slip, maintenance free, long life span
4. Various of profiles/ colors/ surface treatments to be selected
5. Easy DIY intallation and cost efficiency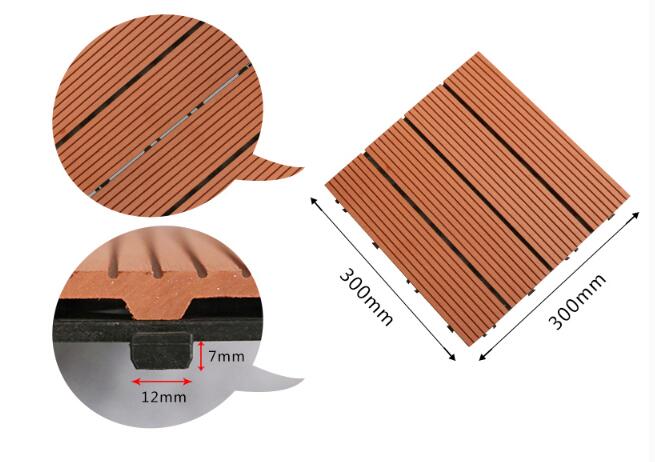 Extend: What is WPC meaning
WPC stands for wood plastic composite,DIY decking tiles is only one type of WPC Profiles. use WPC materials, people can produce wall cladding , railing, fence panel, Pergola,etc.They are extruded by an extruder under high temperature.
What are the advantages of Wood Plastic Composite DIY Decking tiles ?
1. rich in color, good plasticity, according to the needs of each person, customized personalized design and modeling.
2. waterproof and moisture-proof, even in wet conditions can be used, do not worry about it damp or rot.
3. insect, can effectively extend the service life of the floor.
4. environmental protection, no benzene, formaldehyde content is also low, but also recycling.
5. the installation is convenient, the corresponding installation cost is also very low because there is no need for a particularly complex process.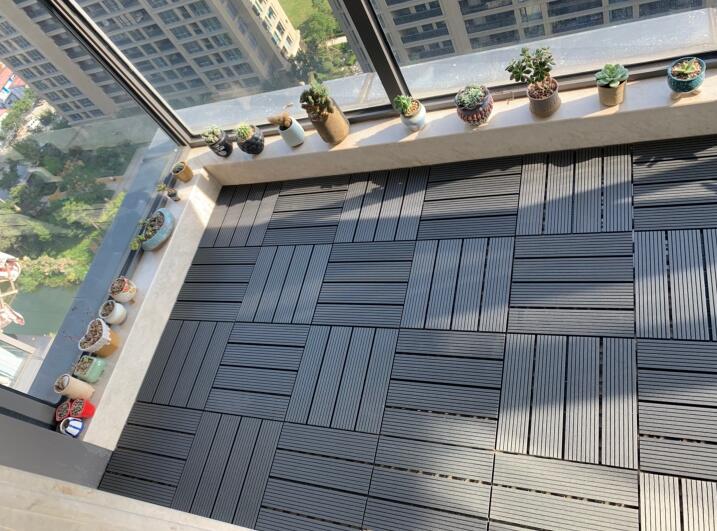 Hanming Wood Plastic DIY Decking Tiles
1. Waterproof, moisture-proof, suitable for any environment. 2. Insect and termite proof, effectively avoid insect disturbance and prolong service life. 3. There are many colors. It has natural woodiness and wood texture, and can be customized according to your own preference. 4. High environmental protection, pollution-free, pollution-free, recyclable. 5. High fire resistance, can effectively flame retardant, self extinguish in case of fire, does not produce any toxic gas.