1, PE WPC decking:
Advantage:
PE wood-plastic materials have excellent waterproof and corrosion resistance, high hardness, easy to change buckling when heated, but the effect of using thickened or porous hollow structure is good. Reply to "PE" to see more
Shortcomings:
1) the limited number of products used for outdoor use is now in use for 3-5 years.
2) The anti-oxidation and anti-light decomposition ability is poor, even if the antioxidant and UV reference agent are added, the effect is not ideal, and will affect the product strength and color fastness.
3) the appearance of the product is pure, with no wood sense and poor appearance.
2, PVC WPC decking:
Advantage:
1) PVC wood plastic products can be used new material, also can be made of old material (while PE is too high in cost with new material, the product has no way to enter the market), the modification is also easier, the quantity of the supplementary quantity depends on the quantity of production.
2) PVC can be made into low foamed wood plastic products, which is lower in cost. It is considered suitable for the use of coextrusion (double extrusion or steel plastic extrusion), and the strength and wood texture are good.
3) PVC can be re-processed, diversified surface decoration or paint covering UV paint, the product looks good and color fastness is good; reply to "PVC" to see more
4) the waterproof and corrosion resistance of PVC wood plastic products is also excellent.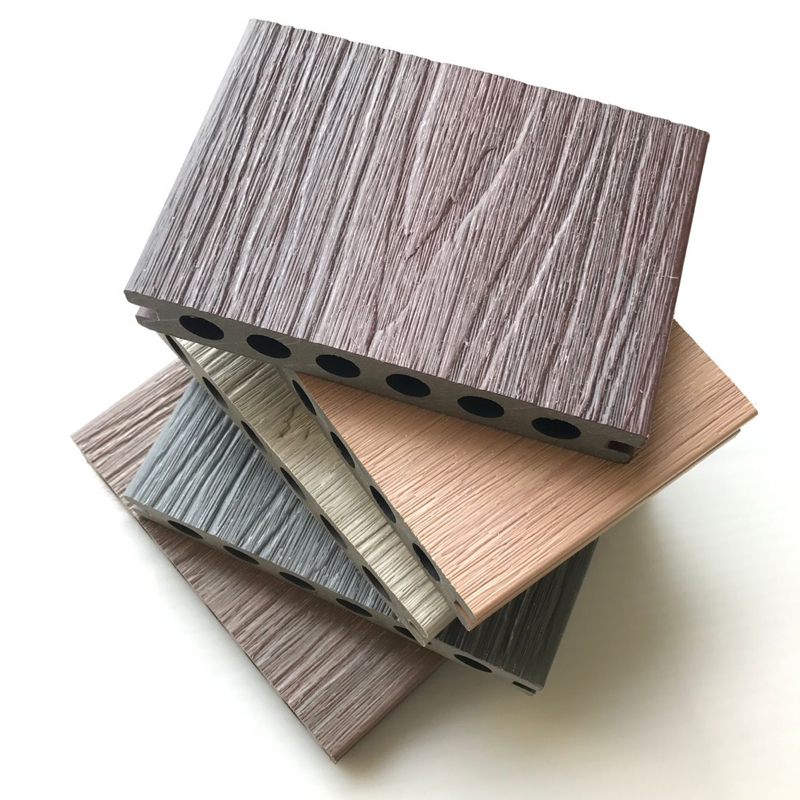 3, PE WPC decking and PVC WPC decking difference
1) Different preparation methods: PE wood plastic products are mainly prepared by cold push method; PVC wood plastic products can be prepared by vacuum molding, cold push method and three roll repression.
2) raw materials are different: PE wood plastic materials are mainly two or three grade PE recycled wood flour, calcium powder and a small amount of modifier. The main materials for manufacturing PVC wood plastic are PVC resin powder, PVC recovery material, wood powder, stone powder and some modifiers.
3) performance is different: PE wood plastic products are heavy, high hardness, brittleness and creep. PVC wood plastic products are light weight, poor hardness, good toughness, creep and no PE wood plastic products.
4) Different uses: PE wood plastic products are mainly outdoor garden construction, green wood such as guardrails, floors, garbage cans, flower pools, trays and so on. PVC wood plastic products are mainly decorated indoors, such as doors, floors, skirting lines, door covers and so on.
In addition, wood plastic materials also have a better class – ABS wood plastic, ABS wood plastic products easy to process, good strength, also can do wood grain effect, good looking not easy to damage.
If you need know more details , Pls contact with us by email 
Hanming WPC is a leading Supplier And Exporter from Huzhou ,China.