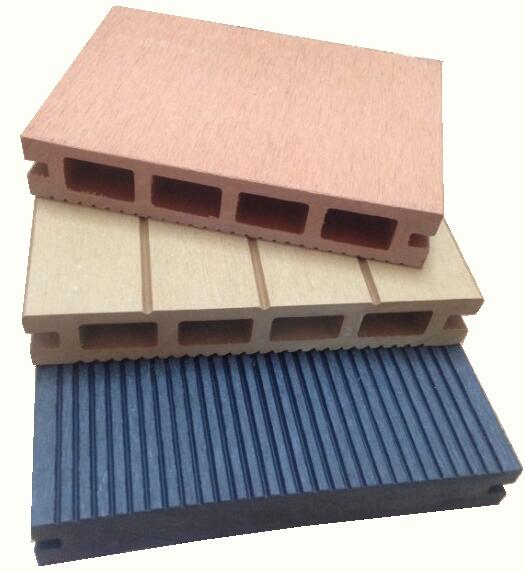 Seven wood plastic composite outdoor trust decking | Shanghai WPC decking
Type: Engineered Flooring

Price: 15usd/sqm-23usd/sqm

Place of Origin: Zhejiang, China (Mainland)

Brand Name: Hanming WPC

Model Number: Hollow and Solid

Technics: Wood-Plastic Composite Flooring

Color: Red,coffee,yellow,grey,black,Brown

Certificates: SGS,CE,ISO,FSC

Surface: Sanding

Usage: Engineer Project

Material: Wood + HDPE +Additives

Product name: WPC decking
Composite wpc decking is often used in gardens, outdoor floors, pavilions and so on, because of its waterproof and moisture-proof characteristics, It is loved by many people. WPC decking can replace real wood floor gradually in the future certainly, It will become new bright spot. At the same time WPC will also become the first choice of a lot of decoration families.
About our WPC decking, our WPC is made of 55% wood powder and 35% HDPE, it is waterproof and weather proof.the composite decking is used for Outdoor flooring.
We have sold it to many European countries. 
Colors: brown, black, red coffee, red wood, yellow.
1.  Material: Recyclable Wood Plastic Composite (WPC)
2.  Ingredients: 35% HDPE+55% Waste Wood Fibers
3.  Extrusion Molding Available: Burnished (Smooth), Grooved & Serrated
4.  Surface Finished Available: Planed (Scratched), Brushed & Grain
5.  Colors Available: Black, Brown, Redwood & Teak
6.  Applications: Environmental Decking, Fencing,Railing&Trim (Garden, Lawn, Balcony, Corridor,      Garage, Pool & Spa Surrounds,Boardwalk, Outdoor Fencing, Customs Pallet,      Gate&Playground.)
7.  High Quality with Competitive Price.
8.  Your Special Requirement of any Specification with Volumes is Available.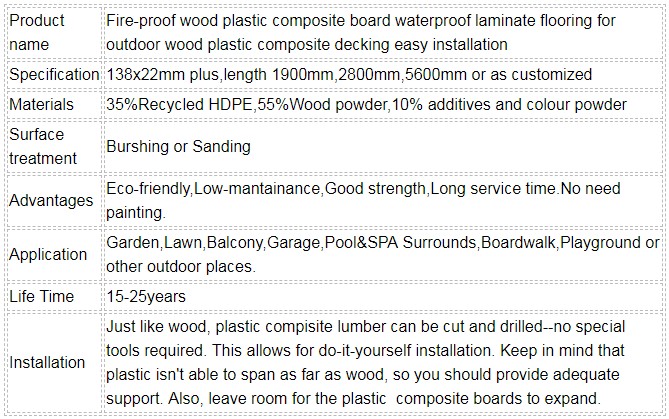 WPC China, WPC Decking, Wood Composite Decking, China, Manufacturer, China supplier of wpc,wpc decking, Solid composite decking, wpc fencing, bpc, wood plastic composite, plastic wood, wpc boards,wpc siding, wpc pergola, wpc railing, wpc tile, bpc tile, wpc diy tile, polymer wood composite, wood polymer decking.
If you are searching for WPC material manufacturers or WPC products factories, We provide China's best WPC floor profiles for customers all over the world.
wood plastic composite floor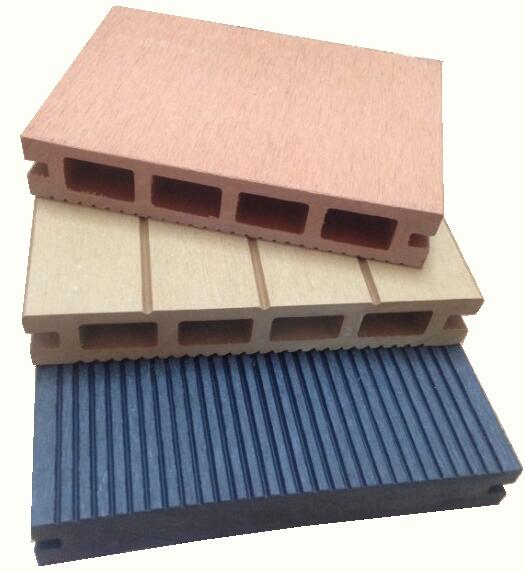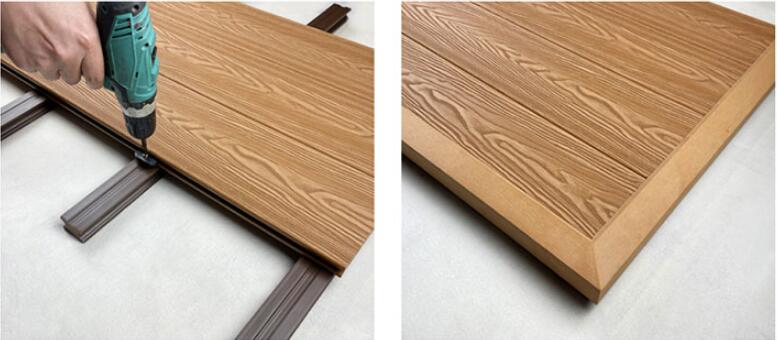 Advantages of Shanghai WPC DECKING:
Durable. WPC decking can be used in an outdoor environment for a long time, can withstand different climatic conditions, and has a long service life.
Won't split and rot. Traditional wood is likely to mold and rot after absorbing water. There may be safety hazards in use. WPC decking can resist rotting and warping caused due to dampness.
Less maintenance. WPC decking is simple to clean and maintain. It does not require dyeing and sanding but only needs water and soap to clean occasionally, which greatly reduces the cleaning and maintenance time.
Available in many colors. We offer 6 regular color options, and can also provide you with customized colors to meet your design requirements.
Environmental friendly materials. WPC decking is made from recycled plastic pellets and wood fibers and is an ideal choice for environmentally friendly materials.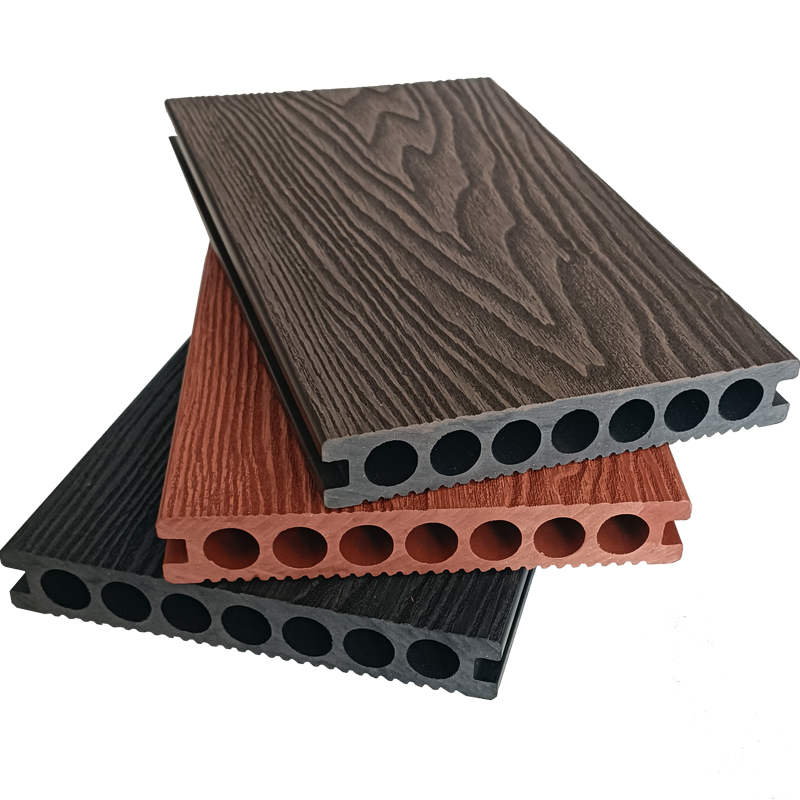 | | |
| --- | --- |
| Size | 135*25mm Hollow |
| Usage | Outdoor |
| Raw Material | 55% Wood Power+35%HDPE+10%Chemical additives |
| Color | Brown, Black,Coffee,Gray,Natural |
| Surface | Tongue & Grooved, Smooth,Brushing,Sanding,Embossing |
| Technique | Extrusion Molding |
Hanming WPC  DECKING consists of 55% wood powder, 35% HDPE plastic, and 10% additives. The wood plastic decking not only looks very similar to the  wood flooring, but also needs very little maintenance, and wpc will not rot, . We are very confident in the quality of our products and we provide a 3-year warranty, which is the perfect choice for your outdoor decoration.
Our wood-plastic outdoor flooring is available in a variety of styles,We have  round hole, square hole hollow decking, and solid item,8 natural colors are available in HANMING WPC, Our WPC With modern grooves on one side and a beautiful natural wood texture on the other Side.
Projects Show: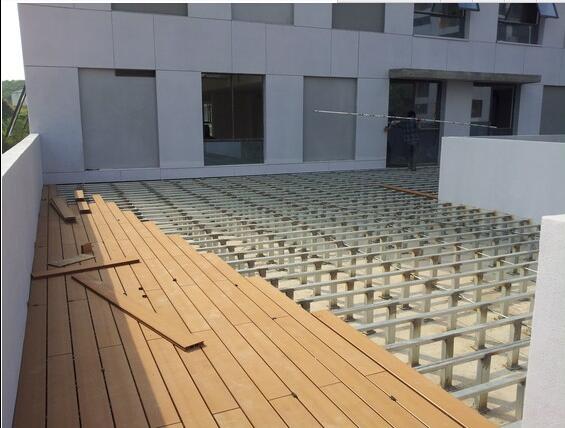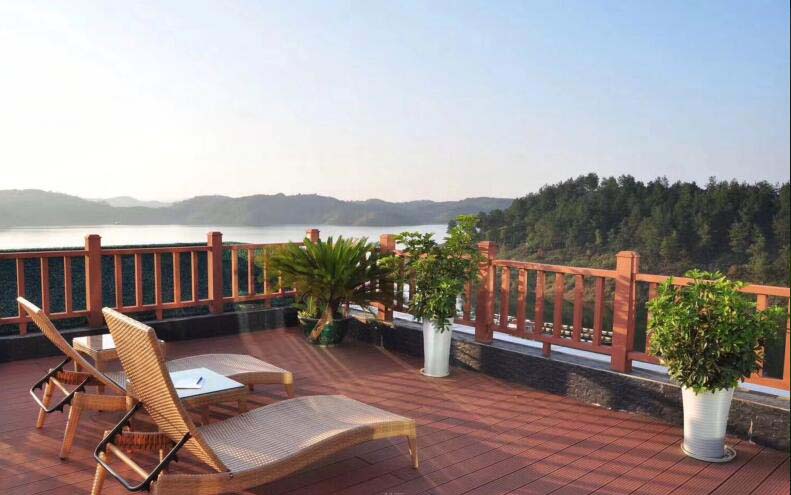 Contact : Admin@hanmingwpc.com