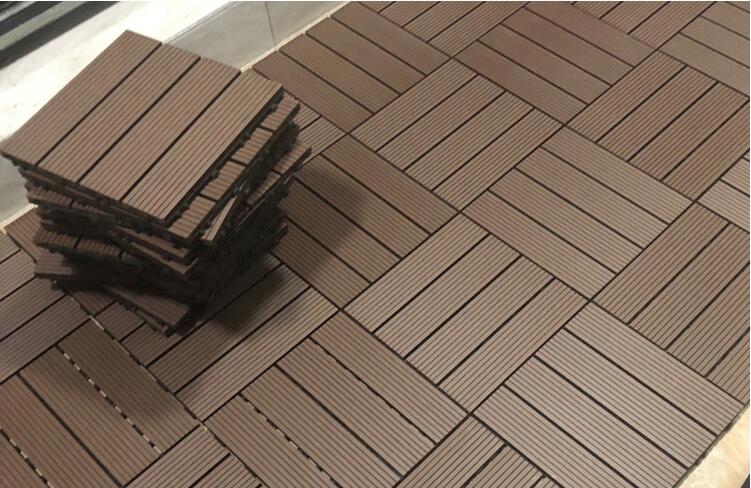 China Interlocking composite decking tiles for garden|balcony interlocking deck tile
Place of Origin:

Zhejiang, China (Mainland)

Product name:

wood plastic composite decking tiles/wpc deck tile

Colors:

Coffee, dark grey, walnut, redwood, yellow or customized

Application:

Home and garden

Surface:

Natural wood appearance

Features:

UV-resistant, waterproof, anti-slip

Certificates:

SGS, Intertek

Brand : Hanming WPC In China

Dimensions:

300×300 mm,300X600mm

Price:1.70-1.90USD/PC

Advantage:

DIY installation, easy maintenan
For the wood-plastic decking, I believe a lot of people already know it very well.It's made of wood flour and plastic.There's a kind of composite decking tiles,Especially suitable for garden, balcony, swimming pool.we call it interlocking decking tile.It is made up of two parts, wood-plastic board and plastic pedestal,which is connected together by SS Screws.Conventional specifications are 300X300mm, 300X600mm, 600X600mm,etc.The wood-plastic boards on the surface can have different styles.in China, we aslo call it DIY WPC decking or wpc splicing board.
DIY simple flooring series, helps you relieve all the troubles and difficulties in the regular floor installation, it can completely DIY, One person can install them,Make the dream of "creating a better outdoor life" a reality.WPC interlocking deck tile is easy to be installed and easy to be removed.The design of the bottom plastic base grid, rainwater can flow from the floor gap into the ground, has good drainage and ventilation, thus protecting the floor from damage in a bad environment.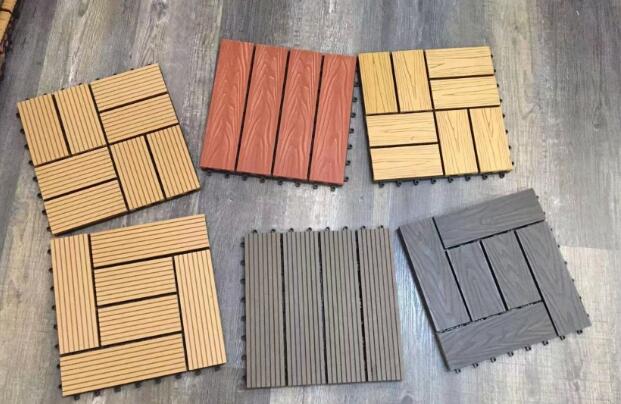 Interlocking Composite decking tiles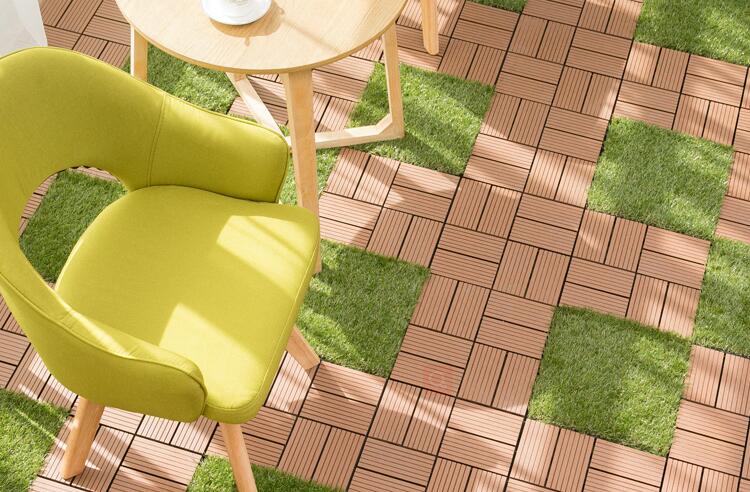 The weight of One PC composite decking tile is 1.3KG. the thickness of the top wpc board is 11mm, and total thickness of the decking tile is 22mm.Installation requires 11 PCS  per square meter if Size is 300X300X22mm.
The combination of wood powder and plastic powder can effectively prevent mildew in humid environment. Additional: real wood floor can be eroded by moth or termite, and wood plastic composite floor can put an end to bug ant harassment effectively, say service life can be longer than traditional anticorrosive wood floor so.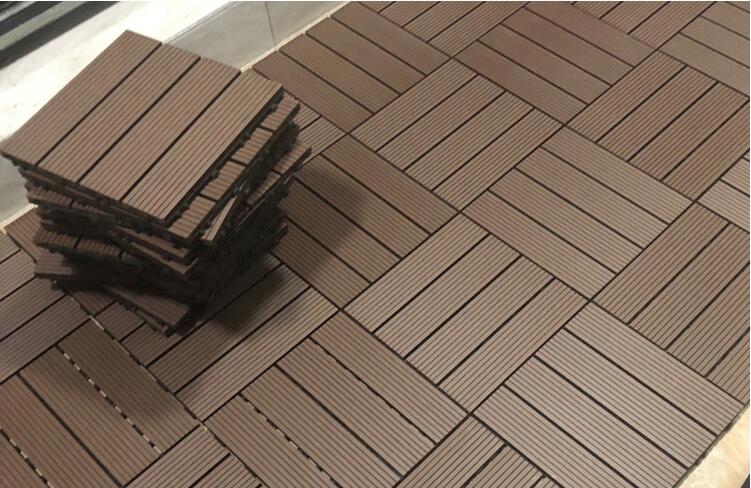 China Interlocking composite decking tiles
FEATURES:
Ready to use right out of the box

Quick and easy installation with no tools

Perfect for creating roof deck or patios

Interlocking plastic base

Numerous natural colors and wood grain patterns

100% Eco-friendly

Virtually maintenance free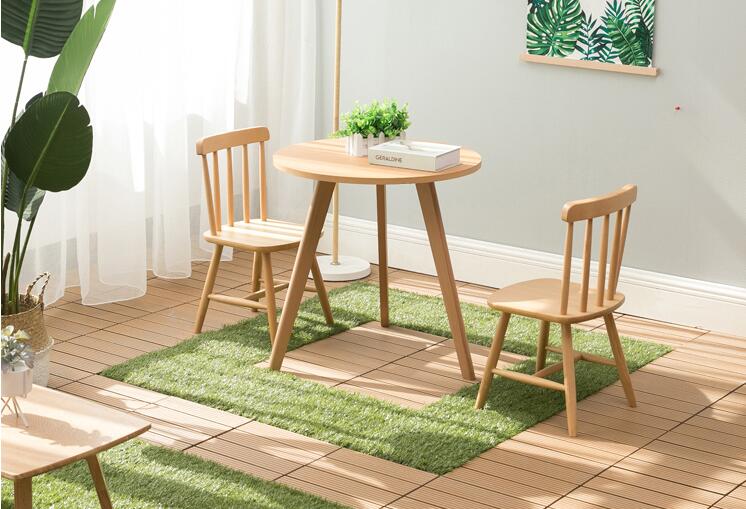 Composite Decking Tiles are usually made by hand, with the WPC Board and plastic pedestals mounted by hand,It can be used for swimming pool,terrace,garden,Park,etc.

1. What's WPC?
WPC is short for Wood Plastic Composite. The combination of the raw materials are mostly 35% recycled plastic (HDPE) and 55% wood powder, plus 10% additives such as anti-UV agent, lubricant, light stabilizer and etc.
2. What's the process to make WPC decking tile?
(a) Mix raw materials according to certain formula, then make them into pellets.
(b) By extrusion machine and mold, shape the products in customized profile and size.
(c) Do surface treatment such as sanding or embossing, then cut the WPC decking by requested length.
(d) Assemble the decking boards with the plastic base with screws, then do cleaning before packing.
3. What's the benefits to use composite decking tile?
(a) Composite decking tile is waterproof, fire retardant, UV resistant, anti-slip, maintenance free and durable.
(b) Its designs, colors, surface treatments are adjustable.
(c) It's easy to install and cost efficient.
(d) Since the raw materials are recycled, the product itself is eco-friendly.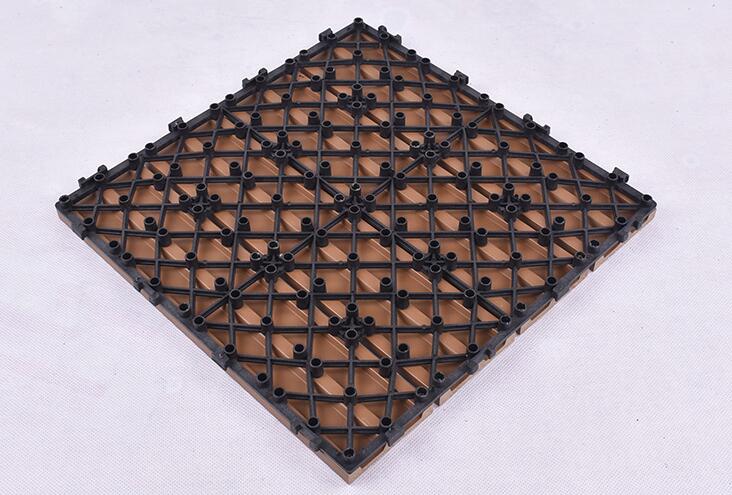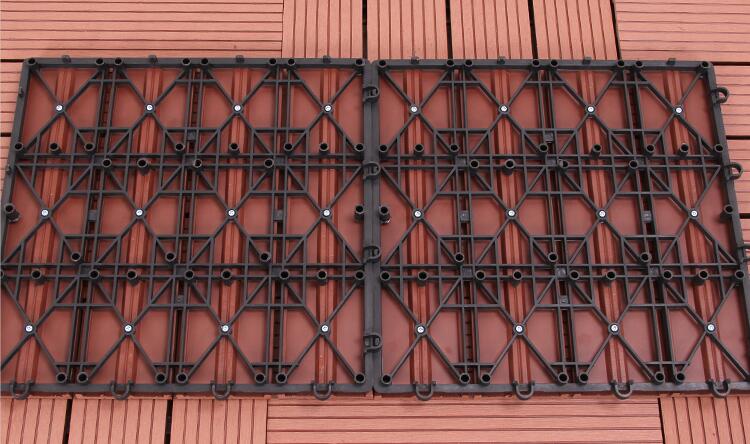 When laying composite decking tiles, there is no keel under it, as long as the ground is flat.
The installation of the floor is very simple,It is possible to use compone decking tiles unique edge Covers.
Decking tile edge cover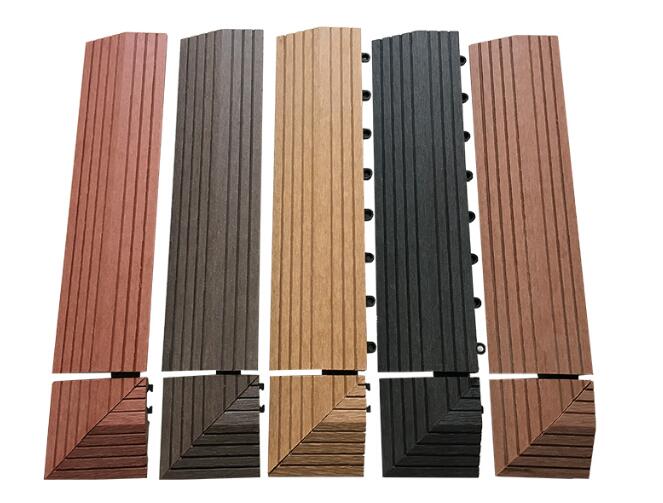 If the balcony uses composite decking tiles, will become closer to nature, read or rest on the balcony, will have a better feeling.So the application in balcony has become more extensive.In the same way, the floor of the swimming pool will become more stylish if composite decking tiles  is used.
Interlocking decking tile For Terrace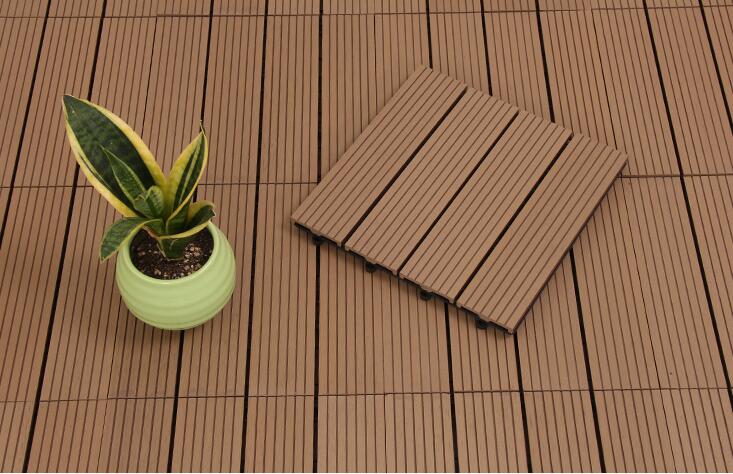 Of course, not all places use this kind of floor to work well,Such as parks, parking , etc., where there is a lot of traffic, it is recommended to use ordinary strip floors–Hollow composite decking and Solid composite decking.They'll have better strength.No matter what kind of wood-plastic decking, you can buy it from us,we aslo Provide Capped composite decking , Wall siding , WPC Pergola, Pavilion, Bench                          
300X600mm composite decking tiles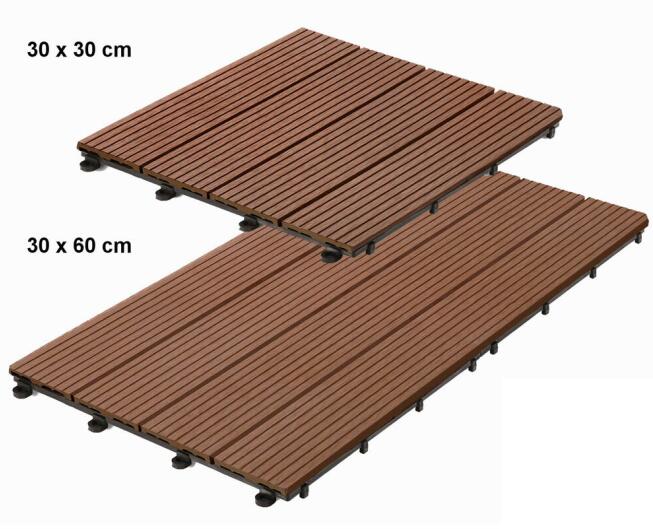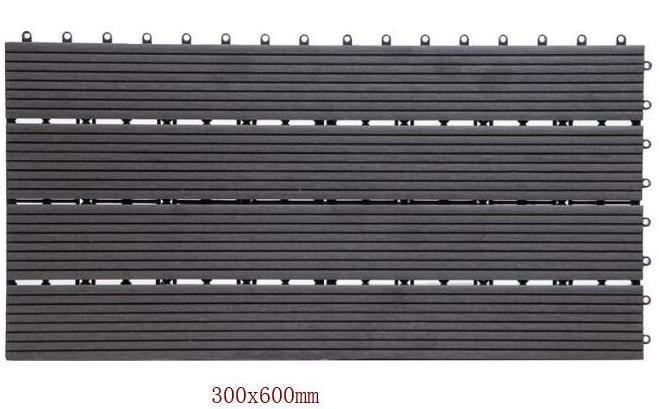 In addition, we have a luminous composite decking tiles, with solar lights,The price of such products will be relatively expensive. In some special places, such floors can be purchased if necessary.During the day, solar panels on the floor absorb sunlight to store electricity, and the floor shines brightly at night.The four corners of the floor are equipped with LED induction lights,When a person walks into the floor, as long as the solar panel has electricity, the four LED lights will automatically turn on.At the bottom of the solar panel, there is also a switch. As long as you press it at night, the four induction lights on the floor will grow on.
LED COMPOSITE decking tiles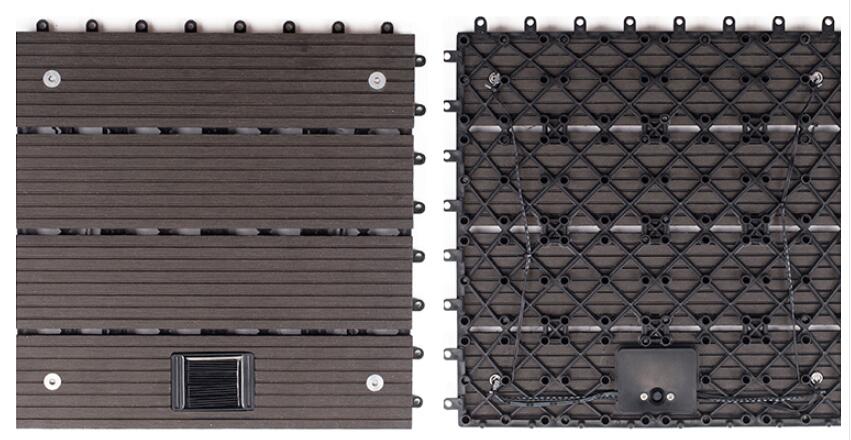 How to install Interlocking composite decking tiles by Hand ?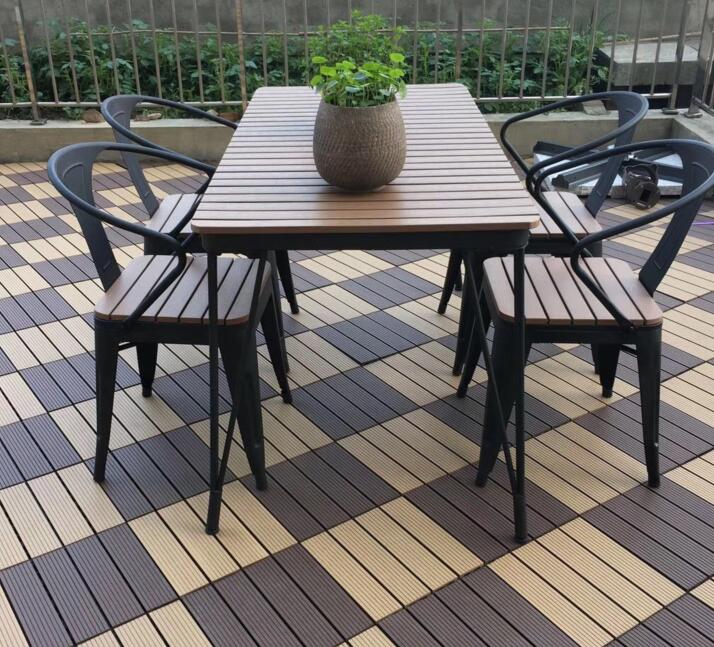 Packaging of Interlocking composite decking tiles: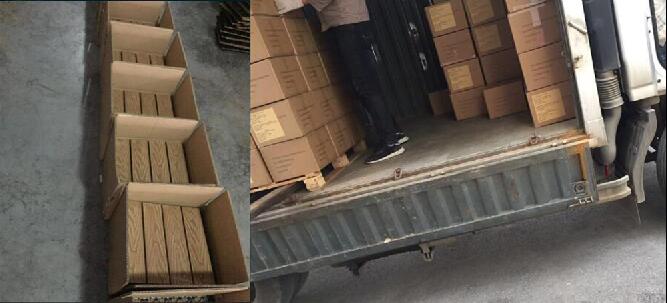 Customer evaluation:
Chennai India Customer – Mr Rajaram's Comment:
I like the Color, the floor assembly is also very simple, Just insert each other, originally intended to buy wood flooring in the market , that day I saw HANMING company's website inadvertently found this kind of free installation of plastic wood flooring, I immediately changed the idea,previously I was a little worried about the effect is not ideal, Unexpectedly, it worked so well.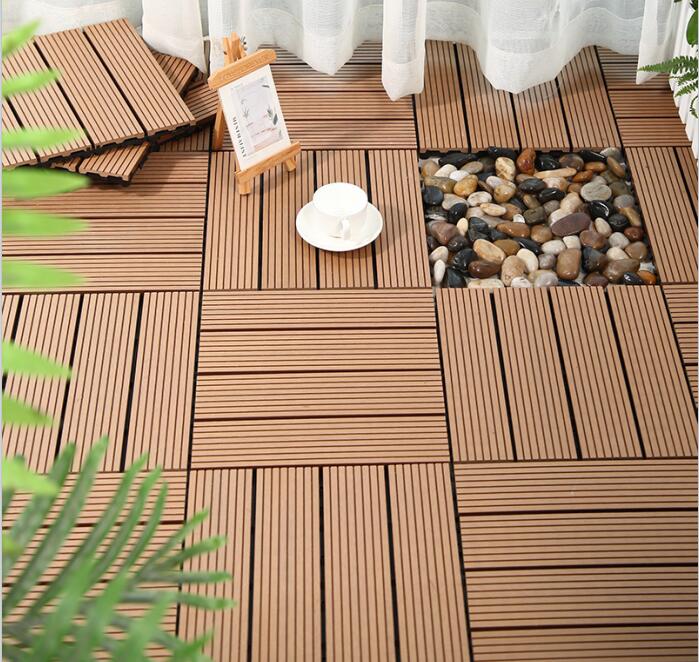 Poland Purchaser —-Mr Dusan's comment:
The decking tiles of one container  has been received, good texture, no smell, paved to satisfaction. Suggest buying. I sell them to my customers in Warsaw, customers use them for small balconies, after the installation of a lot of beautiful, some customers aslo put a few potted plants, It's nice to sit there and read if you're all right.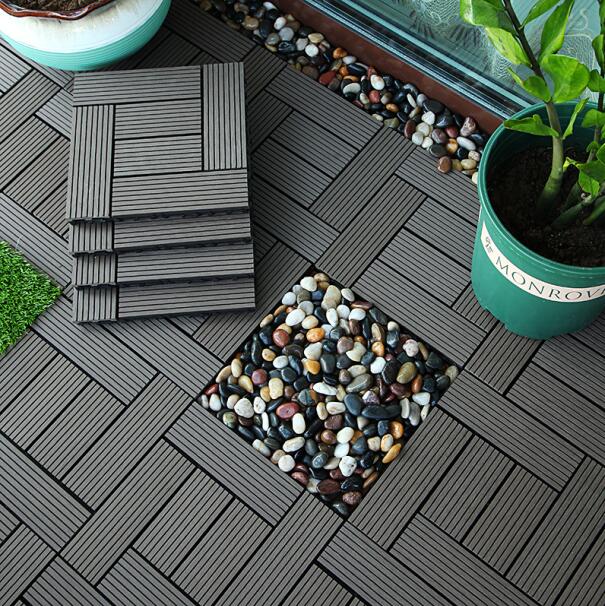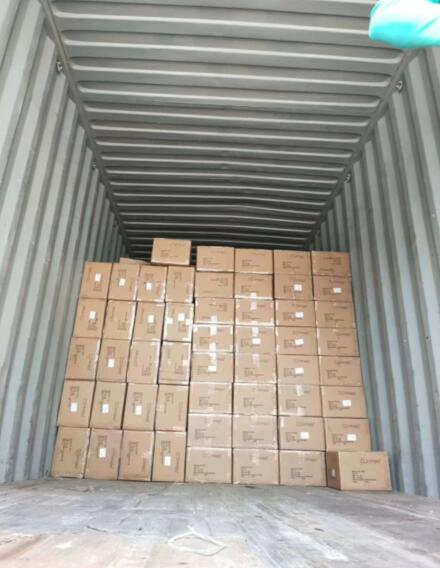 The packaging of our products is carton, usually 10 or 11 pieces are put in a carton,The design on the carton can be according to the customer's requirement.
     Email us your demand for composite decking tiles and we'll reply to you at the first time. Our email is admin@hanmingwpc.com.we hope to have a good cooperation with you in the future.