Environmentally friendly HM140x25mm WPC hollow composite decking Supplier & Manufacturer for outdoor
Technics:wpc hollow decking
Price:15.5usd/sqm
Brand:Hanming WPC in China
Application of composite decking:outdoor decking,garden decking, swimming pool decking, marina decking
Color:Teak,Redwood,Coffee,Light grey, Brown, Black,etc
Length:2.2m,2.7m,5.4m,or customized
Type of composite decking: HOLLOW WPC decking
Surface treatment of composite decking:Grooving, Sanding, Embossing
Maintenance of composite decking:Requires no painting, no glue, low maintenance.
Features of floor tiles:Durable,Waterproof,mothproof, Anti-UV, Anti-slip, etc
Lifetime:25 Years
Weather ability: -40c~60c
Hollow composite decking Manufacturer in China| Hollow WPC decking Supplier
Hanming WPC is a Supplier & Manufacturer of WPC Hollow and Solid decking In Zhejiang Province, China.
WPC hollow decking is aslo called plastic wood hollow decking , Eco hollow wood, BPC decking.
WPC hollow decking can be used for Garden, Swimming pool, Park, Terrace, Walk Road, pontoon,etc.
hollow composite decking, hollow composite decking problems—-if many cars drive above the hollow decking, may cause crack , these Places we can use Solid composite decking instead.
hollow core composite decking
wpc Hollow decking is a great alternative to wood. Here are the pros for Both Hollow and Solid composite decking:
Long lasting: Composite is made of plastic and wood, which makes it last longer in any climate.

Safety: The plastic-wood combination makes it slip resistant and splinter proof.

Low maintenance: Cleaning and maintenance is easy. No staining, sanding, or power washing is required like with wooden decks.

Cost: Though the initial cost is higher, it doesn't require expensive maintenance or replacements.

Aesthetics: Comes in various colours and can mimic the wooden look. Various accessories like railings and stairs are easily available.

         140x25mm WPC Hollow Decking with wood grain 
WPC hollow decking produced by Exturder.
Regular size for hollow decking:
135*25                 150*25
140*23                 146*22
140*25                 140*35
145*25                 140*40
146*31                 150*30
Hollow composite boards offer several benefits:
1:They are lightweight: A 16-foot hollow composite board could weigh as much as a third less than a solid board. As a result, it's much easier for either yourself or a professional to work with hollow composite boards alone.
2:They make excellent replacement boards: If you have an older deck that you originally built with wood, and you know the foundation is still in good shape, but you want to replace the older decking, then hollow composite boards are an excellent choice because of their weight.
3: Prices are much cheaper.Compared with solid decking, the price of hollow floor is more affordable, some prices are only one square of 16USD, in many places, just need hollow floor.
But Hollow composite boards can be less resistant to impacts — so if you drop a heavy object on a hollow composite board, it may dent more easily. Hollow boards also look a little less like wood and require caps or fascia boards on the ends — which can hold water if plugs are not attached properly and result in decomposition.
Hollow composite decking board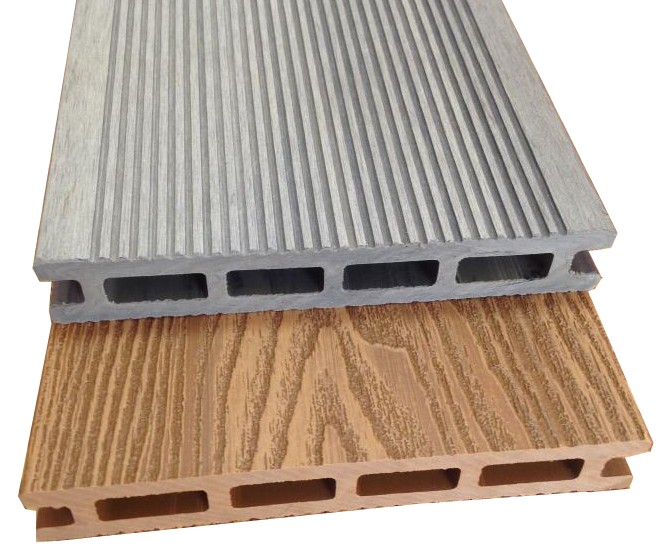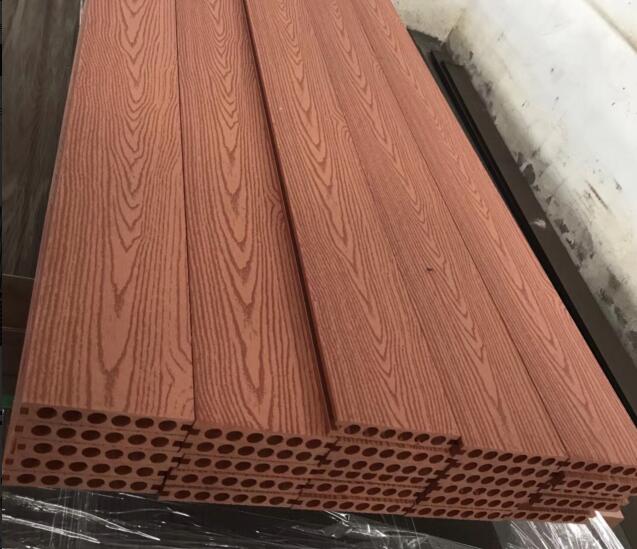 WHY COMPOSITE WPC HOLLOW DECKING
Providing a fresh and modern yet natural look that is easy to clean and maintain, composite wpc  decking offers a great alternative to traditional timber decking.
If you are thinking about installing decking in your garden and are undecided about which material to use, take a look at what composite wpc HOLLOW decking is and the multiple advantages of this alternative form of decking.
WHAT IS COMPOSITE WPC Hollow DECKING ?
Composite wpc is essentially a material made up of wood fiber and plastic, bound together by a binding agent. It is generally stronger, heavier and denser than wood on its own.
This relatively new product to the decking industry is proving popular, namely due to its robust and long-lasting qualities.
However, there is much more to composite wood decking other than its unrivalled strength and durability. 
wpc hollow decking Supplier & Manufacturer in China 
One reason composite wpc hollow decking has become so popular is due to its stylish yet natural look. Being made up of real timber while incorporating an innovative design, composite wood timber provides a stunning and modern look that still looks natural.
Furthermore, composite wood decking comprises of a range of natural finishes and colours, which blend in seamlessly with the surroundings in a garden, augmenting its natural look that is in-keeping with the outdoor space. 
LOW MAINTENANCE–wpc hollow decking
Come rain, snow, sun and wind, garden decking is certainly exposed to the elements. Unless it is treated and stained regularly, traditional timber decking is prone to becoming mouldy, cracking and rotting.
By contrast, composite wood decking requires much less maintenance. Simple cleaning methods with standard household cleaning products, is usually a sufficient way of maintaining the condition of composite wood decking.
Unlike other types of decking, composite wood does not usually splinter, meaning it can be walked on with bare feet!
SLIP RESISTANCE– hollow composite decking
Asides walking on the smooth, nick-free surface with bare feet, composite wood is also waterproof and consequently slip resistant.
Even if it's raining, the whole family can spend time on composite wood decking without fear they will slip on the surface and hurt themselves.
While most 'standard' forms of decking have to be sprayed with pesticides and other heavy metals during its treating process, to ensure it is not prone to being invaded by pests, composite wood decking does not require such additives. Composite wood is naturally resistant to the likes of insects and fungi and therefore does not need to rely on pesticides.  
Being made from plastic and wood, composite wood decking is generally more hardwearing to the elements of the weather and consequently has a longer lifespan than other decking materials.
ECO-FRIENDLY–Hollow composite flooring
With a growing emphasis to adopt more environmentally friendly practices and lifestyles in the home, more and more homeowners are turning to more greener types of furniture and furnishings.
Composite wood decking certainly complies with those aspiring to make their home more eco-friendly. Made from recycled wood and other recycled materials, composite wood is a greener option of decking than, for example, solely timber decking.
With these benefits in mind, it is easy to comprehend why more and more people are turning to beautiful and practical composite wood as their choice of decking.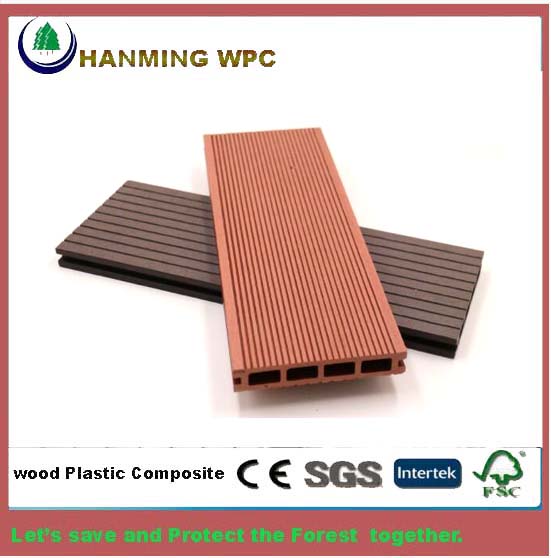 WPC Hollow decking picture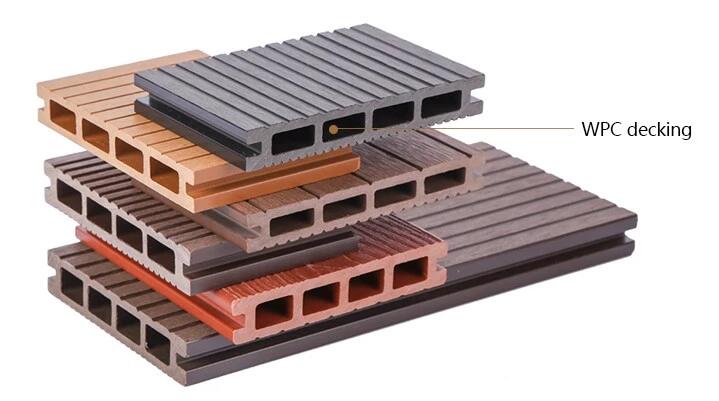 Anti-Slip Composite Decking Design Feature:
WPC as a new type of environmentally friendly composite materials, with high strength,impact resistance,non-deformation,waterproof, anti-corrosion,anti-moth,anti-virus effect .
Physical Feature
Noise insulation, fire-retardant, processing obviously superior to a timber and plastic products,in order to hardwood standard modular design,light and easy to transport.
Envionmental Feature
No radiation, no formaldehyde and other volatile products,recyclable,green environmental protection.
Appearance Feature
With a natureal wood appearance ,texture. Better dimensional stability than wood, no wood knots,the product can be made into a variety of colors, the surface without secondary leaching paint.
| | |
| --- | --- |
| Size | 150*25mm   Hollow WPC decking |
| Usage | Outdoor WPC hollow decking |
| Raw Material | 60% Wood Power+35%HDPE+5%Chemical additives |
| Color | Brown, Black,Coffee,Gray,Natural |
| Surface | Tongue & Grooved, Smooth,Brushing,Sanding,Embossing |
| Technique | Extrusion Molding |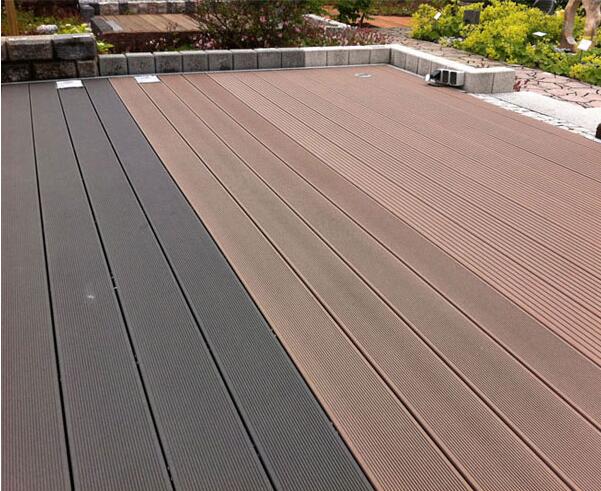 WPC HOLLOW DECKING PROJECT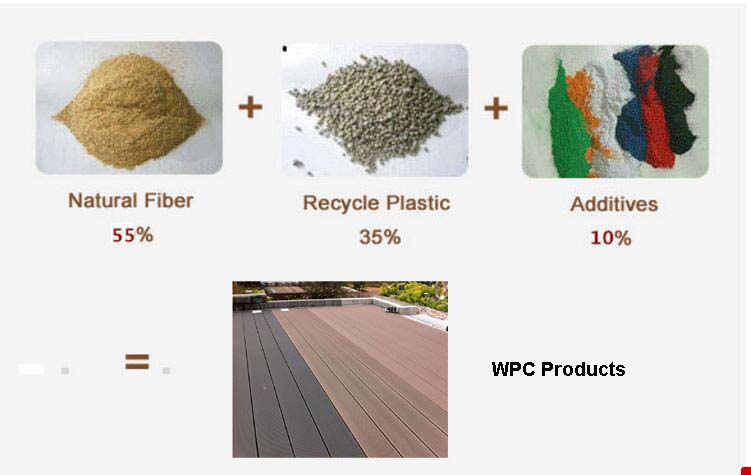 WPC HOLLOW DECKING MATERIALS
1. What Are The Main Advantages Of WPC products?
A: 1) First of all, the wood plastic materials are 100% recyclable;
     2) it is long-lasting, stable for the outdoor conditions, like sun exposure, rain, temperature ariations etc;
    3) it requires low maintenance; etc.
2. What is the regular proportion between the accesories and decking?
A:  Keel with decking:3-4:1
     End cover with decking: 1:1
     T-clip with decking: 20-25:1
3. Why the keel is neceary for the intallation?
A:  When we install the flooring, firstly the keels are fixed in the ground surface with the T-clip and then we put the solid decking board on the keels. You know the wpc decking board can't be put on the ground surface directly. For one thing, it can affect of the planeness of the flooring surface after installation. For the other thing, it is not good to control the drainage of the bottom, because the wpc decking board is mainly used for outdoor, which rains a lot. So keels must be used to hold the solid decking board when installed.
4. What the distance between two pieces of keel?
A:  About 30cm.
5. If there is one piece of the decking board broken, do we need to remove all the decking board to repair it?
A:  No. If replce the broken decking, you need to break the clips of both sides of the broken decking and then take the broken decking out, it's easy.
6. What's the regualr cleaning product for the wpc decking?
A:  The soapy water  or some of oiled paint is ok for the wpc decking.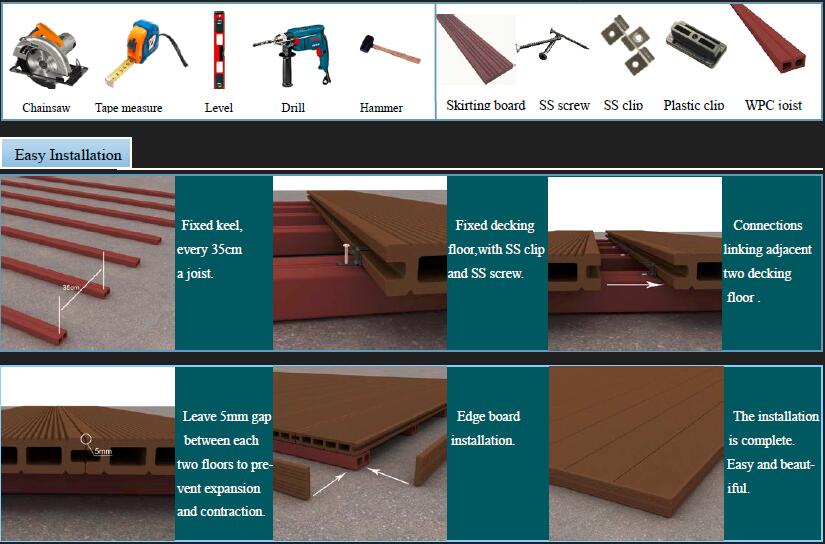 There is A Video for you to learn how to install the WPC Hollow boards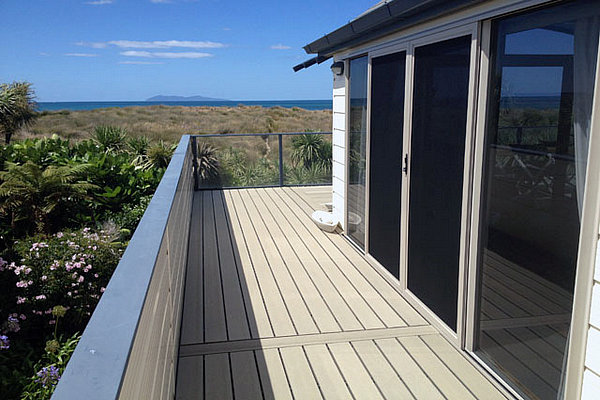 Hollow composite decking  FOR TERRACE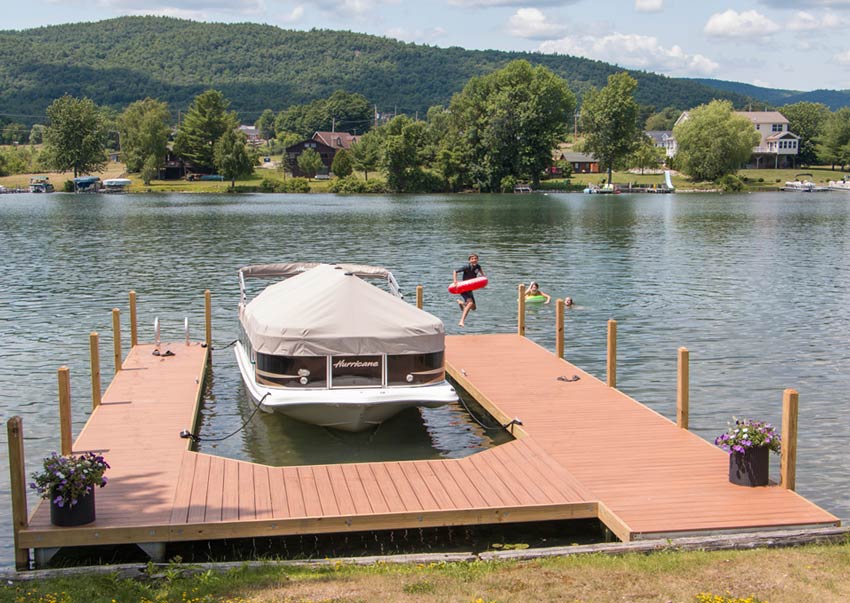 WPC HOLLOW DECKING FOR pontoon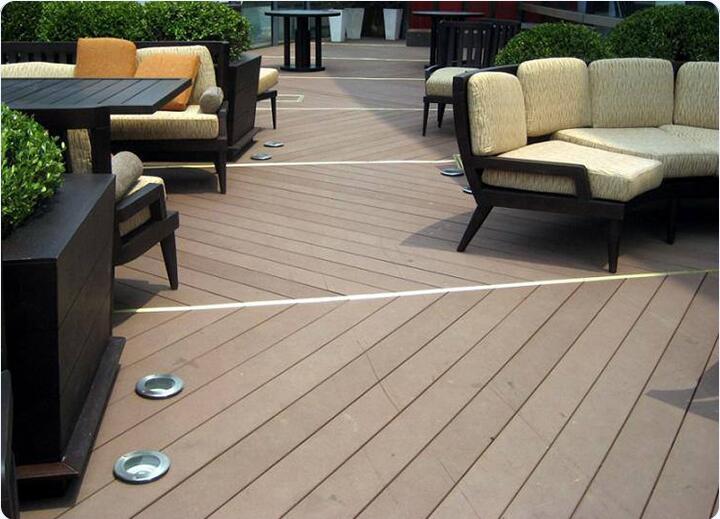 FAQ of Wood Plastic Composite(WPC) Materials
Ask: Are wood plastic composite products environmentally friendly?
Answer: Yes. Because WPC will not splinter, warp or fade the way wood does, it dramatically reduces the wasteful cycle of repair and replacement and eliminates the frequent application of environmentally harmful paint, sealers and stains.
Ask: Will WPC hollow decking and railing fade in color?
Answer: Most materials exposed to UV and other weathering effects will fade.WPC decking and railing solutions are blended with high quality raw material and UV-inhibiting pigments to minimize fade and produce products consistent in color. All products will fade evenly.
Ask: What are the main decking installation accessories?
Answer: Decking accessories including : keel, stainless steel clip or plastic clip ,nails, expansion screw, edge skirting .
Ask: What's characteristic of WPC?
Answer: Looks and feels like natural wood·Durable,anti-impact ,wearproof ,with high density·High capacity of UV-resistance,and color stability. Highly resistant to moisture and termites·Easy to be installed and low labor cost·Requires no painting ,no glue,low maintenance.
Ask: What's the lifetime value of WPC?
Answer: Because WPC never rots or warps, painting and staining is not required, however with pressure-treated wood decks, these costs add up over time. After four years, the total cost of owning a WPC deck equals the cost of a pressure-treated wood deck. Over the life of the purchase, WPC offers a far greater value than wood. Clean it twice a year and you're done so you can spend more time enjoying your outdoor living space, rather than working on it.
If you are interested in our WPC Hollow decking , pls send inquiry to us,
or mail to admin@hanmingwpc.com
whatsapp:+86 18705825615