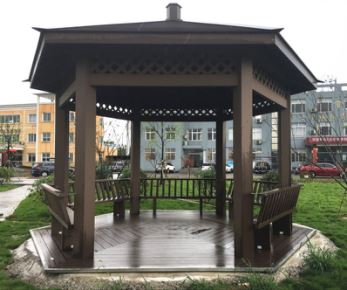 WPC Pavilion with wood plastic composite materials | Hanming gazebo for outdoor
Price: 3000-5000 Usd/set
WPC Pavilion surface treatment:sanded, brushed, wood grain, groove
WPC Pavilion Advantages:Use of waste and recycled materials
Used for such as boardwalks , docks,Parks,Swimming pool and Gardens.
The raw material of the decking and others: 55% bamboo powder, 35% HDPE, 10% additive.
China WPC Pavilion| WPC Gazebo
Recyclable WPC material aslo can used for Pavilion, which instead of wood and Bamboo,Composite wpc Pergola and Pavilion can be Put in Garden,both of them are good outdoor products.
WPC Pavilion is made of  plastic, natural fiber and some additives using special equipments?It mixes natural fiber and plastic perfectly to keep the natural impression of wood but with rich colors of plastic. It has gradually replaced wood and plastic, getting widely used in more and more fields.
HANMING WPC pavilion is designed and manufactured to stand up to the most extreme weather conditions. By integrating U.V. inhibitors and stabilizing additives in the product's formula, composite pavilion will stay beautiful and provide you with years of outdoor enjoyment long after installation. In fact, we are so sure of our material's reliability that all of our composite decking products come with a 25-year limited warranty. Build your pavilion with confidence and enjoy the many advantages of composite pavilion.
Under the WPC gazebo, we can install WPC decking and WPC Bench.
OUR WPC gazebo MATERIALS: 55%WOOD POWER+35% PE+10%Additives.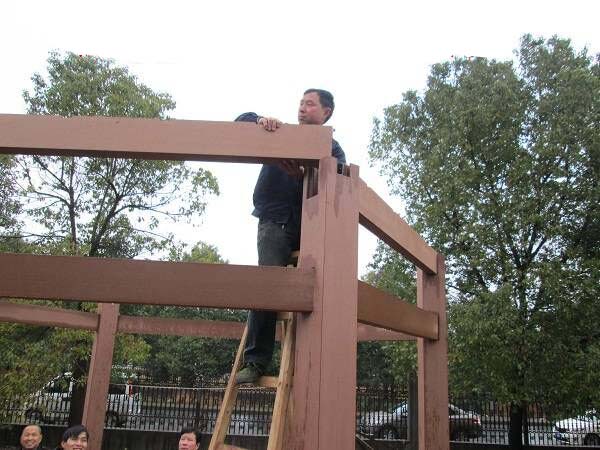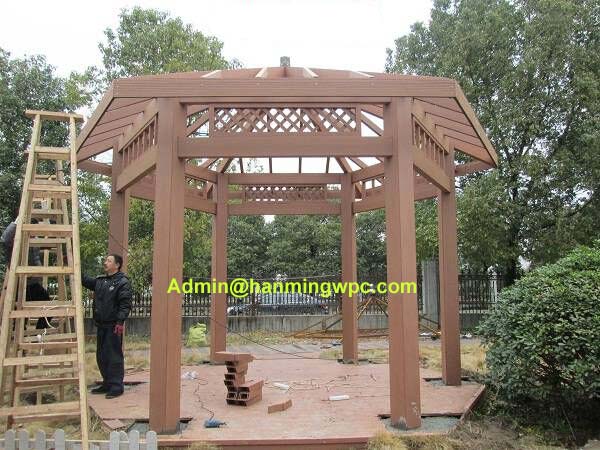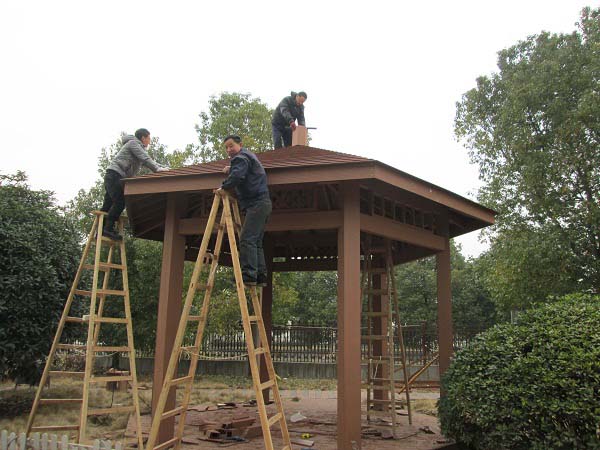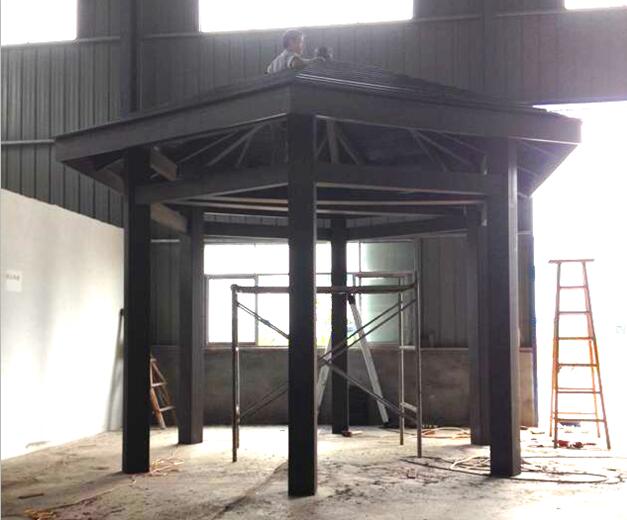 Anti-uv WPC Pavilion Advantages:
1.Recyclable, environmentally friendly:
WPC Pavilion made of 100% recycle raw material.
2.Water-proof, termite-resistant:
Wpc Pavilion  can stand up to wind, rain and sun. Installation and operation is easy. It is widely used in places near water and moist environment: outdoor decking, bypath, pavilion, platform, wall decoration.
3.High Cost Performance:
The primary input of WPC Pavilion is a little higher than common lumber, but because of less maintenance, anti-moth and long life time, it is a highly cost performance product
4.Easy to intall, minimal maintenance required:
WPC Pavilion Could be cut,drilled or nailed.Adjustable specification and shape,very flexible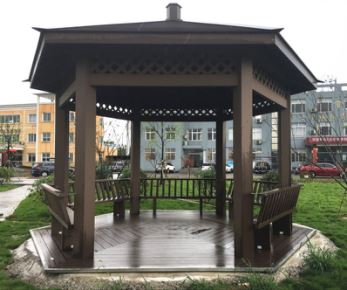 WPC Pavilion stand on Park picture
WPC Pavilion can stand on Park, Garden,Road,school,Factory,the People could sit and have a rest under the WPC Pavilion.
1. What Are The Main Advantages Of WPC Pavilion?
A: 1) First of all, the wood plastic materials are 100% recyclable;
     2) it is long-lasting, stable for the outdoor conditions, like sun exposure, rain, temperature ariations etc;
    3) it requires low maintenance; etc.
Gazebo also known as pavilion, is a place for passers-by to rest, shelter from the rain, is also a very important building in the garden landscape;According to its different forms, has been divided into four corner pavilion, hexagonal pavilion, anise pavilion.Wood-plastic  pavilion, or simple and solemn, or elegant.
At present, the pavilion made by WPC occupies a relatively large market position in China.This is due to the human body and wood – plastic materials are relatively close.But in foreign countries, the common material is solid wood material or other materials, so there is a huge potential.
If you are interested in WPC Composite Pavilion, pls send us your inquiry, our email is : admin@hanmingwpc.com