Wood plastic composite outdoor WPC decking  is a relatively environmentally friendly material. It has the properties and characteristics of wood and plastics, and a new type of environmentally friendly and high-tech material that can replace wood and plastics, so it is also widely used. New environmental-friendly high-tech materials that can replace wood and plastics. Let's talk about the installation of plastic wood flooring and some precautions. Let's see how much we know about composite decking.

How to install wood plastic composite Lumber decking
Many people buy or import plastic wood decking(or Capped composite decking),  Sometime they want to install or build the decking by themselves,then they will go to see some video or article tutorials. This article is a synthesis of our experience in installation for How to lay composite decking , to give you reference literature, we hope to give you good guidance on the installation of plastic wood flooring.
But please know the guidance may not cover every installation scenario envisaged. Since each installation is unique;  the actual installation and its actual performance are the sole responsibility of the installer.
Hanming recommends that all designs be reviewed by a licensed architect, or engineer before installation.
Please ensure your plan and/or design meets building regulations and permission before you begin installation.
If you are unsure of the best practices, please use suitably qualified personnel to prevent injuries or accidents.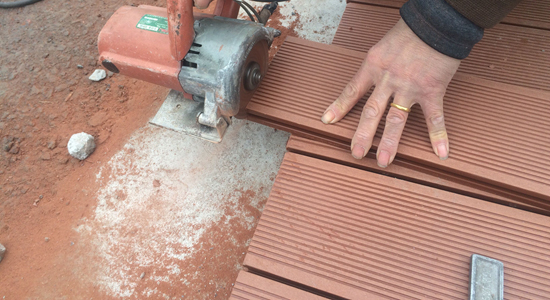 Build wpc deck–How to installing wood and plastic composite decking borads
Simple installation,  no complicated construction process, save installation time and cost.
Before installation
1,From the professional point of view of installing the floor, before starting the installation, it is necessary to keep the plastic wood floor dry, smooth and clean, so that the subsequent installation can be carried out smoothly.
2:The necessary tools for installation are: tape measure (box ruler), angle ruler, horizontal ruler, level gauge, ink bucket, aluminium sawing machine, hammer, rubber hammer, percussion drill, as well as various types of drill bits and wind lift head (other auxiliary tools may also be required, Screwdriver, vice, wallpaper knife, wire, sandpaper, cleaning ball, etc., fixed on plastic wood material, must use stainless steel screws, not nails).
Installation procedure
1,Fixed WPC keel:WPC keel or Steel Keel evenly arranged on the cement floor,we recommend the space between joists is L=300-350mm(Middle to Middle). Using electric drill to lead hole on keel, then screw into drill hole, fix keel on cement ground, nail head should be rotated into keel, do not expose outside, otherwise the floor layout may be uneven.
When installing WPC  keel, need to make concrete ground level off.When the ground is found uneven,Just make the ground level up to a certain standard,The preliminary treatment of the ground is very important.Because when laying decking, the specification of keel  is consistent, if the ground does not make level, when laying WPC decking, can cause decking uneven or the phenomenon with different keel heights.
If The thickness of concrete is not less than 8mm, then, we can use  expansion screws directly to fix the wpc keel to the concrete ground.
After the keels are  laid, some Keel  bottoms  and the ground has a gap, at this time also need to take cardboard or wood pieces put inside it.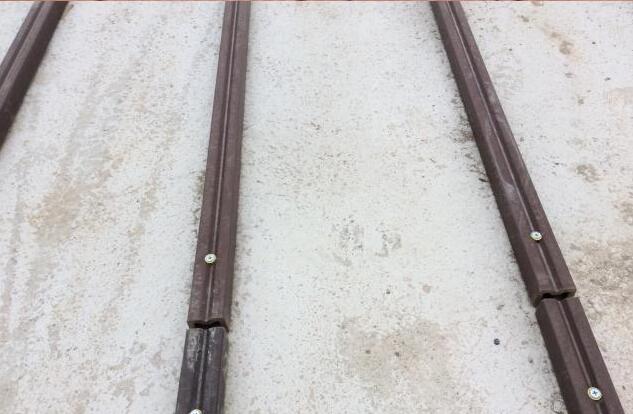 The space between joist "L" also can according to the request to adjust. if popular Places with many tourists (Place of interests,etc.)and using hollow decking, The distance should be less than 250mm.When the thickness of deckind is less than 25mm and it is hollow item,The spacing between the keels shall not exceed 250mm too.
How do we install a keel on a ground that is all earth,We can first dig holes in the ground to embed the concrete or galvanized pipe columns,The specification of galvanized pipes for columns shall be no less than 60*60mm,Pipe wall thickness not less than 2mm,The span between the columns should be controlled within 1800mm;After the column is embedded, the galvanized pipe keel shall be welded on the column. The specification is recommended to be above 40*60mm.
2-Fixation of WPC keel—Expansion screw can help to fix the joist/keel into the concrete floor.
The distance between the fixed points of plastic expansion screw is 500mm~600mm,Require the screw cap to be lower than the wood plastic keel surface,When wood plastic keel is fixed, need to do whole flat.
Note:Please Pre-drill before assembling joist,if not,The Product maybe damaged very easily.
1-WPC product will slightly expands after heating.When Hanming WPC products in the assembly,Pls leave 3-5mm spaces from the building. 
2-when two joists meet, pls leave About 10mm space between them.
3,Fixed the first floor:When paving the first floor, you can use an electric drill to make holes on the Side edge
of the floor, then fix it to the keel by stainless steel screws. or Using A  SS start clip fix into the joist first,then put the first floor edge into it.
4,After finish assembling the first decking,put the Plastic or Stainless Steel clip insert the decking slot,use the rubber hammer tap on the decking,in order to ensure the space even .then use the cross screwdriver to fix the clip,complete the installation of all the decking one by one.
Installation method of wpc decking
Note: 1. Due to the high density of wood-plastic material itself, it is necessary to use the drill hole at the position of the self-tapping screw, and then tighten the self-tapping screw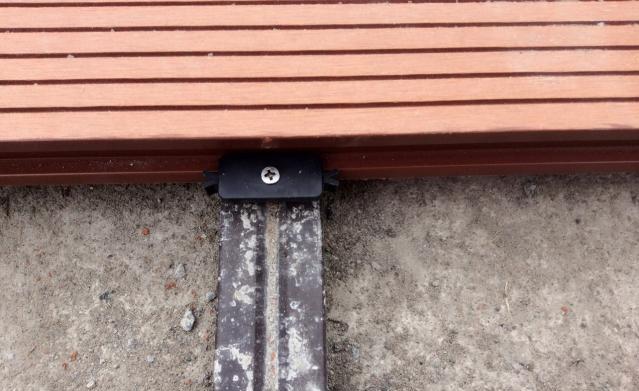 Fix the wpc decking clips
5: The Last PC decking aslo do it like step 3, you can use an electric drill to make holes on the Side edge
of the floor, then fix it to the keel by stainless steel screws. Then you USE L Shape WPC edge cover or flat fascia board to cover the edges.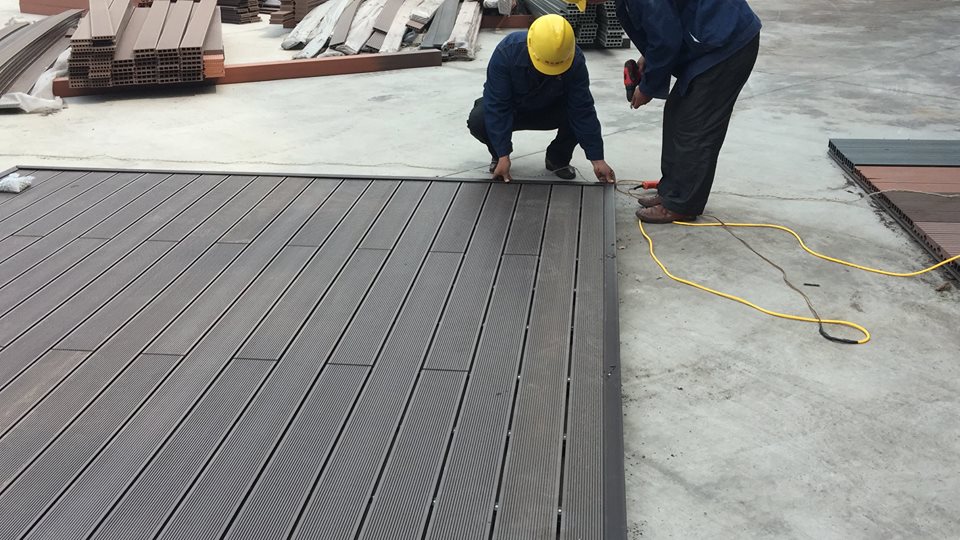 Wood plastic composite wood installation guide
Finish the decking installation,then inspect for some reserved slot. If necessary,it can use portable cutting machine to trim the solt, ensure the slot straight. After inspection,Pls use the water to clean wood and plastic composite decking surface.If there are some stains,it can use the family usual detergent to clean. For the rubbish cause by the construction,it should classify to treatment.The leftover bits and the pieces of WPC can be recycled reunification,then submit to factory to recycle.thank you to do this to protect the environment.
Composite Decking Easy Installation 
Although the Plastic wood composite board has many advantages, such as waterproof, moisture-proof, can be used for river, rainy days more places, there is no problem.  strong plasticity, high environmental protection, can be recycled again, simple installation, convenient maintenance and so on, but the wood floor in the installation process if the installation is not reasonable, later there will be a lot of problems, such as the keel not paved, will crack, plate tilt problem. Half of the wood floor is dipped in the water when installed, half in the air, will also crack, plate tilt problem.
Swimming Pool wood decking install;
 Recycled Plastic Decking Installation Guide             
Composite Decking Installation Videos 

for your reference, which may give you some help.
How to install Wood plastic composite boards on adjustable plastic support:

The WPC  Joists are installed on the adjustable plastic support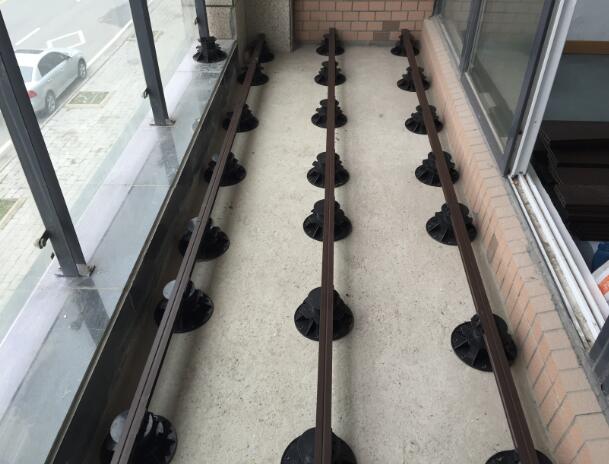 Then deckings are Put and installed above the WPC Joists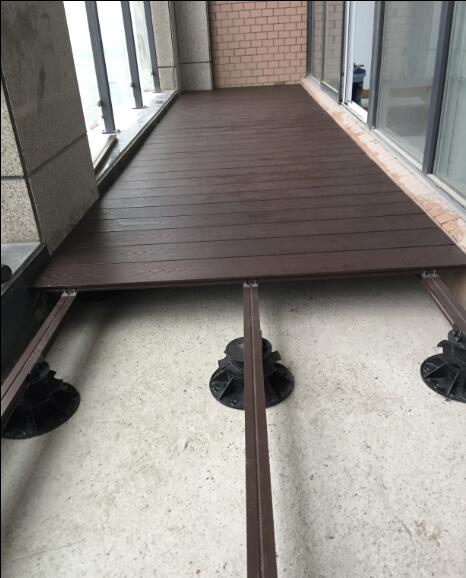 It is very important to follow the manufacturer's instructions when installing composite decking material. Thermal expansion is always something to be aware of when dealing with plastics. Most climates temperatures fluctuate enough to cause an issue with how the decking is spaced from summer to winter. Composite decking is less stable than wood so it tends to grow and shrink across the length of the boards as it heats and cools. Proper spacing will allow some movement without buckling. 
Some composite decking materials are designed to be installed with hidden fasteners. These clip systems generally are screwed into to the deck frame across each joist and fit tightly into a cavity running down the side of the boards.  
We recommend using reverse thread screws when face screwing composite decking to eliminate mushrooming. Mushrooming occurs when a standard bugle head screw pulls some composite material above the surface during installation. The resulting raised bump isn't very attractive. You can also use a hammer to level the surface. 
when you install the composite Boards, may need the Follow Accessories: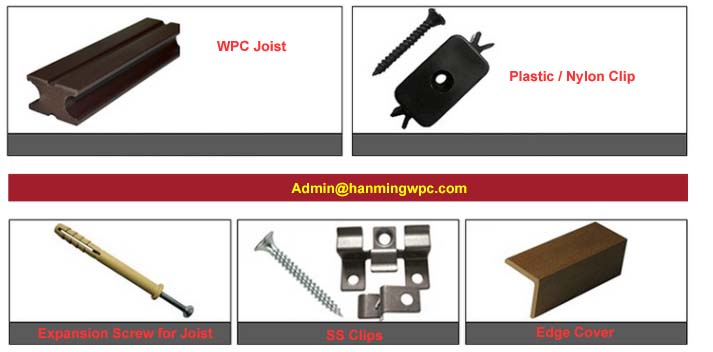 Note: Please ensure your plan and/or design meets building regulations and permission before you begin installation.
If you are unsure of the best practices, please use suitably qualified personnel to prevent injuries or accidents and get the best performance from Hanming products.
You may need these Profiles from Hanming Company:


If more questions or want to buy wpc products from US, welcome send email to Admin@hanmingwpc.com 
Or Click here to send us a Inquiry.
Whatsapp: 0086 18705825615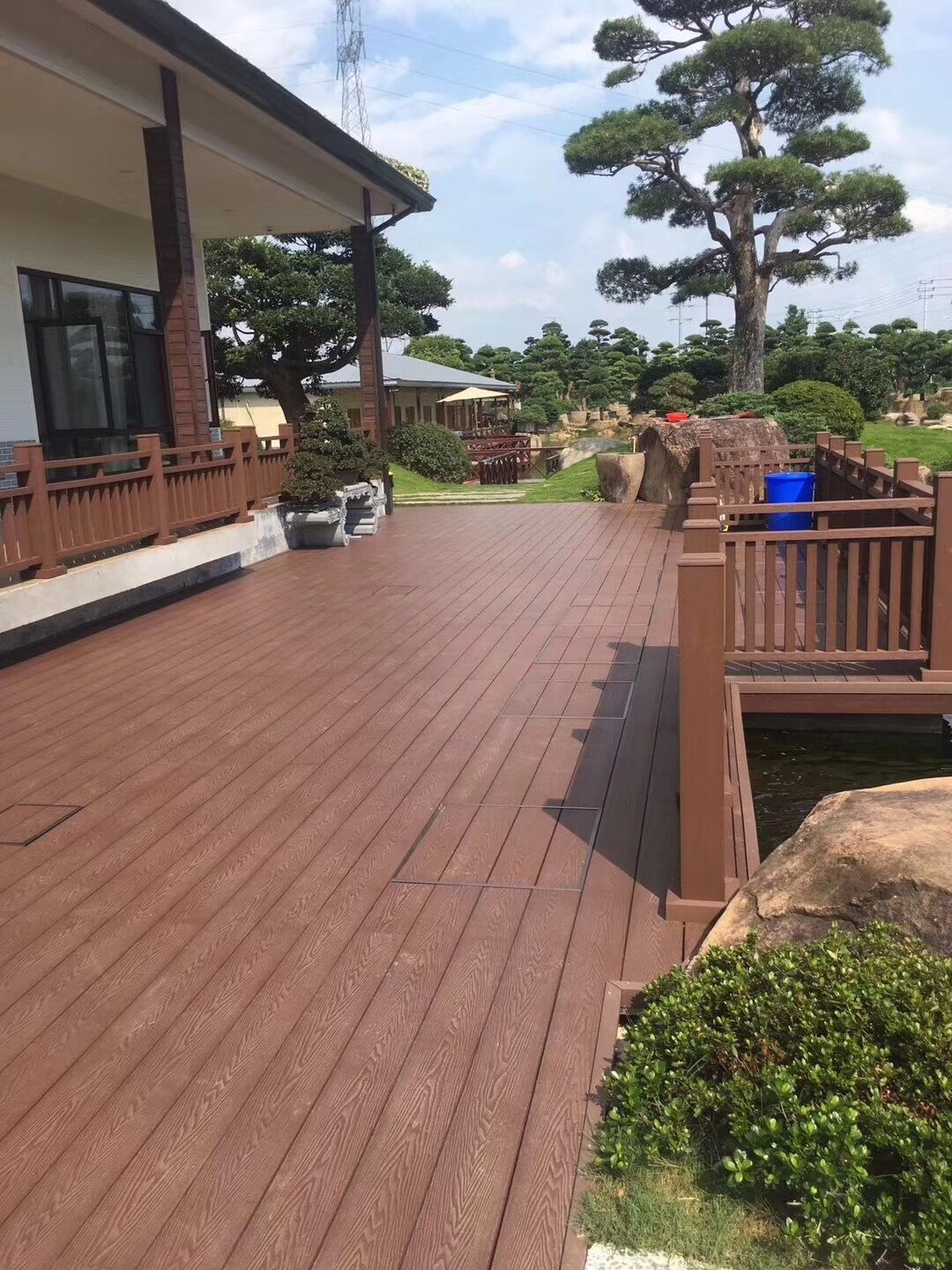 Hanming only wholesale and Export high quality WPC decking ,WPC wall cladding ,Co-extrusion composite decking ,WPC DIY flooring, usually our Products have more than 30 Years lifetime. Our Shipping port is Shanghai or NingBO Port.
When you are looking for Suppliers of WPC Products from China, Hanming is one of your good choices.
Click the follow Link to contact with us;
or Email to Nick@hanmingwpc.com
The author: Nick       Published on: Feb 16, 2015 15:32