WPC decking replace swimming pool wood decking | Hanming composite decking
Place of Origin: Zhejiang, China (Mainland)

Brand Name: Hanming WPC

Model Number: Hollow and Solid

Technics: Wood-Plastic Composite Flooring

Color: Red,coffee,yellow,grey,black,Brown

Certificates: SGS,CE,ISO,FSC

Surface: Sanding

Price: 15 usd/sqm–25Usd/sqm 

Material: Wood + HDPE +Additives
When it comes to the floor of a swimming pool, many people are sure to use wood or tiles, which were indeed more common in the past.But in recent years, with the continuous research and development of new materials,Wood plastic materials have also been widely used in this field.
What are the advantages of WPC decking compared with wood floor?
Wood Plastic Composite is a hybrid material which combines the qualities of wood and the ease of workability of plastic. It is a composite material which has replaced natural wood and is sustainable as it is made of waste wood and recycled plastic. It is widely used in outdoor decking floors, railings, fences, cladding, outdoor landscape, cornices, door and window frames, indoor furniture, outdoor furniture etc.
The material is very easy to maintain and clean.

The material is resistant to ultra violet light and its colour does not fade easily.

Wood Plastic Composite

 is highly durable and is not affected by rain, snow or peak summer conditions.

The material is slip resistant hence is a very good material when used as deck flooring especially near swimming pools.

WPC cladding Panels

 is highly weather resistant. It is available in many colours and textures which add to the beauty of the building.

It is a costly material but is effective in the long run.
swimming pool wood decking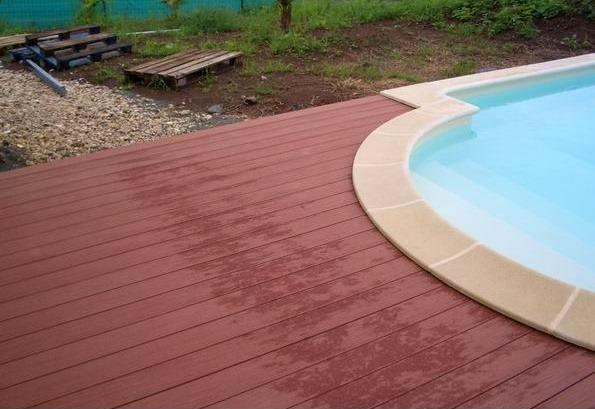 The hardscape area around your swimming pool is called a surround, deck, or decking. Traditionally, most in-ground swimming pool decks are made of concrete. Other materials, like pavers and brick, are also popular choices.The material must be safe and not become slippery when wet,Make sure the decking material isn't coarse, bumpy, or uneven,based on these,wood plastic composite decking is Popular used for this area.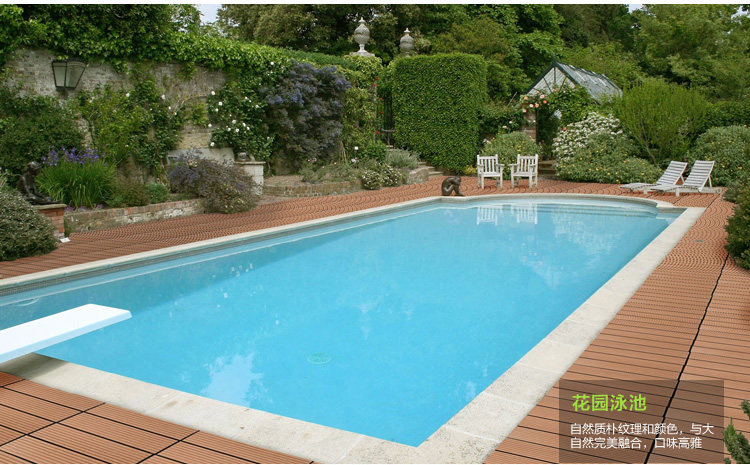 If the wood decking is used as a swimming pool surround floor, What are the shortcomings?
wood decking options have the lowest life expectancy  and then only if properly maintained.Timber or wood  decking is high maintenance, it requires painting and staining annually which can add to the cost of the decking. It will also need to be cleaned and resealed every year or so. Upkeep can be expensive and time consuming and boards may need to be replaced if weather damaged. The more durable hardwood timber options can be expensive both in materials and labour. The need for pre-drilling and made-to-measure designs can up labour and design costs. 
Swimming pool surround use WPC decking instead of Wood DECKING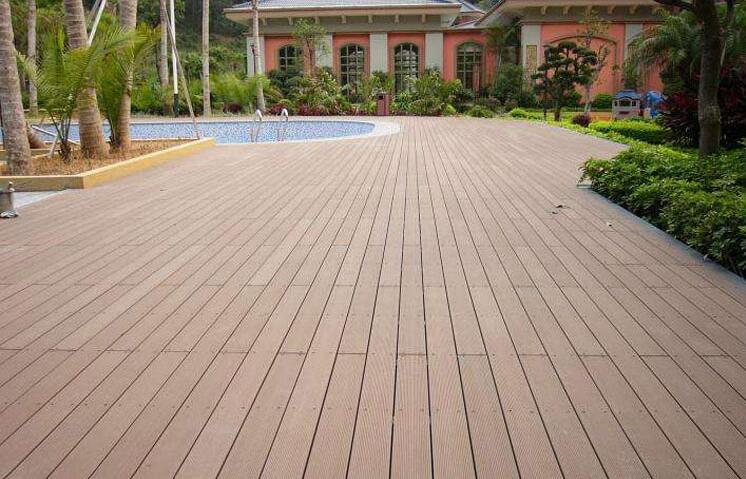 wpc products can fully meet the physical characteristics of water resistance, soaking resistance and artistic requirements such as color and texture, and wpc also meet the requirements of sports psychology for sports standard pools.
Based on the development of wood-plastic floor technology, the emergence of capped composite decking will be better as a swimming pool floor.in that case of a co-extruded capped decking,you can search on our website.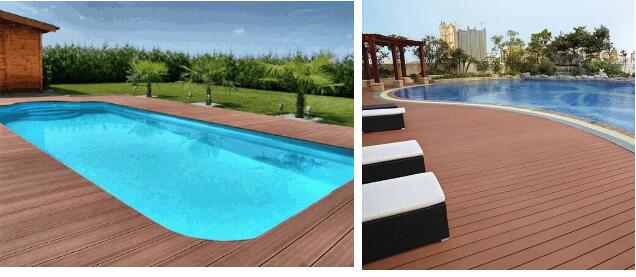 Swimming Pool wpc decking boards 
The swimming pool floor is in contact with the water vapor daily, and if the untreated ordinary wood floor is used, After some time it may cause the deck be warping, cracking and decay, making it unsafe and easy to cause damage. Regular maintenance and maintenance of floors can also increase late costs and waste of time.
Wood plastic deckings are also used for the marinas and large commercial docks. Our WPC decking is protected against rain and sunlight, with no damage from mold and water, while the anti-slip treatment on the decking surface is also suitable for swimming pool side installation.
If the floors of some swimming pools need to be replaced, and you don't want to use wood decking, you want to buy wood-plastic materials for installation.Welcome to tell us your request.
Our email address is : Nick@hanmingwpc.com
We'll get back to you as soon as we can.