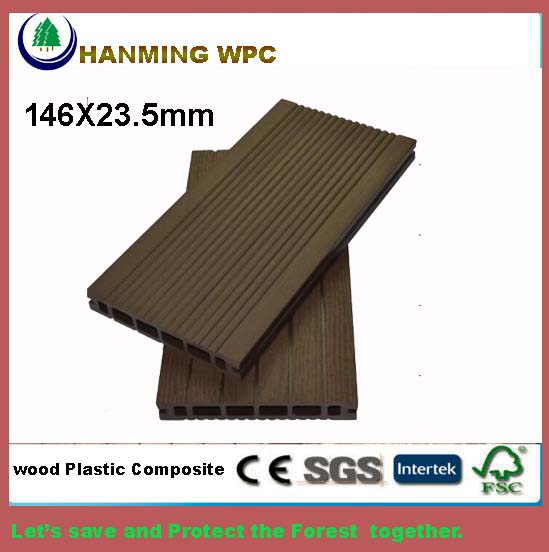 146×23.5mm maintenance free man made deck boards | Plastic wood lumber
Price: 15Usd/sqm-22usd/sqm
Surface treatment:sanded, brushed, wood grain, groove
Advantages:Use of waste and recycled materials
Used for such as boardwalks , docks,Parks,Swimming pool and Gardens.Our WPC man made deck and others are slip resistant.
The raw material of the decking and others: 55% bamboo powder, 35% HDPE, 10% additive.
What kind of flooring is plastic wood Man made deck boards? Plastic wood composite Lumber is a type of composite flooring for Outdoor, it can also be said that man made decking board is a kind of wood-plastic composite board, but also a new type of environmental protection and energy-saving composite materials.It is aslo called man made Lumber.
Is the composite wood floor a wooden decking? From the wood floor material to distinguish, composite decking boards and wood material composition is completely different. Plastic-wood flooring is a new artificial material made from wood fiber and HDPE. Wood flooring is also divided into solid wood flooring, solid wood composite flooring and aggrandizement flooring, but after all, they are all made of wood and wood derivatives. So with the internal structure of the Plastic wood decking and wood flooring is different.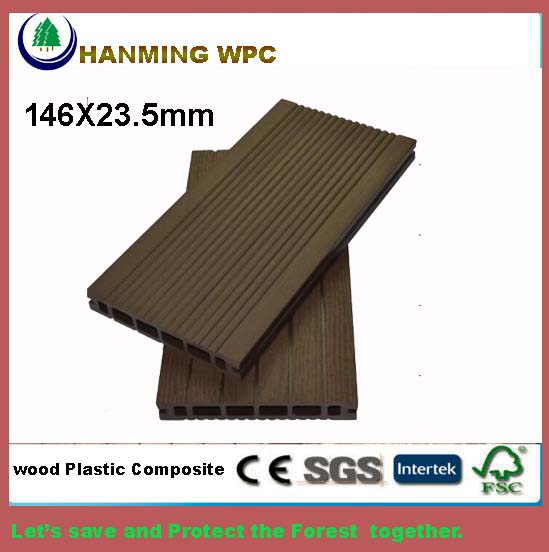 146×23.5mm maintenance free man made deck boards
it is man made deck board, mainly refers to this kind of floor is not natural wood, its composition is wood powder and high density plastic , WPC has the wood powder and the plastic respective superiority union. And the color of the floor can be a variety of, surface texture can also be inconsistent.
Plastic wood lumber
the artificial composite decking does have a number of advantages, but it aslo has some disadvantage, the following is a few of the advantages of the composite floor:
WPC as a new type of environmentally friendly composite materials, with high strength,impact resistance,non-deformation,waterproof, anti-corrosion,anti-moth,anti-virus effect .
Physical Feature
Noise insulation, fire-retardant, processing obviously superior to a timber and plastic products,in order to hardwood standard modular design,light and easy to transport.
Envionmental Feature
No radiation, no formaldehyde and other volatile products,recyclable,green environmental protection.
Appearance Feature
With a natureal wood appearance ,texture. Better dimensional stability than wood, no wood knots,the product can be made into a variety of colors, the surface without secondary leaching paint.
The following link expenses some of the shortcomings of the composite floor, I hope to give you reference: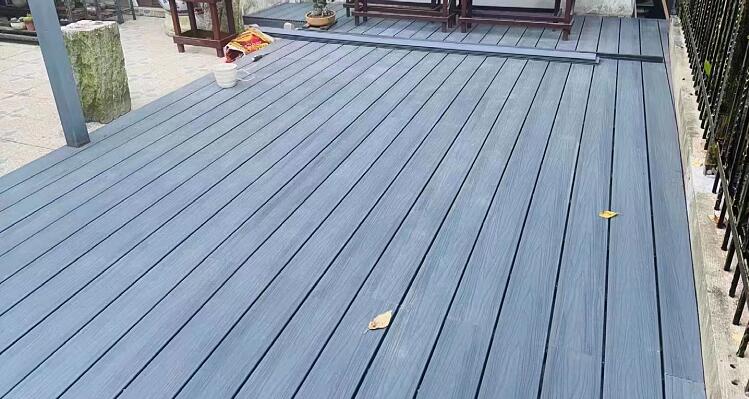 | | |
| --- | --- |
| Size | 146*23.5mm man made deck boards |
| Usage | Outdoor |
| Raw Material | 60% Wood Power+35%HDPE+5%Chemical additives |
| Color | Brown, Black,Coffee,Gray,Natural |
| Surface | Tongue & Grooved, Smooth,Brushing,Sanding,Embossing |
| Technique | Extrusion Molding |
With the continuous innovation of man made board technology, in addition to the traditional sense of composite floors, there is now a thin layer of capped on the decking surface, the advantages of which are to prevent the infiltration of water and grease, as well as solar ultraviolet radiation, which makes it more useful, and some projects are more inclined to such capped composite decking.
capped composite decking boards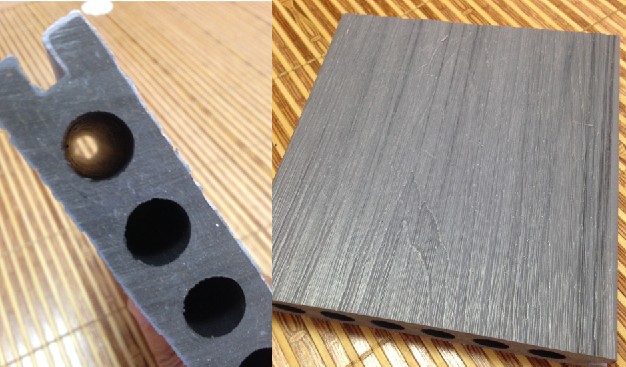 The later maintenance cost of artificial composite wood is very small, which also causes many customers to choose composite materials between wood floor and composite floor.Plastic wood lumber is bound to be a popular material for floor all over the world.Take a closer look, at the rattan frame of the balcony, the chairs , fencing in the garden, and the pavilions, are many of them turned into plastic wood lumber?
WPC man made decking  can be maintenance-free, anticorrosive wood due to environmental temperature and humidity and solar ultraviolet radiation, generally after one year need to do maintenance or paint, and so on. In the long run, the maintenance cost of wood plastic is far lower than that of anticorrosive wood products.

Hanming WPC outdoor flooring has a longer service life than wood, no additional cost of regular maintenance and maintenance during the product life cycle; in the long run, generally five years or less, the advantages of outdoor flooring in performance can make up for price differences!Different colors allow designers and owners to design terraces more easily, and Hanming wood-plastic outdoor floors can provide more than 15 years of anti-fading quality assurance, so that your terrace will always keep this color.
If u are aslo interested in Importing wood Plastic composite floor (WPC decking)from US.
Pls send us your inquiry details, like Size , hollow or Solid  And Length Per PC,ETC.
We will Quoto you first ,and if Need we can provide free samples to you.
Our Email Address: Nick@hanmingwpc.com