Composite decking boards for sale |composite decking wholesalers
Composite Decking boards from CHina:
FOB shanghai Price:16usd/sqm –21usd/sqm
surface treatment:sanded, brushed, wood grain, groove
Advantages:Use of waste and recycled materials
Used for such as boardwalks , docks,Parks,Swimming pool and Gardens.Our WPC decking and others are slip resistant.
The raw material of the decking and others: 55% bamboo powder, 35% HDPE, 10% additive
Composite decking boards for sale |composite decking wholesalers
The wood-plastic composite (WPC) produced by our company mainly takes HDPE particles and plant fibers as raw materials, such as wood flour, rice husk, bamboo powder and so on, which is conducive to the improvement of ecological environment, crushing and recycling of waste products. Products include indoor floor, wall panel, window frame, outdoor floor, fence, railing, etc.
Hanming is a composite decking wholesaler in China,Some of our projects have been the marking architects in their places and also some of our products have been exported to USA, Taiwan,India,Europe etc. 
It is easy to install composite deking.
composite decking boards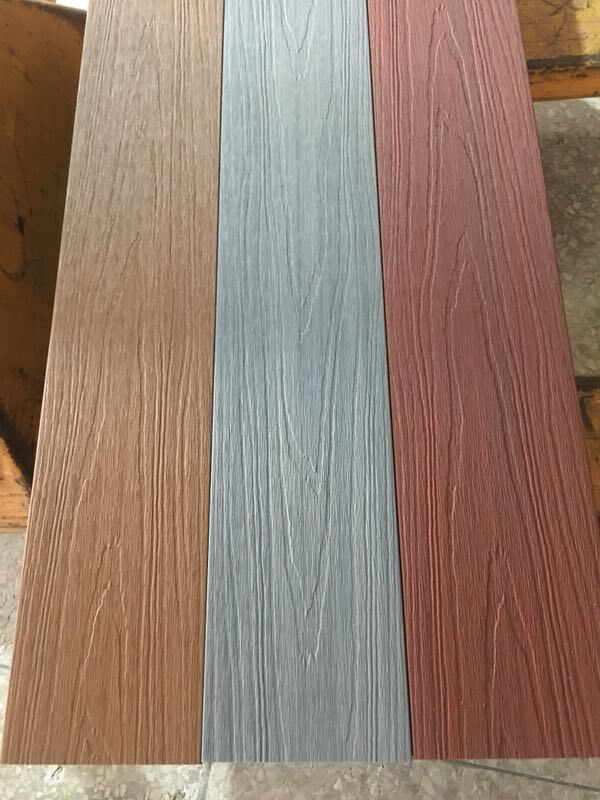 WPC is a new kind of environmental friendly product that can totally instead of wood ones through scientific innovation of waste wood recycling and development. While conserving natural resources at the same time, not only WPC have natural wood texture and grain, but also have much performance such as water resistance, recycling, corrosion resistance, mildew proof, no pollution, convenient processing etc.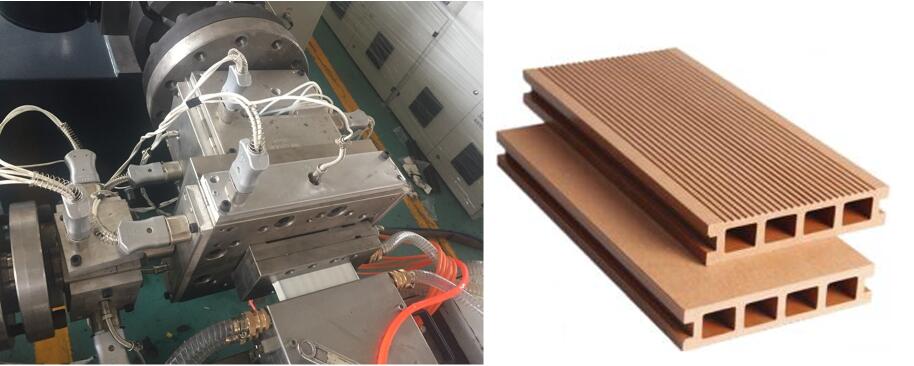 Composite decking boards are produced by extruder machine
Features:
·Looks and feels natural wood
·Eco-friendly, high-recyclable, green material
·No cracking, warping and splitting
·Water/moisture-proof, corrosion-resistant
·Low maintenance and no painting
·Easy to install, clean
·Weather-resistant, suitable from -40 ℃to 60℃
·High degree of UV and color stability
Materials of composite decking boards:
35% environmental plastic materials(Grade A Recycled HDPE )
55% natural wood fiber
10% chemical additives. (Anti-UV agent, Anti-oxidation agent, stabilizers,
colorants, anti fungus agent, coupling agent, reinforcing agent, lubricants.)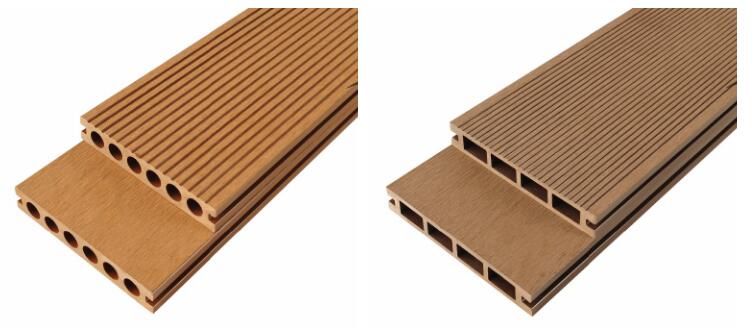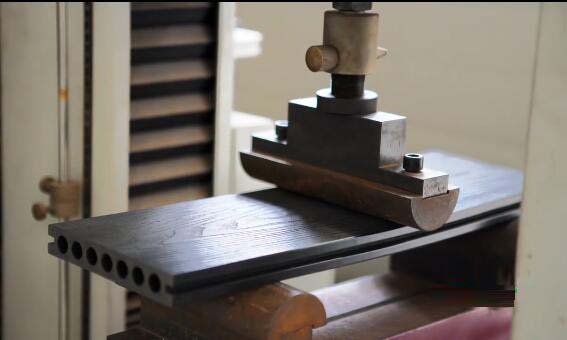 High Strength for the wood plastic composite decking boards
When the Composite decking came out from the Exturder, the Surface need be Brushed.
How to Brush the Composite decking Surface ?
These days, many homeowners are turning to composite decking as their go-to material for deck building. This particular type of material is made to look similar to wood, but it needs hardly any maintenance and is extremely durable. 
What is the average cost of a composite deck?
The average cost of Hollow composite decking is $15-$19 Per sqm from us.
The average cost of Hollow composite decking is $19-$25 Per sqm from us.
The average cost of Capped composite decking is $20-$30 Per sqm from us.
Composite decking board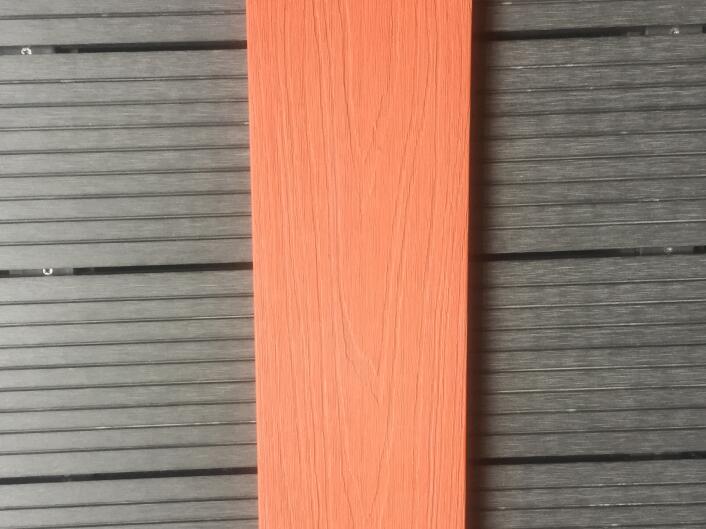 There are many benefits composite decking has to offer. Durability is perhaps the biggest selling point for composite decks. While composite decks can last for over 50 years, most homeowners replace them after 30 years due to tired look. Needless to say, with minimal upkeep, you could have a terrific deck for almost half a century.
white color composite decking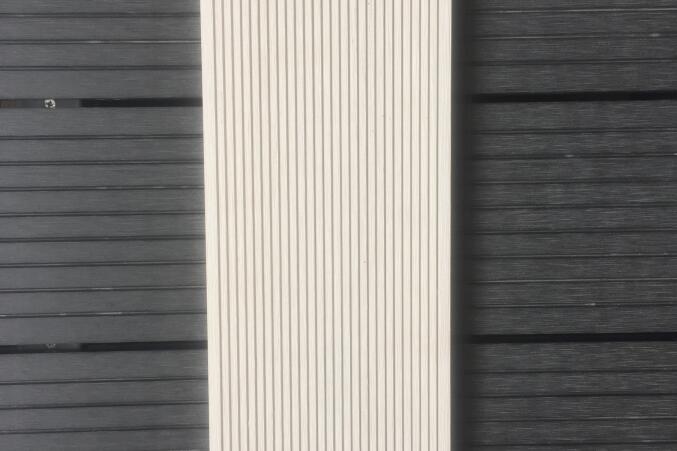 How long do Composite decks last?
Traditional wood decks have a lifespan of 10 to 15 years. Because composite decking is weather, insect,
and rot resistant, making it last for 25 to 30 years or longer.
Most low maintenance decking products use polyethylene (HDPE or LDPE) plastic or PVC (polyvinyl chloride)
as the base material for their decking boards,and Wood Power use Cypress wood powder.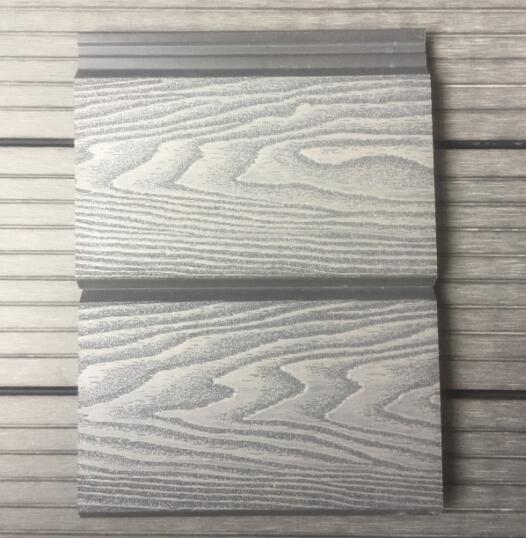 How long is the service life of Hanming wpc?
Over 10 years.We gurantee 10 years warranty.
Do WPC products need to good ventilation and drainage?
Yes, like timber, it's important to provide adequate ventilation and drainage to ensure Hanming WPC is able to dry out after being wet. 
For this reason, it's very important to pay attention to clearance on butt joins ( end to end), spacing between boards( side to side), and min. ground clearance. 
Lack of ventilation and drainage can cause the products to swell over time. Check product fix information on the good ventilation and drainage requirements. 
Boxing in the deck will reduce cross flow ventilation and therefore should be avoided.
What is the Hanming Payment term?
T/T 30% value of total good as deposit,70% balance should be paid at sight of copy of B/L.
Because of deviation caused by shooting and printing, the real color has some differences with the photo,all customers should be take the color of real product as the final one. 
Hanming will offer you excellent service in three hands:Pre-service/Sale-service/After-service.
We will offer you 7*24 hours service to help you solve problems.
Most welcome designs can be chosen.
We never crook our customers and friends,we want to be you trustworthy supplies.
We are pleased to provide free samples if you need.
welcome contact with us by mail : Nick@hanmingwpc.com   Jean@hanmingwpc.com