145X21mm artificial composite decking boards | maintenance free decking
Product name:WPC outdoor flooring,composite decking, waterproof wpc decking floor
Surface Treatment: Grooving, Sanding, Embossing
Price: 14USD/SQM-19USD/SQM 
Brand: Hanming WPC In CHina
Component:60% Wood flours+30%(HDPE)+10% Additives
Technology: Extrude
Application:Garden, park, summer house, villa, pool surrounds, beach road, scenic
Features:Waterproof, Anti-UV, Anti-slip, etc
Color: Teak,Redwood,Coffee,Light grey, Brown, Black,etc
Lifetime:25 Years
Keywords:wpc outdoor flooring, composite decking,wpc decking floor
What is the trend of artificial composite decking boards ?
      The composite WPC decking board  is made of plastic and natural wood fiber, which is processed by special techniques such as extrusion, injection molding and molding.
      The main components of WPC are plastic and natural fibers. Compared with traditional wood, the biggest advantage of WPC outdoor decking  is that it contributes a lot to the environment. Saving wood is conducive to protecting the ecological environment, no need to paint to avoid environmental pollution, and recycling after recycling can not cause secondary pollution. Plastic wood products have the advantage of not being painted and not afraid of water. After 10 years of use, they can be recycled.we call it maintenance free decking
      It is understood that WPC decking  is mainly used for outdoor garden landscapes and hydrophilic landscapes. The service life of plastic wood is 3-10 times that of ordinary wood.
Anti-Slip Composite Decking Advantages:
1.Recyclable, environmentally friendly:
Wood plastic composite (WPC) made of 100% recycle raw material.
2.Water-proof, termite-resistant:
Wood plastic composite(WPC) can stand up to wind, rain and sun. Installation and operation is easy. It is widely used in places near water and moist environment: outdoor decking, bypath, pavilion, platform, wall decoration.
3.High Cost Performance:
The primary input of WPC product is a little higher than common lumber, but because of less maintenance, anti-moth and long life time, it is a highly cost performance product
4.Easy to intall, minimal maintenance required:
Could be cut,drilled or nailed.Adjustable specification and shape,very flexible.
Product Name

WPC Decking For outdoor 

Width&Thickness

145mm*21mm

Length

2.2m, 2.9m,3m, 4m, according to your requirement

Color

 white, coffee, teak, dark grey, Chocolate

Surface Treatment

Sanding, brushing, wood grain, mix color, smooth

Material Component

55% Wood Fiber + 35% HDPE+ 10% Additives

Warranty

10 years

Application

Courtyard, garden, terrace, park, patio, corridor, house decoration, outdoor/indoor wall decoration

Advantages

1. Waterproof, moisture-proof, anti-slip, corrosion resistant, insect proof, flame retardant




2. Easy to install, save materials and installation time and costs




3. High density and strength, beautiful and colorful




4. Maintenance free, no need to paint, easy to clean




5.100% Recycled, friendly to the environment
For consumers, composite decking belongs to the product of energy saving and environmental protection type,WPC not only can control the emission of harmful substances very well,WPC still can do the ground waterproof and moisture-proof effect.
For stylist, WPC is one new type artificial material,WPC has the affinity of both natural wood,And a variety of Sizes and colors can meet the design requirements of designers for novelty and change.
Modern people pursue nature and simplicity,And WPC is artificial synthetic product,But it also has the natural appearance and texture of the wood. Therefore, many families are also particularly favored at the choice of plastic wood floor to conduct home decoration.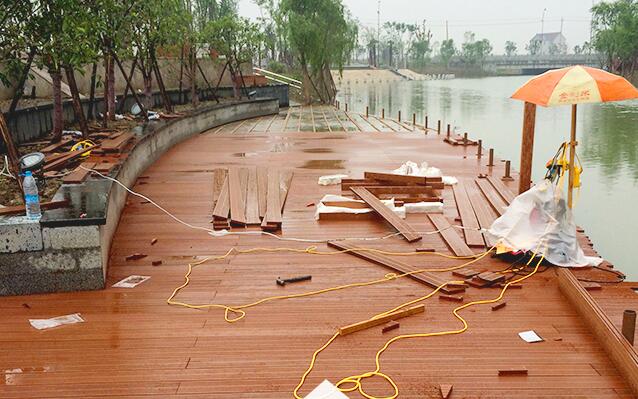 maintenance free decking—Composite wood material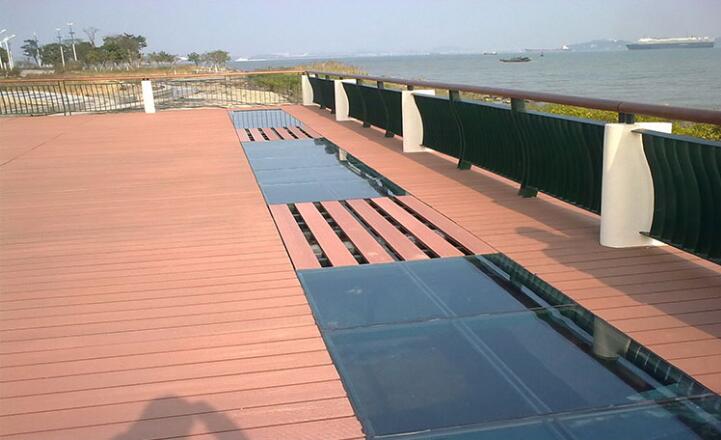 WPC decking broke the performance of conventional wood decking, We all know that wood floors need regular paint maintenance every year to extend the color and service life of the floors,but WPC decking does not need to be maintained in daily use,It only needs occasional rinsing with water.This avoids the damage to the human body, and saves the cost of maintenance every year.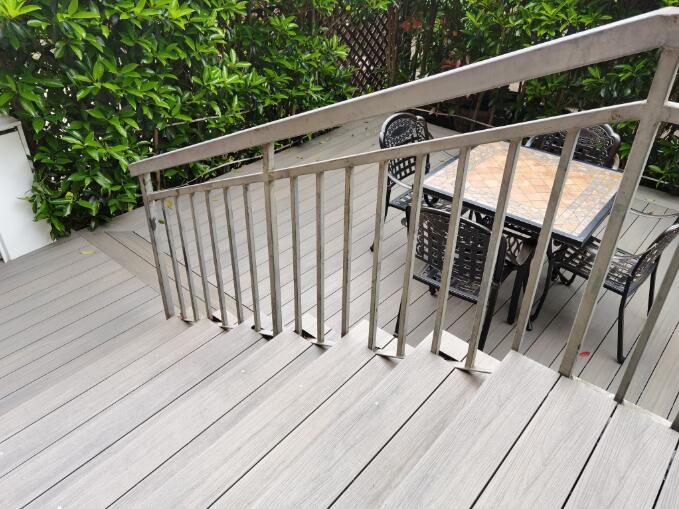 WHY CHOOSE HANMING WOOD PLASTIC COMPOSTIE(wpc)?
What are Our WPC decking and others made of?
      The raw material of the decking and others: 55% bamboo powder, 35% HDPE, 10% additive.
Where can our  WPC decking and others be used?
    Hanming  WPC decking and others can be used in virtually any type of outdoor area near water, such as boardwalks , docks,Parks,Swimming pool and Gardens.
Do Hanming WPC decking and others fade?
Our WPC decking and others will lighten over time to a beautiful, weathered tone within the same color family. This color-tone shift is dependent upon exposure to sunlight and other environmental factors. The weathering process begins upon installation and is generally complete within 60 to 90 days. Based on independent test research, it has been determined that our WPC decking and others will experience virtually no fading as it is co-extruded with a durable outer shell.
 Do Our WPC decking and others provide good traction in wet or dry conditions?
Yes, Our WPC decking and others are slip resistant.
Will chlorine or other chemicals from swimming pool damage Hanming  WPC decking and others?
While no formal testing has been done, we have not seen or heard of any ill effects from standard pool chemicals.
Why is composite product more expensive than treated wood?
Composite product is more expensive to manufacture. However, over time, the maintenance, repair and or replacement costs associated with wood outweigh the initial investment in a Hanming WPC decking and others.
Are composite materials heavier than wood?
Some composite products are heavier than wood but many are lighter. Regardless, each composite product is constructed with the span length of the product and the weight of it taken into account.
How is Hanming priced compared to other Composites?
We are a mid-range priced composite with top quality features and benefits, offering the best value in the marketplace.