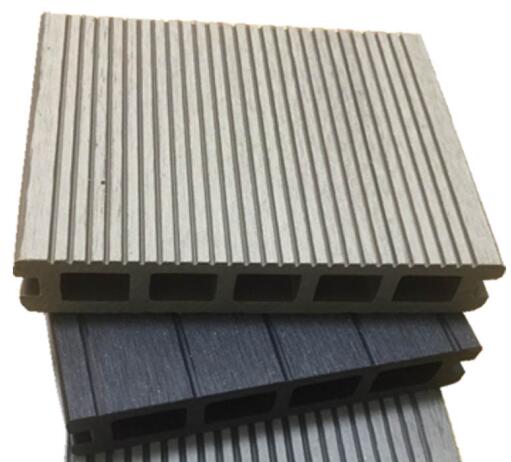 Wood plastic composite flooring is the best outdoor flooring | Outdoor deck flooring
FOB shanghai Price: 15USD/SQM-22USD/SQM
Brand: Hanming WPC
surface treatment:sanded, brushed, wood grain, groove
Advantages:Use of waste and recycled materials
Used for such as boardwalks , docks,Parks,Swimming pool and Gardens.Our WPC decking and others are slip resistant.
The raw material of the decking and others: 55% bamboo powder, 35% HDPE, 10% additive.
It is said that there is a  wood plastic composite flooring for outdoor in the flooring market, which is very popular because the material of this flooring is very environmentally friendly and will not harm the human body.
For outdoor deck's flooring, people have always wondered which material to choose is the best.Some experts assert that the future plastic wood composite flooring will replace solid wood flooring, become a new trend in the flooring industry for outdoor. WPC outdoor flooring is mainly composed of wood (wood cellulose, plant cellulose) as the basic materials, thermoplastic polymer materials (PE plastics) and processing aids, etc. High-tech green and environment-friendly materials, which are made by heating and extruding with die equipment, have the properties and characteristics of wood and plastics. outdoor Plastic wood flooring is the best open-air flooring Now.
swimming pool wpc deck flooring | Balcony or Garden Plastic composite flooring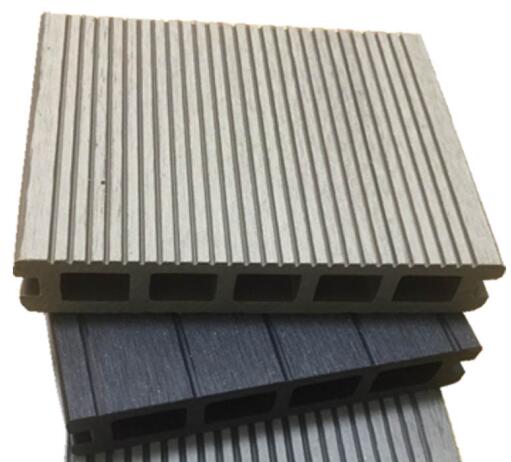 Plastic wood composite deck floor performance
1. Plastic wood composite decking has the same processing performance as log, can be nailed, drilled, cut, glued, fixed with nails or bolts, smooth and delicate surface, no need for gloss and paint, good adhesion to paint, can also be painted according to personal preference.
2. Molded wood floors have better physical properties than logs, better dimensional stability than wood, resulting in cracks, warping, no wood knots, twill, adding coloring agents, mulching or composite surface layers to produce colorful products, Therefore, there is no need for regular maintenance.
3. Plastic wood flooring can meet a variety of specifications, dimensions, shapes, thickness and other requirements, including the provision of a variety of design, color and wood grain finished products, to give customers more choices.
4. Plastic wood flooring has good properties, such as fire resistance, waterproof, corrosion, moisture resistance, insect moths, no long fungi, acid and alkali resistance, no poison, no pollution and low maintenance cost.
5. Plastic wood flooring has similar wood appearance, higher hardness than plastic, longer life, thermoplastic molding, high strength and energy saving.
6. Plastic wood solid decking, light, heat preservation, smooth surface, free of formaldehyde and other harmful substances, no toxicity, no pollution.
Plastic wood flooring is a new type of environmental protection and energy-saving composite material, a substitute for wood. It can be used in garden landscape, interior and exterior wall decoration, wood for decks, barrier, flower pool, pavilion, etc.
Best outdoor WPC deck flooring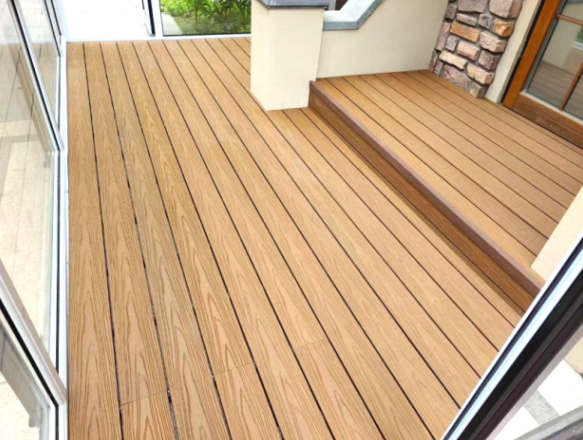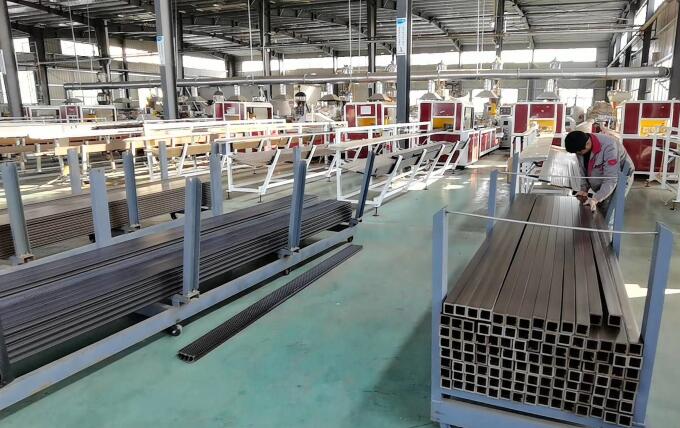 Hollow composite decking  and Solid composite decking which is good? In fact, whether plastic wood hollow floor or solid plastic wood floor have fire and waterproof, green environmental protection, recycling, wood texture and other superior performance, in park scenic area, residential property, trestle, hydrophilic platform and other outdoor places can be seen everywhere.
 Their differences are mainly influenced by two factors. First: if the pavement is in the place of large flow of people and crowd, consider the high bearing capacity of solid plastic wood floor or the standard wall thickness of round hole hollow composite decking. If the pavement in the very few people walking place, choose plastic wood hollow floor. Second: keel material, if the steel keel is generally recommended to select solid plastic wood floor, but whether steel keel or plastic wood keel, the best spacing between 30cm-40cm.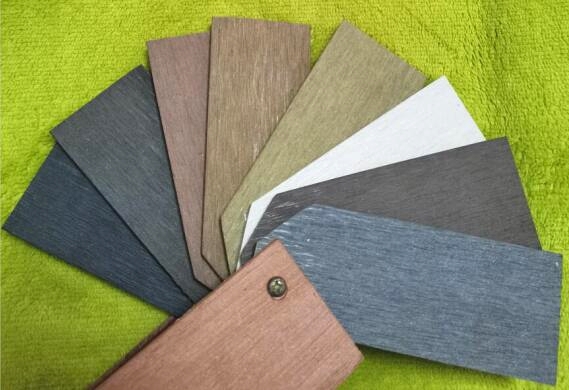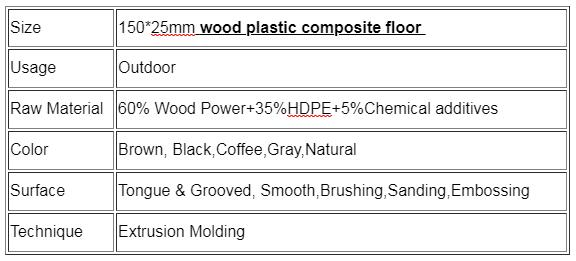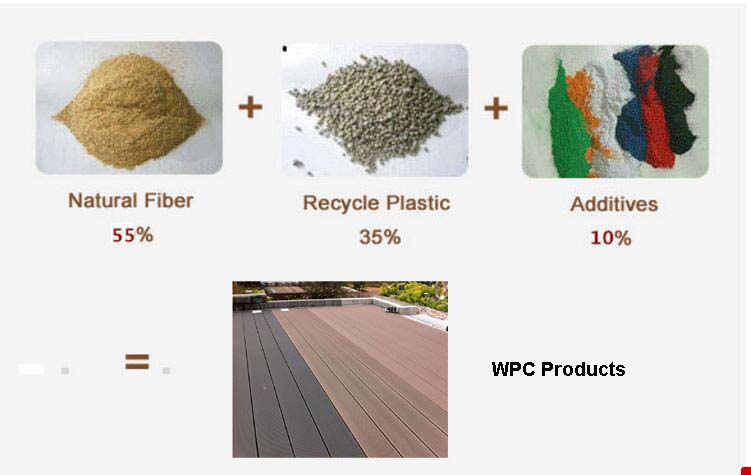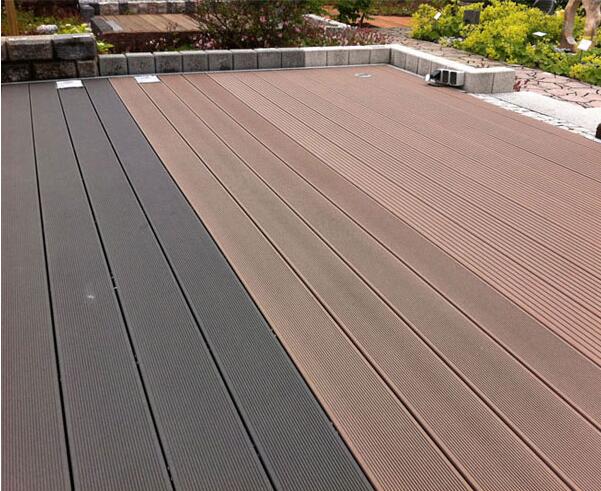 Why wood plastic composite is the best outdoor flooring ?
1. WPC Deck Tiles make for durable outdoor deck and Balcony flooring.wpc is  extremely durable, capable of surviving our harsh  winters, and they look stylish in the process.
2:Low Maintenance
With WPC decking, you never need to worry about sanding, staining or painting. The occasional soap-and-water clean is all that's required to maintain the decking for decades.
However, it is worth mentioning that composite decking has the potential to show water stains and, although they do tend to disappear after experiencing rain, they may require a more focused clean in hotter weather as the stains can become more obvious.
3:Installation
Like everything else with WPC decking, installation is easy.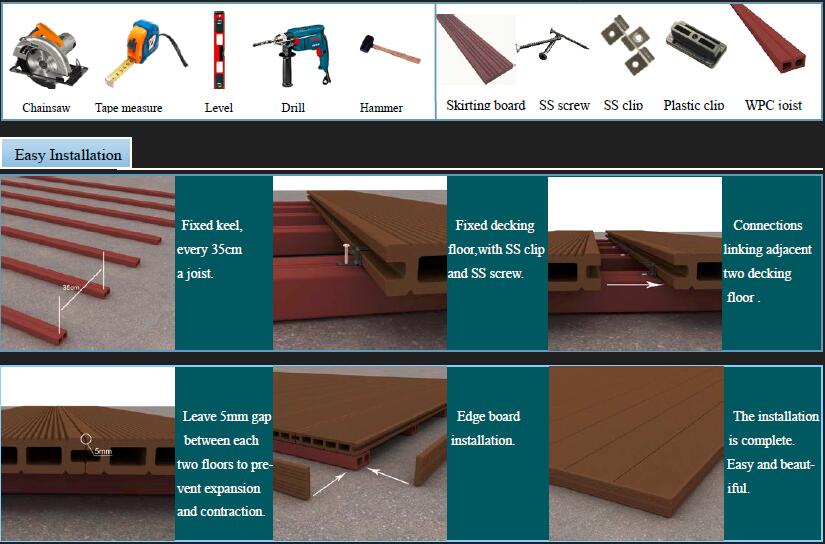 For the best outdoor deck flooring, of course, co-extrusion board is aslo a good idea, capped WPC decking is produced by the most advanced extrusion molding technology in the industry, plastic wood surface evenly and firmly coated with co-extrusion layer.The WPC boards produced by this new technology not only retains the advantages of mildew, insect and other physical properties of traditional plastic wood, but also has stronger wear resistance, scratch resistance, pollution resistance and weather resistance, and is more beautiful and durable.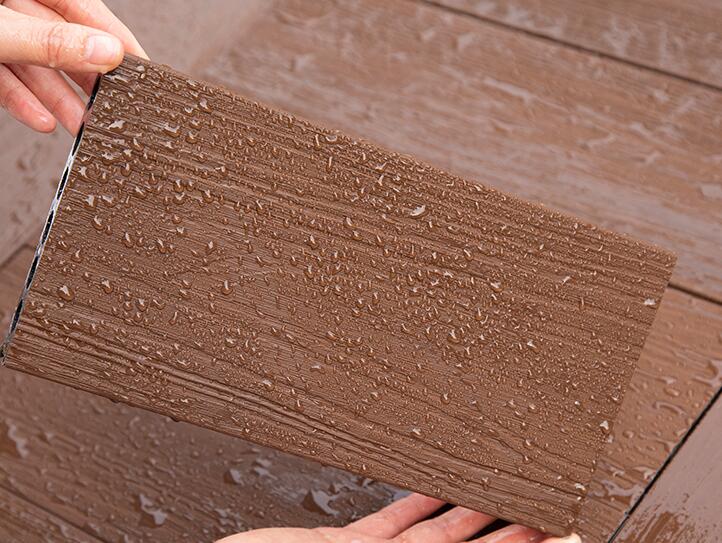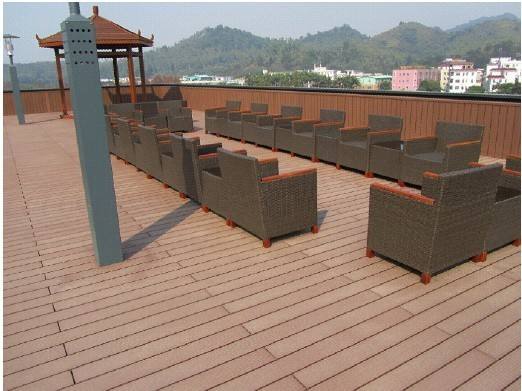 FAQ of Wood Plastic Composite(WPC) Materials
Ask: Are wood plastic composite products environmentally friendly?
Answer: Yes. Because WPC will not splinter, warp or fade the way wood does, it dramatically reduces the wasteful cycle of repair and replacement and eliminates the frequent application of environmentally harmful paint, sealers and stains.
Ask: Will WPC decking and railing fade in color?
Answer: Most materials exposed to UV and other weathering effects will fade.WPC decking and railing solutions are blended with high quality raw material and UV-inhibiting pigments to minimize fade and produce products consistent in color. All products will fade evenly.
Ask: What are the main decking installation accessories?
Answer: Decking accessories including : keel, stainless steel clip or plastic clip ,nails, expansion screw, edge skirting .
Ask: What's characteristic of WPC?
Answer: Looks and feels like natural wood·Durable,anti-impact ,wearproof ,with high density·High capacity of UV-resistance,and color stability. Highly resistant to moisture and termites·Easy to be installed and low labor cost·Requires no painting ,no glue,low maintenance.
Ask: What's the lifetime value of WPC?
Answer: Because WPC never rots or warps, painting and staining is not required, however with pressure-treated wood decks, these costs add up over time. After four years, the total cost of owning a WPC deck equals the cost of a pressure-treated wood deck. Over the life of the purchase, WPC offers a far greater value than wood. Clean it twice a year and you're done so you can spend more time enjoying your outdoor living space, rather than working on it.
China  composite decking flooring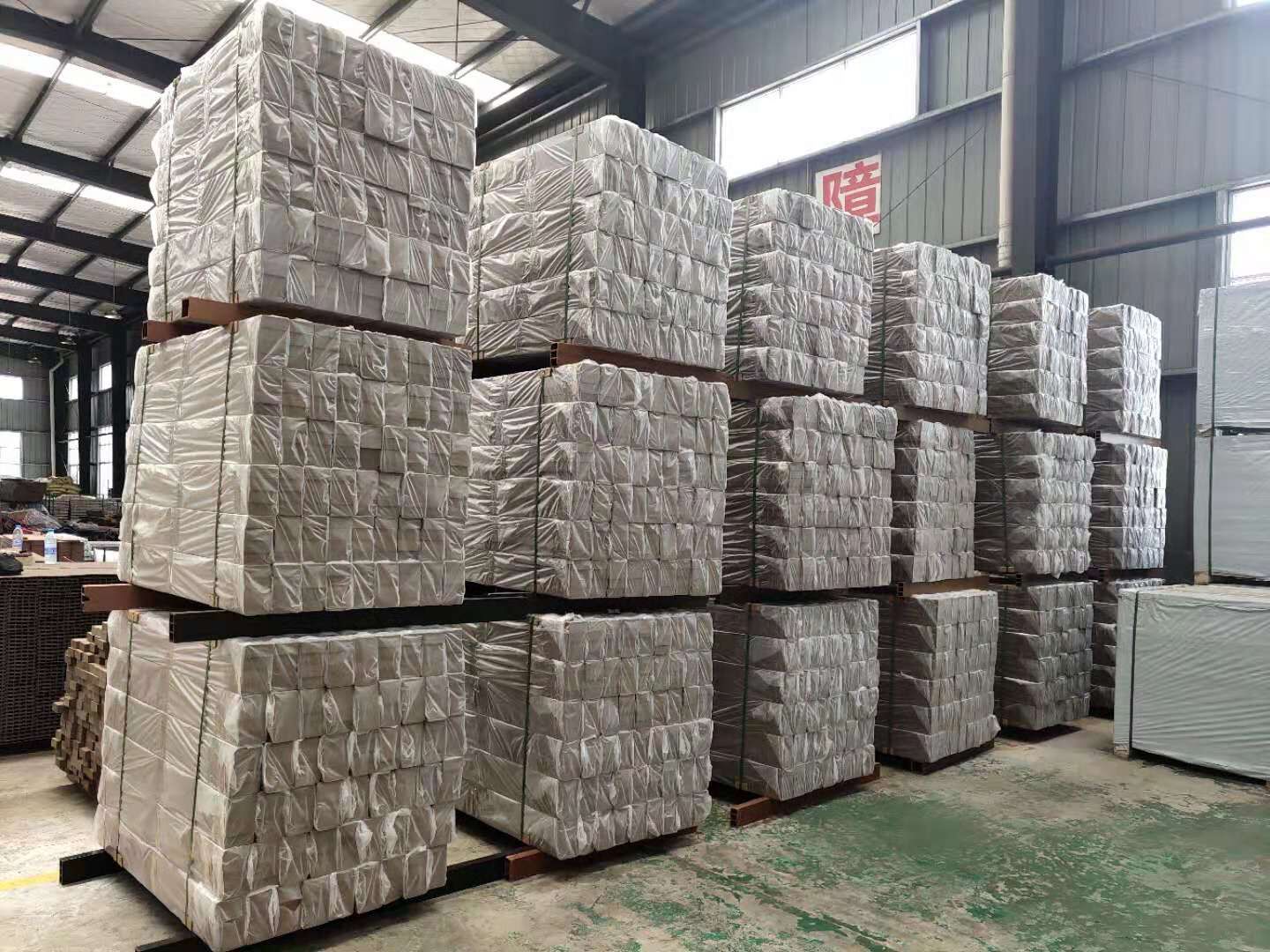 WHY CHOOSE HANMING WOOD PLASTIC COMPOSTIE(wpc)?
What are Our WPC decking and others made of?
The raw material of the decking and others: 55% bamboo powder, 35% HDPE, 10% additive.
Where can our  WPC decking and others be used?
Hanming  WPC decking and others can be used in virtually any type of outdoor area near water, such as boardwalks , docks,Parks,Swimming pool and Gardens.
Do Hanming WPC decking and others fade?
Our WPC decking and others will lighten over time to a beautiful, weathered tone within the same color family. This color-tone shift is dependent upon exposure to sunlight and other environmental factors. The weathering process begins upon installation and is generally complete within 60 to 90 days. Based on independent test research, it has been determined that our WPC decking and others will experience virtually no fading as it is co-extruded with a durable outer shell.
 Do Our WPC decking and others provide good traction in wet or dry conditions?
Yes, Our WPC decking and others are slip resistant.
Will chlorine or other chemicals from swimming pool damage Hanming  WPC decking and others?
While no formal testing has been done, we have not seen or heard of any ill effects from standard pool chemicals.
Why is composite product more expensive than treated wood?
Composite product is more expensive to manufacture. However, over time, the maintenance, repair and or replacement costs associated with wood outweigh the initial investment in a Hanming WPC decking and others.
Are composite materials heavier than wood?
Some composite products are heavier than wood but many are lighter. Regardless, each composite product is constructed with the span length of the product and the weight of it taken into account.
How is Hanming priced compared to other Composites?
We are a mid-range priced composite with top quality features and benefits, offering the best value in the marketplace.
Customer in Ukraine Show the Video of How to Install composite decking :
If u are aslo interested in Importing wood Plastic composite floor from US.
Pls send us your inquiry details, like Size , hollow or Solid  And Length Per PC,ETC.
We will Quoto you first and if Need , we can provide free samples to you.
Our Email Address: Nick@hanmingwpc.com