Tongue and groove composite tech decking |WPC white composite decking
Brand: Hanming WPC
FOB shanghai Price:15usd/sqm –32usd/sqm
Surface treatment:sanded, brushed, wood grain, groove
Advantages:Use of waste and recycled materials
Used for such as boardwalks , docks,Parks,Swimming pool and Gardens.Our WPC decking and others are slip resistant.
The raw material of the decking and others: 55% bamboo powder, 35% HDPE, 10% additive.
Composite tech decking materials are new environmentally friendly building materials that have emerged in recent years and have just started in foreign countries.
Some Composite decking are with tongue and grooves.This can bring about anti-skid effect. they are aslo the designs for the decking Surface.If the surface is smooth, the pedestrian can slip easily in rainy or snowy days.that is why tongue and groove composite decking is popular.
The Manufacturer which can provide white composite decking in China.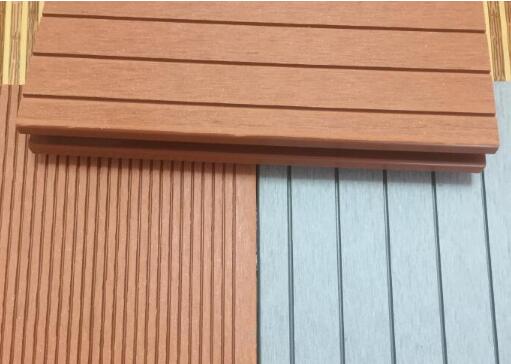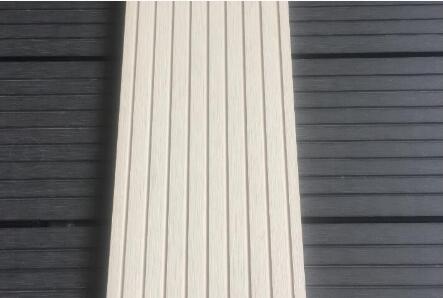 The raw materials used in wood-plastic which can be made from waste plastics, discarded wood, agricultural plants and other plant fibers as substrates, without any additional harmful components.
Moreover, it can be recycled and reused, and it can be called a novel product in the true sense of environmental protection, energy conservation, and resource recycling. With the increasing emphasis on environmental resources, the circular economy development model with the recycling of waste materials and comprehensive utilization of resources has become the trend of world economic development. Vigorously developing resource recycling technologies will have a profound impact on national economic development and environmental sustainability. The use of waste plastics and wood fibers to produce wood-plastic composite products is a good project to meet this requirement.
tongue and groove composite tech decking, The tongue and groove can be skidproof.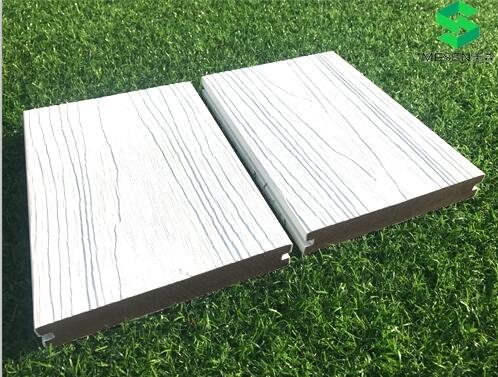 White composite decking Manufacturer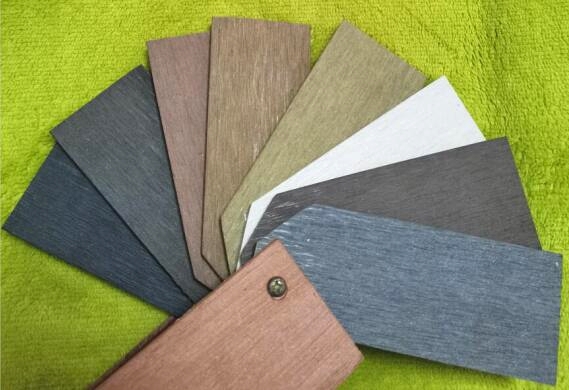 Anti-Slip tongue and groove composite Lumber Design Feature:
WPC as a new type of environmentally friendly composite materials, with high strength,impact resistance,non-deformation,waterproof, anti-corrosion,anti-moth,anti-virus effect .
Physical Feature
Noise insulation, fire-retardant, processing obviously superior to a timber and plastic products,in order to hardwood standard modular design,light and easy to transport.
Envionmental Feature
No radiation, no formaldehyde and other volatile products,recyclable,green environmental protection.
Appearance Feature
With a natureal wood appearance ,texture. Better dimensional stability than wood, no wood knots,the product can be made into a variety of colors, the surface without secondary leaching paint.
| | |
| --- | --- |
| Size | 150*25mm Solid composite wood material |
| Usage | Outdoor |
| Raw Material | 60% Wood Power+35%HDPE+5%Chemical additives |
| Color | Brown, Black,Coffee,Gray,Natural |
| Surface | Tongue & Grooved, Smooth,Brushing,Sanding,Embossing |
| Technique | Extrusion Molding |
white wpc decking flooring-Best deck material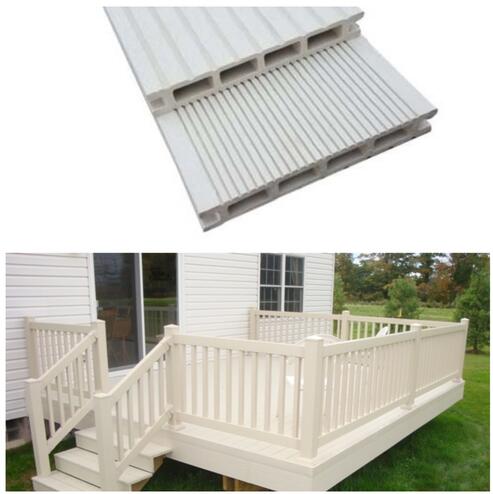 FAQ of Wood Plastic Composite(WPC) Materials
Ask: Are wood plastic composite products environmentally friendly?
Answer: Yes. Because WPC will not splinter, warp or fade the way wood does, it dramatically reduces the wasteful cycle of repair and replacement and eliminates the frequent application of environmentally harmful paint, sealers and stains.
Ask: Will WPC decking and railing fade in color?
Answer: Most materials exposed to UV and other weathering effects will fade.WPC decking and railing solutions are blended with high quality raw material and UV-inhibiting pigments to minimize fade and produce products consistent in color. All products will fade evenly.
Ask: What are the main decking installation accessories?
Answer: Decking accessories including : keel, stainless steel clip or plastic clip ,nails, expansion screw, edge skirting .
Ask: What's characteristic of WPC?
Answer: Looks and feels like natural wood·Durable,anti-impact ,wearproof ,with high density·High capacity of UV-resistance,and color stability. Highly resistant to moisture and termites·Easy to be installed and low labor cost·Requires no painting ,no glue,low maintenance.
Ask: What's the lifetime value of WPC?
Answer: Because WPC never rots or warps, painting and staining is not required, however with pressure-treated wood decks, these costs add up over time. After four years, the total cost of owning a WPC deck equals the cost of a pressure-treated wood deck. Over the life of the purchase, WPC offers a far greater value than wood. Clean it twice a year and you're done so you can spend more time enjoying your outdoor living space, rather than working on it.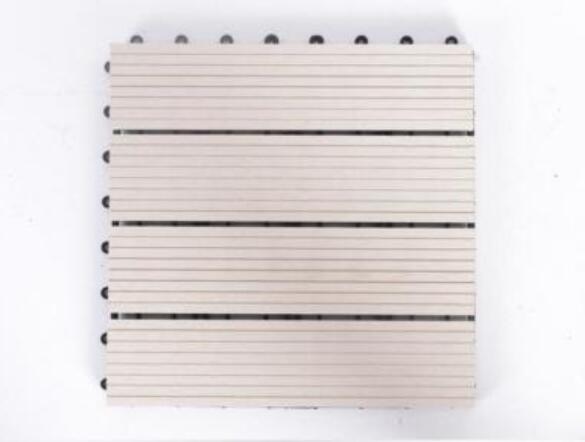 WHITE COLOR WPC COMPOSITE DECKING TILES FROM CHINA
White is not often used for outdoor flooring,The colors of general WPC decking are between  5 and 8,Including Redwood, dark, coffee, teak, black, reddish brown, gray, etc. WPC decking has added anti-UV ingredients to make the floor color more durable.The water absorption rate of wood plastic decking is very low too, it is less than 1% commonly, which Make wpc floor products away from mildew, expansion and cracking.
White outdoor floor is easy to be dirty, anti-pollution ability is weak,A little bit of dust will destroy its beauty. It Need people to maintain and clean up regularly.If you need to use  white floor, you can choose the Capped composite decking.Co-extrusion composite decking is made from wood plastic composite core and engineering polymer covering. The covering is like a 360°shield to prevent the core from water, UV, fungus, panting and scratching. By using the shield, our wpc co-extrusion decking can avoid problems like color fading, rot, crack,mold. Moreover, co-extrusion decking has the advantage of scratching-resistance, stain-resistance ,more durable life and more color and wood grain pattern choice.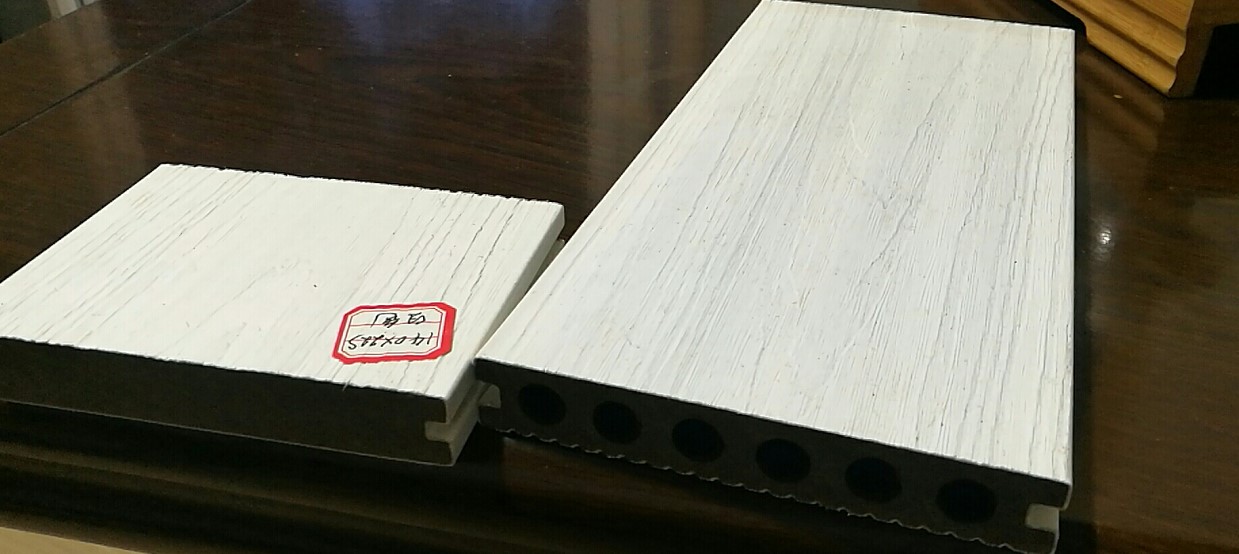 Do u like the tongue and groove white composite decking ?
If So, Click here to contact with us .