Outdoor Wood polymer composite decking |Bamboo polymer composite decking
Price: 16-19Usd/sqm
Brand: Hanming  WPC
Surface treatment:sanded, brushed, wood grain, groove
Advantages:Use of waste and recycled materials
Used for such as boardwalks , docks,Parks,Swimming pool and Gardens.Our WPC decking and others are slip resistant.
The raw material of the decking and others: 55% bamboo powder, 35% HDPE, 10% additive.
About wood Polymer composite decking or Bamboo Polymer composite decking :
Both wood Polymer composite decking and  Bamboo Polymer composite decking is composite decking,It's just the difference between Wood power and Banboo Power.Personally, I recommend using Wood polymer.As wood is more stable than bamboo.decking tiles, swimming pool foorings,outdoor decks which use wood plastic decking is more and more popular.
Wood plastic Composite decking is a new type of composite material for Outdoor, which is booming in recent years in China and abroad.It has the advantage of different from the wooden decking.usually it is aslo called to be WPC decking or Composite decking.The combination of plastic characteristics and wood characteristics makes the advantages of composite decking more obvious.For outdoor decks, gardens and balcony floor, swimming pool floor and so on, using this kind of floor will be a good idea.The composite decking has a variety of colors to choose from, as well as solid and hollow different strength.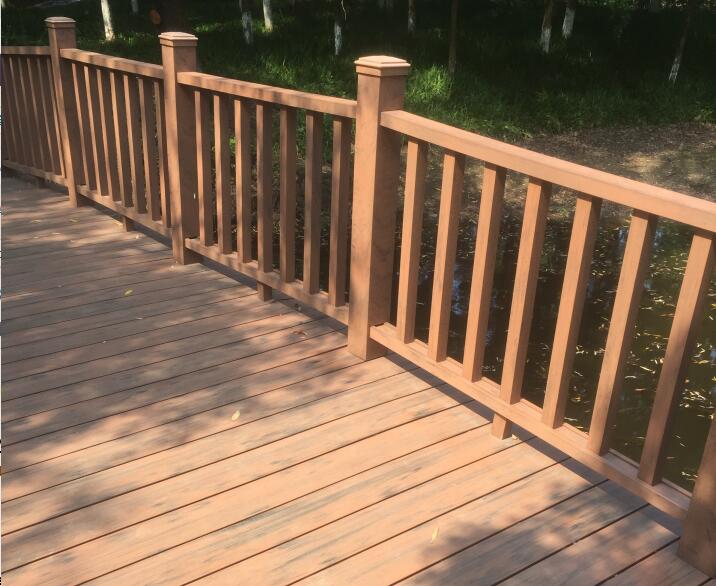 What are the characteristics of plastic wood composite decking?
Plastic wood decking is a composite outdoor floor, its main materials by PE powder and wood powder or bamboo powder, after adding auxiliary agent and high-speed mixing, and after granulation,then use extruder to extrude particles into profiles, plastic wood decking is waterproof, moisture-proof, mildew-proof, insect-proof, termites-proof, and according to customers' preferences, to customize the color and shape,and also anti-pollution, pollution-free.
About the Prices of the Wood Plastic composite decking from Hanming , In China 
The composite decking is divided into hollow and solid Item, the hollow decking is relatively low in bearing capacity, but the price is relatively cheap; the solid decking is relatively high in bearing and high in price.The price of wood-plastic decking is not only affected by solid and hollow,It is also affected by the quality of raw materials and the formulation of materials.It is also affected by the quality of raw materials and the formulation of materials,There are also deckings with high technology and craftsmanship, and the price will be much higher,like capped composite decking,3D embossing wood texture.Generally speaking, the composite decking is between the price of 14usd/sqm and 33usd/sqm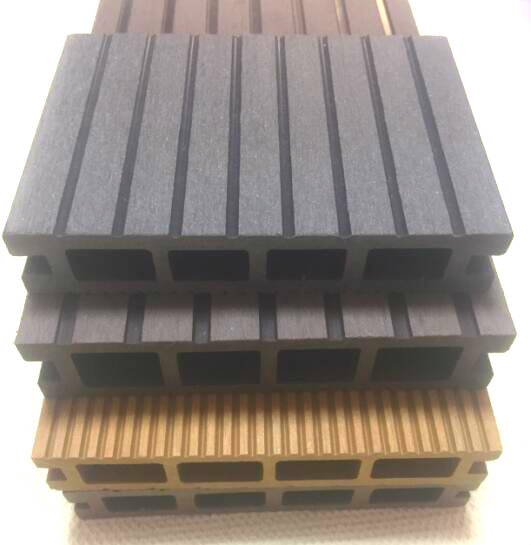 The Advantages of Wood polymer composite Decking :
1.Recyclable, environmentally friendly:
Wood plastic composite (WPC) made of 100% recycle raw material.
2.Water-proof, termite-resistant:
Wood plastic composite(WPC) can stand up to wind, rain and sun. Installation and operation is easy. It is widely used in places near water and moist environment: outdoor decking, bypath, pavilion, platform, wall decoration.
3.High Cost Performance:
The primary input of WPC product is a little higher than common lumber, but because of less maintenance, anti-moth and long life time, it is a highly cost performance product
4.Easy to intall, minimal maintenance required:
Could be cut,drilled or nailed.Adjustable specification and shape,very flexible
Wood polymer composite decking board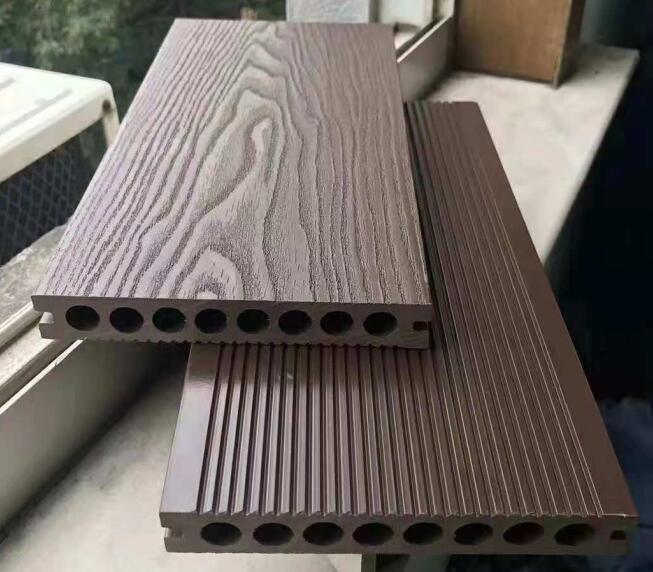 wood Polymer decking is a man-made building product that includes an approximate
equal mix of recycled wood fibers and recycled plastic. Because composite wpc decking 
products are so durable and impervious to rot, they have a much longer lifespan than wood
decks. They do not require the staining, sanding, sealing, and board replacement that come
along with wood decks. Even though they require more initial investment, a composite deckmore than makes up for that initial cost over the lifespan of the deck.
  With the many advantages of composite decking, such as lower maintenance and being resistantto mold and insects, composite decking has been deemed one of the most durable decking productson the market today.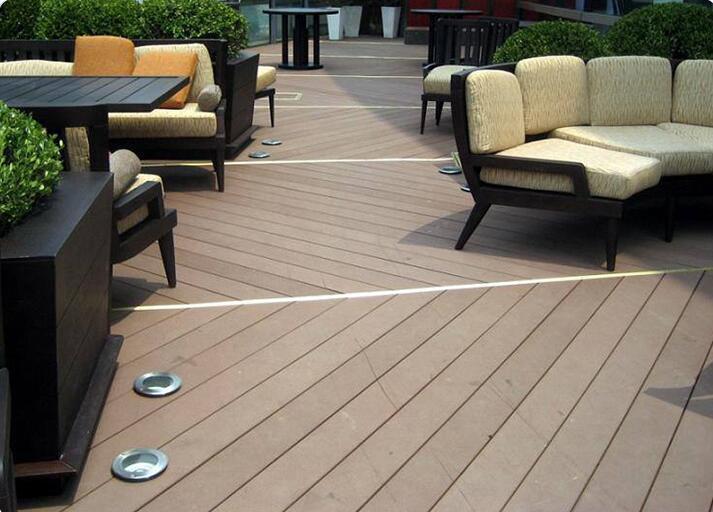 In leisure areas or amusement places, because people also play at night, So some lighting lights will be installed on the wood-plastic floors, which makes it even brighter at these places at night.
| | |
| --- | --- |
| Size | 150*25mm composite lumber  |
| Usage | Outdoor |
| Raw Material | 60% Wood Power+35%HDPE+5%Chemical additives |
| Color | Brown, Black,Coffee,Gray,Natural |
| Surface | Tongue & Grooved, Smooth,Brushing,Sanding,Embossing |
| Technique | Extrusion Molding |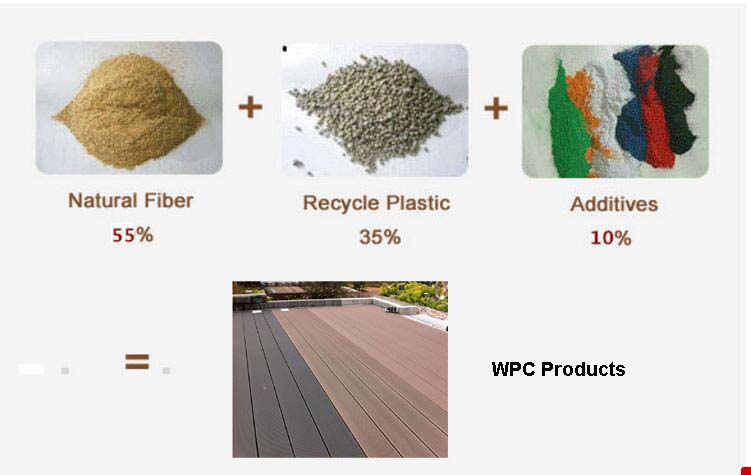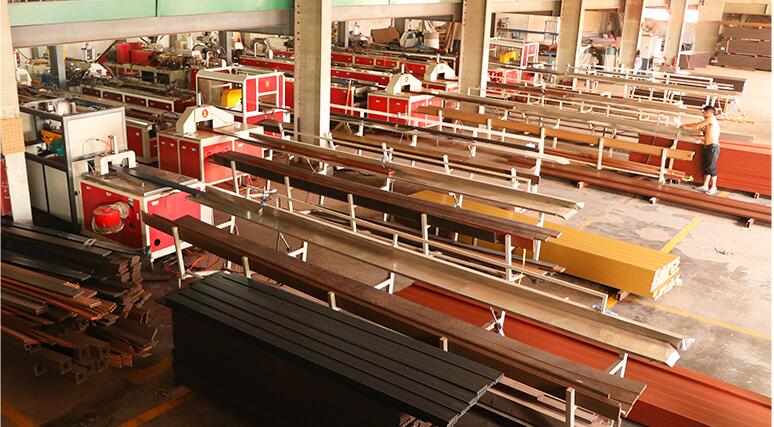 Here's a video for how to produce wood plastic decking by machince..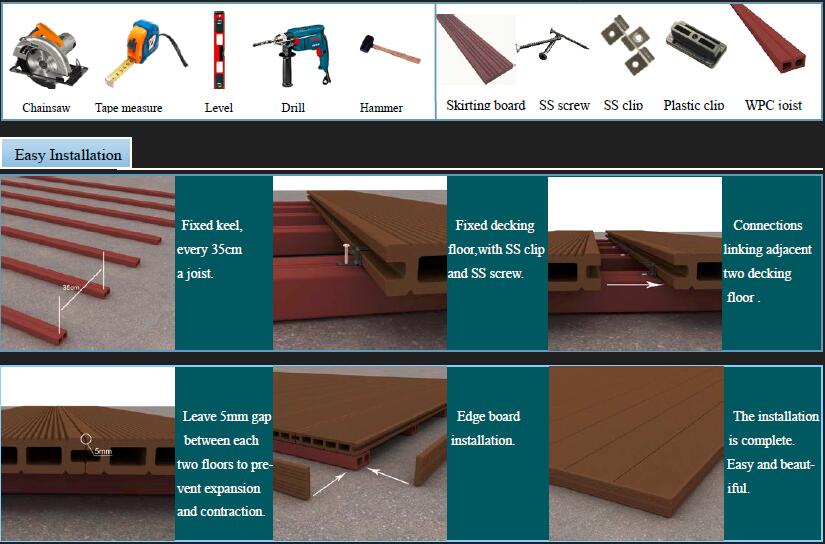 About us:
Changxing Hanming Technology Co.,LTD is Located in Huzhou City ,Huzhou is famous for Taihu Lake,Its easy-to-access location,180 kilometers to south of Shanghai and 100 kilometers to North of HangZhou,as well as its convenient transportation through the direct highways to Shanghai city,Pudong area of Shanghai and Hangzhou city.
Our company was set up in 2010,Our main products include:WPC(wood-polymer) outdoor decoration materials such as outdoor floorings,wall cladding,railings,Fence,Pergola,WPC bench, as well as Capped decking,co-extrusion wall Panel etc.
We export our WPC Products to Australia,North America,Europe, the East Asia and So on.
We focuse on quality production to cooperate with our global customers.We offer high quality products and excellent service in order to create a perfect harmonious future!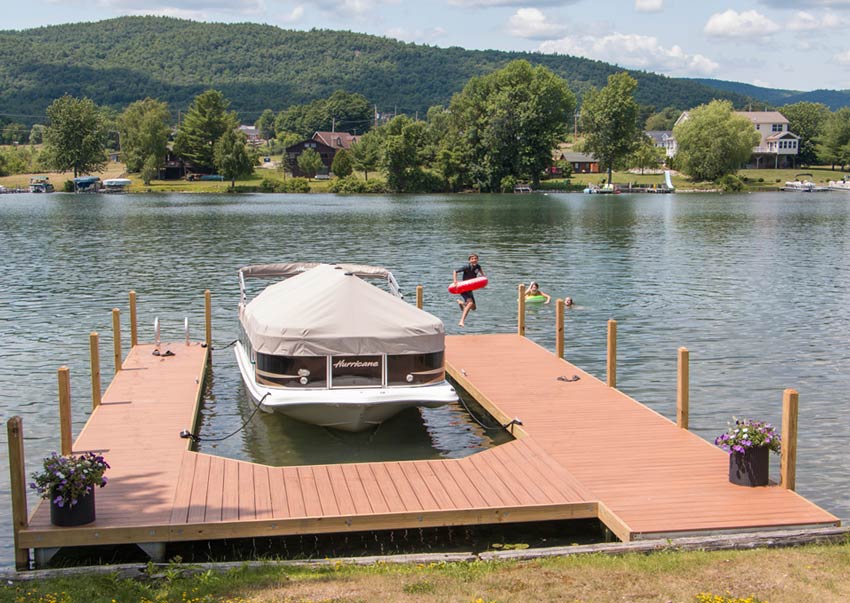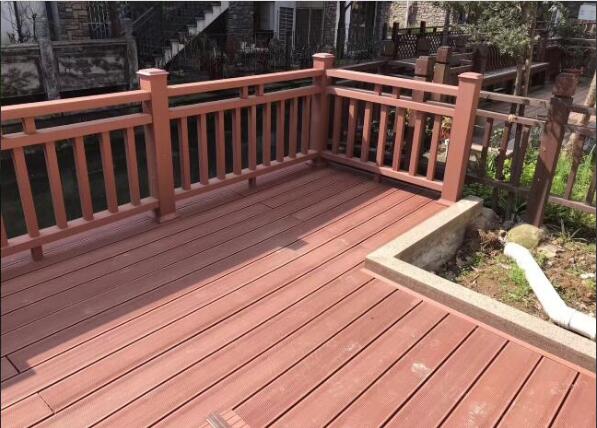 Bamboo polymer composite|wood Polymer composite decking
FAQ of Wood Plastic Composite(WPC) Materials
Ask: Are wood plastic composite products environmentally friendly?
Answer: Yes. Because WPC will not splinter, warp or fade the way wood does, it dramatically reduces the wasteful cycle of repair and replacement and eliminates the frequent application of environmentally harmful paint, sealers and stains.
Ask: Will WPC decking and railing fade in color?
Answer: Most materials exposed to UV and other weathering effects will fade.WPC decking and railing solutions are blended with high quality raw material and UV-inhibiting pigments to minimize fade and produce products consistent in color. All products will fade evenly.
Ask: What are the main decking installation accessories?
Answer: Decking accessories including : keel, stainless steel clip or plastic clip ,nails, expansion screw, edge skirting .
Ask: What's characteristic of WPC?
Answer: Looks and feels like natural wood·Durable,anti-impact ,wearproof ,with high density·High capacity of UV-resistance,and color stability. Highly resistant to moisture and termites·Easy to be installed and low labor cost·Requires no painting ,no glue,low maintenance.
Ask: What's the lifetime value of WPC?
Answer: Because WPC never rots or warps, painting and staining is not required, however with pressure-treated wood decks, these costs add up over time. After four years, the total cost of owning a WPC deck equals the cost of a pressure-treated wood deck. Over the life of the purchase, WPC offers a far greater value than wood. Clean it twice a year and you're done so you can spend more time enjoying your outdoor living space, rather than working on it.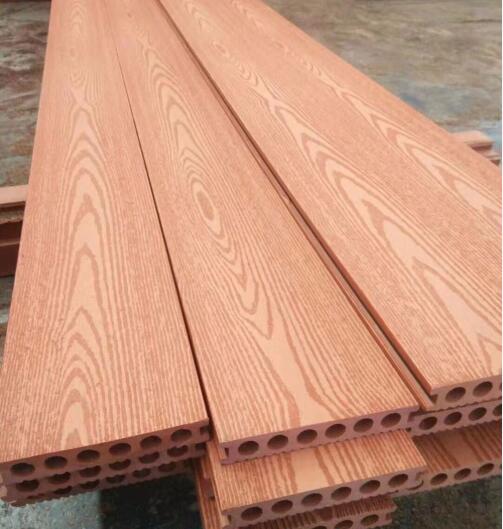 From us, you can buy different kinds of floors, wallboards, fences, Pergola, etc.we have Hollow decking and Solid decking for Different application Use,We Aslo provide wood plastic decorative panels,And All Accessories for the Installation.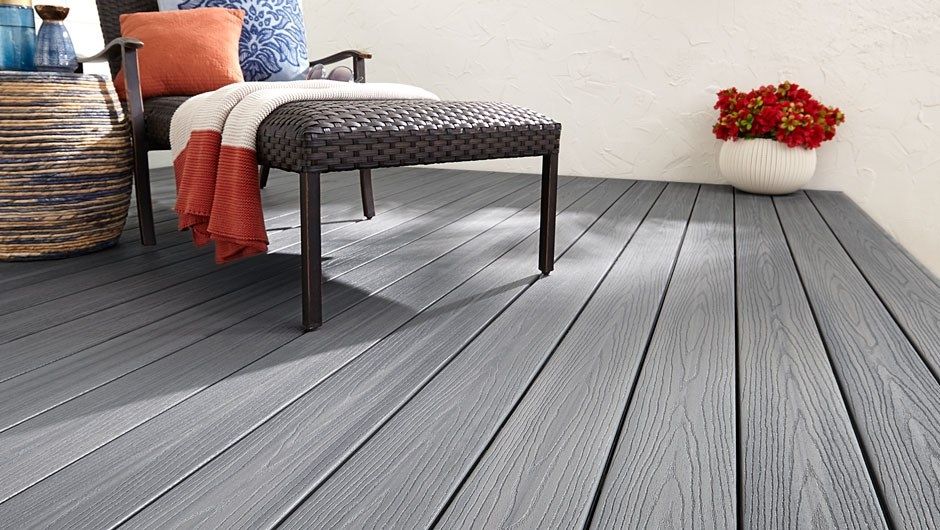 China composite decking board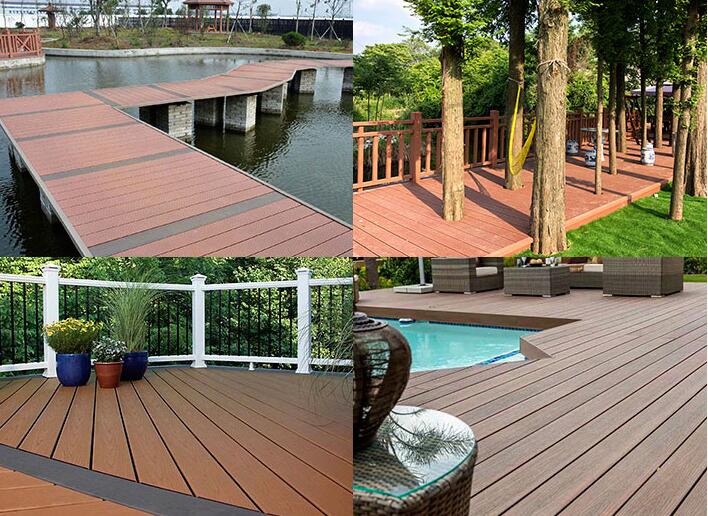 Wood Composite Plastic (WPC) is durable, and colour-fast, it will not crack or become slippery over time and is splinter-free, hard wearing and resistant to insect specially termite, fungus damage. Its cavity structure means it is stronger and lighter than real wood .It can be recycled, and is manufactured using environmentally friendly processes. Low maintenance as we don't need to paint and it looks like real wood.
We also have accessories available, like joist, angle and screws.
We are giving discount for Bulk Order, message us now!
Contact with us : nick@hanmingwpc.com