PVC decking (polyvinylchloride DECKING) and composite materials have made great strides into the decking industry during the past decade. The materials were once considered fake looking, but the companies that manufacturer these products have been able to replicate the look of wood without all the required maintenance.
Plastic decking, which is 100 percent recyclable such as Azek, looks like wood. But plastic decking has its problems. It might expand and contract in certain climates, loosening joints and making decks unstable.
In hot, sunny areas, plastic decks can get very hot on the soles of the feet and actually radiate heat, making them uncomfortable. Still, for a virtually maintenance-free deck, plastic decking may be the answer.
Composite decking material uses a combination of plastic and wood fibers. The newer technologies come in a multitude of colors, grain patterns and thicknesses. Premium products like Hanming WPC and Sentai WPC decking have the color all the way through the boards instead of just a coating, so scratches are hidden, the boards will not stain or fade, and they have excellent mold resistance.
Because of their modified properties, they are also insect and rot resistant. For a neater look, many composite decks are attached to joists using hidden fasteners so there are no visible screws on top. They also clean up nicely with soap and water if needed.
But composite decking is not completely recyclable like plastic decking because it is a mixture of wood and plastic. For its low maintenance and good looks, it's worth a look, but shop around. "Not all composites are equal," says Gordon Whittaker, owner of Alter Eagle. "You need to do your research."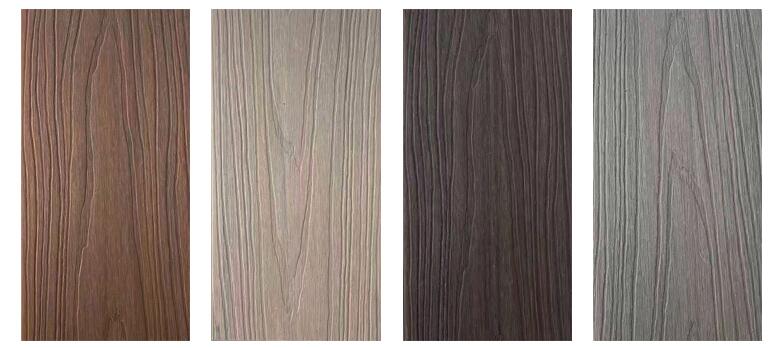 Now PVC boards and WPC boards are necessary for many interior and outdoor decoration. What are the differences between pvc panels and general WPC Boards?
1, Resin composition is different,Resin in PVC  board is polyvinyl chloride, Resin in general plastic wood board  is polyethylene.
2, About price, PVC  board is cheaper, generally plastic wood board is expensive.
3, In terms of heat resistance,both of them is not resistant, but wood plastic board will be better than PVC.
4, In terms of application scope, PVC board will be slightly more indoor, like PVC foam board, many will also be used in cabinets, indoor wall board, etc., while WPC is mainly used in outdoor, can be used in wooden boxes, pavilion, fences, etc.
The PVC board has certain defects:
1. The physical performance of PVC board is not stable enough, so the key problem is that even if the PVC does not encounter water, it will deform for a long time.
2. Aging speed is fast,It is easy to change color, short service life, It looks not good and So new after 5 years.
3, It is low environmental protection, the abandoned pvc plate is difficult to handle, forming pollution to the environment. If the pvc  plate with fierce pungent odor, it is harmful to the body.
4.High temperature resistance is not good, in the hot environment ,it is Easy to deform.compared with the metal board, the service life is relatively short.
Advantages of outdoor WPC deck boards:
1. Durable.  WPC deck can be used in outdoor environment for a long time, can withstand different climatic conditions, It has long service life.  
2.They don't split and rot.  Conventional wood is likely to become moldy and rot when it absorbs water.  There may be security risks in use.  
3.Less maintenance.  The WPC deck is easy to clean and maintain.  It requires no staining and sand, only occasional washing with water and soap, which is greatly reduced.  
4.Available in a variety of colors.  We offer 9 regular color choices and can also provide you with custom colors to meet your design requirements.  
5.Environmentally friendly materials.  The WPC deck is made from recycled plastic microspheres and wood fiber, making it an ideal choice for environmentally friendly materials.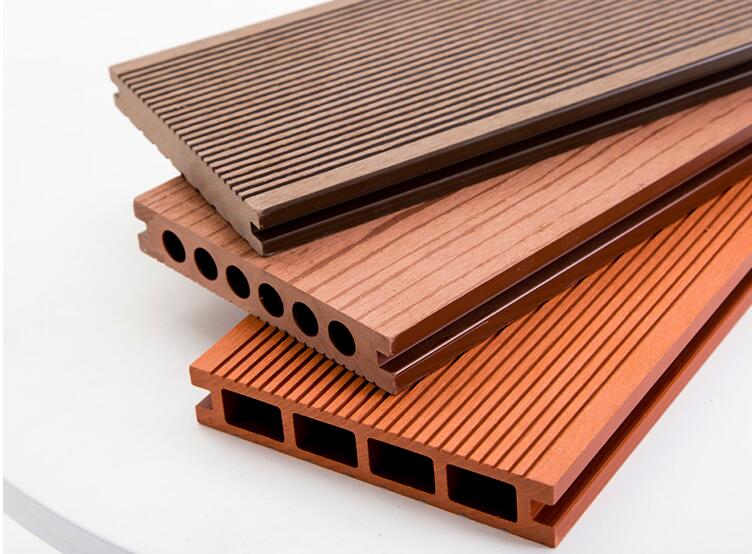 Both WPC boards as well as the PVC boards offer excellent resistance to moisture and water. As the WPC boards can also resist temperature changes better, and do not expand or shrink with variations in temperature, they are even better than the PVC boards when used in humid and damp conditions.
PE WPC Decking VS PVC WPC decking | Is PE decking better than PVC decking ? ABS wpc decking
There are few similarities and many differences between PVC foam board and composite board. They are all made of plastic as a synthetic material. As the name suggests, PVC is used to make PVC foam boards. Composite panels, on the other hand, contain different types of plastics, which may include polyethylene or polypropylene, as well as wood or bamboo flour. Composite panels containing wood flour are also known as WPC or wood-plastic composite panels.