Description of wpc products made by our WPC machine:
1, New product: The wood-plastic is a new kind of synthetic material through the process of mixing,exruding,calibrating,hualing off and cutting,
2, Material: uses PVC,PP,PE resin or recycled plastic and plant fibre ( wood powder,chaff,straw etc.) as raw material.
3, Advantages: This kind of wood plastic are not only very similar with natural wood in appearance and feel, but also have the same characteristics as wood of excisable, planeable,sawable, unmatched grip,low bibulous rate, good moisture resistance, mothproof,mildew resistance,good resistance to acid and alkali,anti-corrosion, and it has the feature of fire resistance. The products are non-toxic,non-polluting,environment-friendly and save-energied, without formaldehyde, benzene and ammonia and other harmful substances.
4, Application: The wood plastic products are widely used in outdoor floor, close to water construction,balcony,landscape architecture,chairs and benches, fences, interior doors and windows, furniture, etc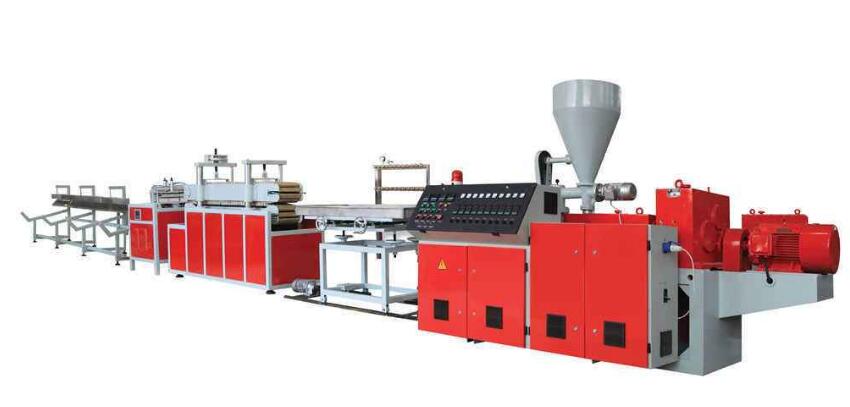 II, Production flow for wood plastic WPC decking machine
1, Preparing the material for WPC machine:
wood powder material: 80-100mesh wood powder, it can be made from wood sawdust, rice husk, rice straw, wheat husk and straw, cotton staw and agriculture wastage. machine need is wood crushing and pulverizer machine
plastic material: recycled PP/PE plastic after washing and crushing into flakes. machine need is plastic washing and crushing line.
2, WPC material mixing and granulating for WPC production machine
Mixing: put all the material into the mixing machine, such as PP/PE recycled flakes, wood powder, chemical additives
Granulating: it is important to use a high quality granulating machine to make WPC granules, moisture exhuasting system is necessary for granulating process.
3, WPC products extrusion-molding-surface treatment for WPC machine.
Extrusion and molding:Our conical double screw extruder is specially designed for high quality WPC products extrusion, it can make WPC material fully mixed and melted and uniform,equip with good deisgned mold and calibration, online cutting device, our Wood plastic WPC profile machine can make good WPC products, such as decking prodfiles, garden profiles, chair profiles, pergoza profiles, railing system profiles.
Surface treatment: sanding, brushing and embossing process can make the WPC products with nature wooden grain which is good accepted by customers.
III, A mix of natural wood and plastic fiber forms wood-plastic composites. These help in reducing the overall weight of a vehicle, and in turn, it enhances its fuel efficiency. Wood plastic composites are a low-priced and eco-friendly substitute to plastic and steel components in construction applications. Hence, their demand is constantly growing in the market.
The wood-plastic composites market is segmented by types: Polyethylene (PE), Polypropylene (PP), Polyvinyl Chloride (PVC) and others. Polyethylene based wood plastic composites dominate the industry. The building & construction products segment is regarded to be the largest consumer of Polyethylene and Polyvinyl Chloride wood plastic composites. The automotive components segment comes in next where wood-plastic composites are used in the making of lightweight automotive components
Based on their application, this market has been segmented into building & construction products, decking, fencing, industrial & consumer goods, automotive components, and others. Among these, the building and construction segment appeared as the largest in the global wood-plastic composites market.
IV, Turnkey project service for wood plastic wpc machine: 
1, we will provide all the machines for the complete production according to customer's requirements.
2, we will provide complete service for factory layout and other informations to help customer to build the factory.
3, we can also provide the raw material to the customer if you need. 
4, we will provide good service for machine installation and trainning, until the customers can run the machines and make stably production.
5, Except one year quality guarantee,we will provide after-sell service for all the life.
6, for long-term cooperation, we always provide good quality, good price and good service to customer. we are the professional and trustable supplier for turnkey projects. let us do win-win business together.