Railing is mainly used for the protection and protection of personal safety and equipment in residential, highway, commercial and public places.The guardrail is everywhere in our life.There are many materials for a Railing, like stainless steel, aluminum alloy, iron, aluminum,bamboo, stone, plastic,etc.Fencing can be widely used in residential areas, villas, schools, factories, hospitals, shopping malls, municipal, station, airport, scenic spots, etc.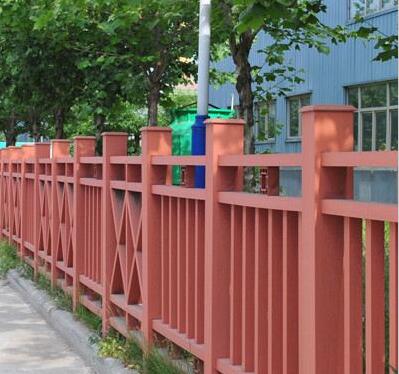 Wood-plastic composites (WPCs) are produced by thoroughly mixing ground wood particles and HDPE.
There are many different kinds of profiles from the Extruders. It can be Produced for decking flool, wall cladding, Bech board,etc.
WPC Railing is aslo made of these boards together with other accessories, like  nail,skirt,steel connection.
1.having a natural wood texture.
2.Installation is simple with low cost.
3.waterproofing, moisture-proofing, pests-proofing
4.impact resistance, wear resistance and no distorting
5.suitable from -40°C  to 60 °C  
6.without paint, without glue, low maintenance costs
7.UV-proofing,color stability
8.100%recyclable, saving wood resources, Eco friendly
9:Manufacture direct sales
10:WPC Railing is better and more stable in sizes than natural wood product, no crackle, no bending, no wood knots and twill.
we have many different styles as below: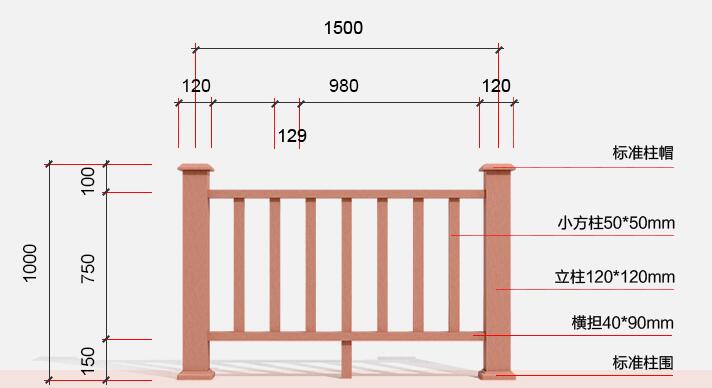 Hanming wood-plastic railings are also one of the plastic wood composite Products. It is mainly a high-tech green environmental protection material made by mixing wood (wood fiber) & plastic materials and processing aids,then heating and extruding molding by extruder. WPC has Both wood and plastic properties and characteristics.Hanming wood-plastic railings not only have the texture of natural wood, but also beautiful and practical, and overcome the shortage of wood,It with high density, high  strength, beautiful, practical, service life is 5 times than ordinary wood, hanming wpc railings also have water resistance, weather resistance.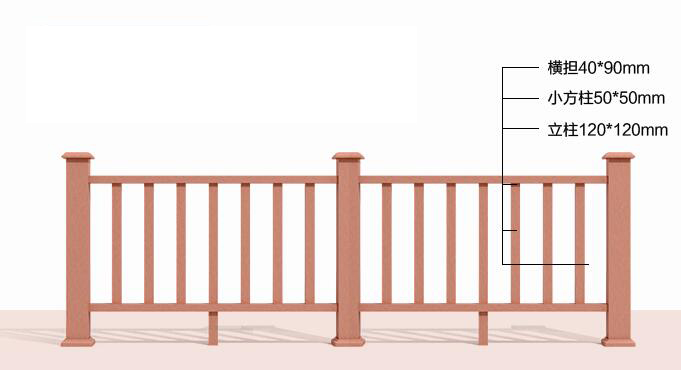 AVID WPC is a green building material, it's made of 60%-65% natural wood fiber
( Professionally Dry treatment ) ,30%-35% of eco-friendly HDPE materials and 5% -10% chemical additivel ( anti-UV agent, anti-oxidation agent, reinforcing agent, stabilizers, colorrants, anti-fungus agent, coupling agent ect..).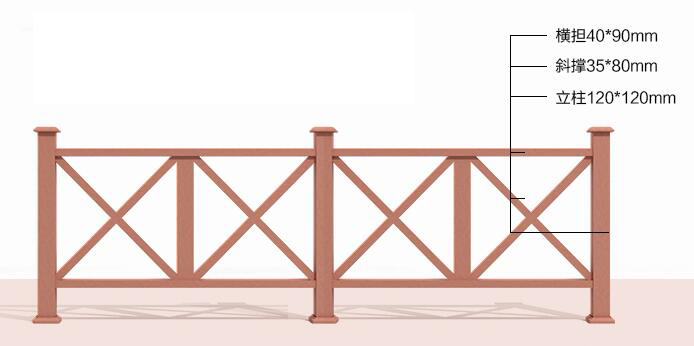 How to clean or maintenance WPC products?
a. Pollution occurred from moulds, mucedine,berry and leaves ; use a cleaning agent 
contains detergent  and sodium hypochlorite to clean off.
b. Dirt or debris: Clean the decking to remove dirt or debris by using soap,hot water 
and astiff bristle.
c.Chalk Markings : All colored chalk lines are permanent except white,Surubbing the 
area with hot soapy water with bleach may dislodge some of the chalk.
d. Oil and olein occurred by touching: use a cleaning agent contains degreasing agent.
e. Use tool clear the miscellaneous articles or objects of the profiles space in order 
to keep good drainage
About the order :
1. Plastic wood guardrail / fence is generally priced in meters, It can also be priced by weight.
2. the main materials of plastic wood such as post, handrail,  and so on can be sold separately, Generally quoted by meters.
3. due to the variety of main materials and accessories of plastic wood guardrail / fence, It is usually sold by meter. Depending on style, size, The price of plastic wood guardrail / fence is also different.
4. please advise us the specific style, specification, quantity of the plastic wood guardrail / fence you need, if possible, please provide the drawings to facilitate our quotation for you. If you have not confirmed the style and specifications, We will recommend suitable style and specification of plastic wood guardrail / fence and related accessories according to professional experience.
5.During the installation of plastic wood guardrail/fence, a variety of related accessories, such as embedded iron, corner code, etc., need to be used.
6. due to the product specifications and color, most railing need to order production, according to the order quantity, the delivery time is generally 10-20 days.