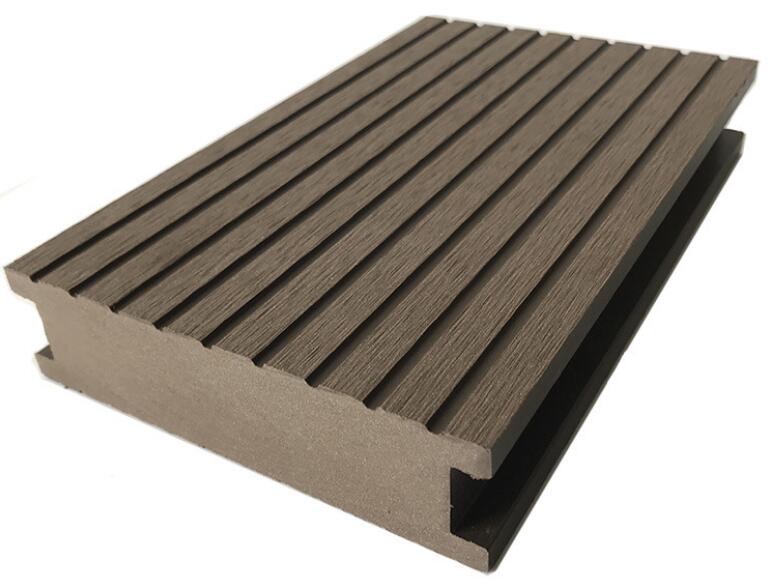 Recycled solid wpc composite decking in Singapore that Import from China Manufacturer
Grooved WPC Solid Deck :
Price: 15Usd/sqm -20Usd/sqm
Brand Name: Hanming WPC 
1. Totally environmentally friendly, 100% recyclable. 
2. Waterproof, moisture-proof, mothproof and anti-mildew. 
3. High strength, low wear and tear, non-swelling, no deformation and not broken. 
4. Long service lifetime about 25 years but it needs no special maintenance, 
which will save lots of unnecessary maintenance costs. 
5.Anti-scratch and anti-rot and are designed for being laid in any environment.
6.Made with a unique multi-textured marble colour effect which gives the boards a vibrant layered  appearance and excellent slip resistant qualities.
Singapore is a multicultural immigration country, an island country in Southeast Asia, occupied by Britain as a colony at the beginning of the 19th century, occupied by Japan on February 15, 1942, joined Malaysia in 1963, and formally became independent in 1965.Now the city of Singapore is very beautiful and many buildings are made of WPC deck.
WPC Solid deck is a floor made of wood-plastic composite material. It has the same processing characteristics as wood. It can be sawed, drilled and nailed with ordinary tools. It is very convenient and can be used like ordinary wood. At the same time, it has the woody feel of wood and the water and anti-corrosion properties of plastic, making it an excellent waterproof and anti-corrosion building material with excellent performance and durability.
The difference between solid and hollow WPC deck: Solid composite deck is mainly used for different forces, large outdoor flow, and high-strength wood-plastic flooring.
Grooved WPC deck can be skidproof.  singapore  use wpc solid deck A lot these years.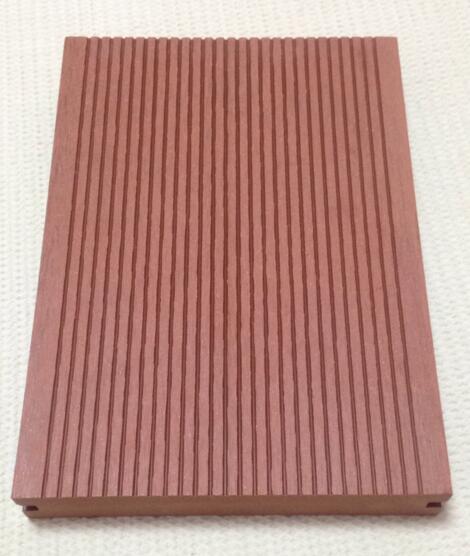 1 Natural choice for top Technology
WPC DECK quality wood flooring with natural poplar trees in nanometer technology to enhance physical performance, making it a natural wood characteristics than many wood species , with quality blindly pursue careers valuable tree species changing consumer habits .
2 super stable nano- core
WPC Deck is the flooring industry 's first " memory" of the floor , application of nanotechnology to memory function , a change in the traditional wood delicate features, can automatically adjust the water to absorb moisture moisture , restore logs best, super adaptable to enjoy your most valued custom .
3 wood look efficient savings
WPC deck solid flooring exclusive use of international advanced patent – Single lock technology , breaking the traditional wood flooring paving the way , free nail glue-free free keel to the fastest and most environmentally friendly way to save the best for your life experience.
4 Department of Environmental global shared core
WPC Solid flooring with low carbon environmental protection objectives , meet consumer demand with natural wood elite scientific and technological strength , while carrying with you to respond to the global ecological balance. Your world is so rich in beauty , your choice is essential !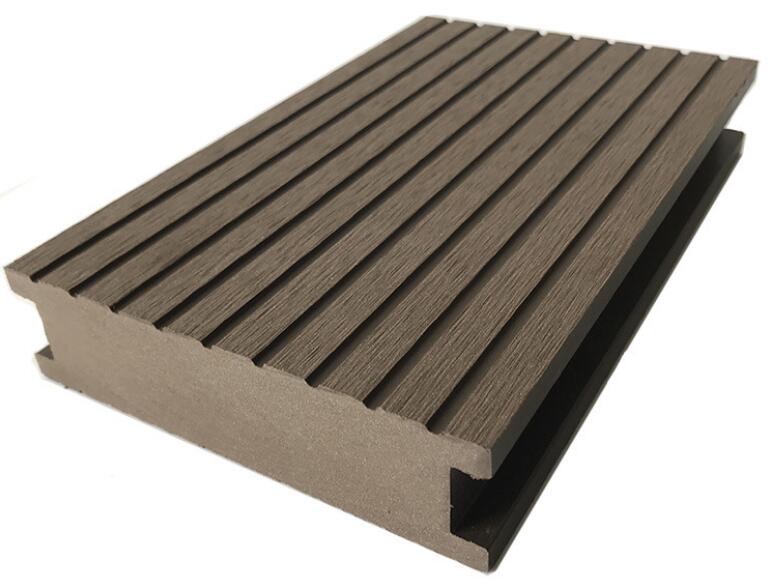 Grooved WPC Solid Deck installation:
1. Before installing the joist, make sure the ground is flat and solid so that the joist can be fastened tightly on the ground. Then dig holes with percussion drill in the deck area and bury the plastic tube into the holes.
2. Take the buried expansion tube as center, put the joist stably on the center line, pierce the joist with pistol drill and nail the screw into the expansion tube.
3. Nail the expansion screw into the top of the vertical joint of two joists.
4. Put flat the deck along the vertical direction of joists, the ending deck can be fixed on the joist with screw to make sure the accuracy of it being the base floor for other decks.
5. Install clips on the other side of the first deck, and start installing decks in order.
6. Install 2 joists in the longitudinal joint of two decks.
7. To avoid possible deformation caused by temperature change, joists can not be tied too closely.
8. Outside the last deck, use the same installation method as that of the first deck, install edge seal and terminal sealing board.
Color Options from Hanming Factory: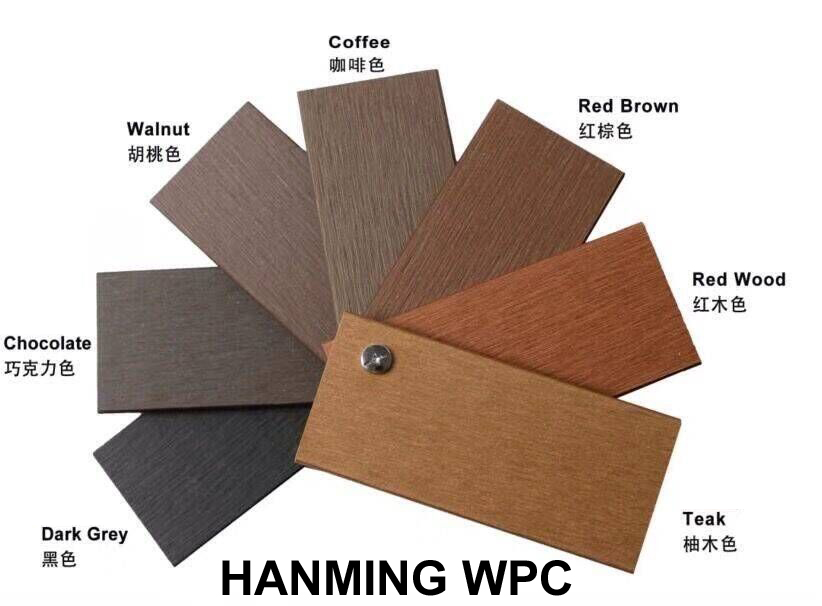 Do u need edge cover and wpc JOSIT from us ?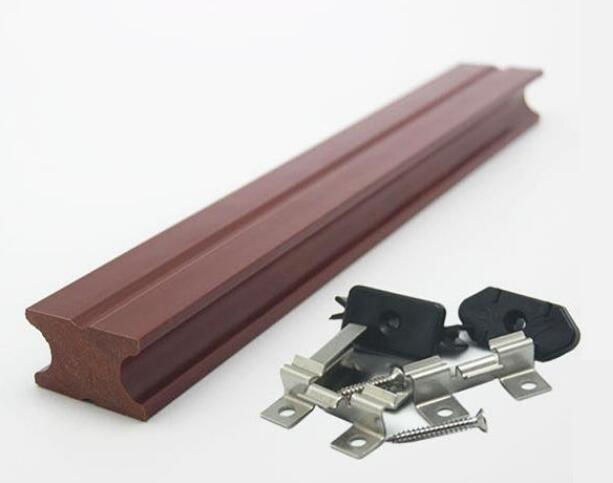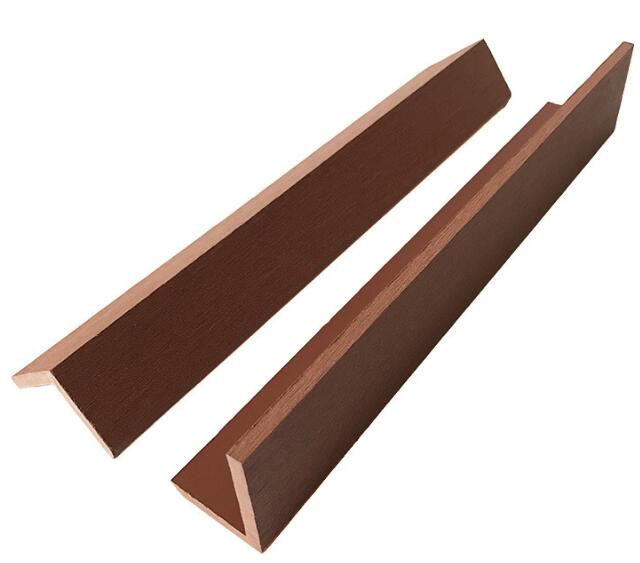 Singapore is one of the major business centers in the world, With the world's financial center and one of the five major busy ports,In Singapore,75 percent  are Chinese, and many businessmen still import WPC decking from China,Singapore is a country with little land but  many people, There is very little space for external development and poor resources. Therefore, building materials are almost imported from all over the world.In Singapore, the 140X25mm solid WPC board is used more often.
please contact:
Mail:Admin@hanmingwpc.com