Stable WPC decking tiles Manufacturer in China | 300X300X22mm
Product Number:

wpc decking tiles/DIY decking/ wpc diy decking tiles

Price: 1.4usd-1.9usd Per PC

Brand: Hanming WPC

Colour:

Chocolate, Red, Brown, Yellow, Coffee, Grey, Black

Surface Treatment:

Embossing ,Sanding ,Sliding ,Galling

Usage:

Outdoor, Engineer project

Function:

Waterproof, Anti-UV, Weather resistant

Payment:

T/T 30% in advance, T/T 70% after inspection.

Packaging: Cartons
WPC DECKING Tiles are usually square or rectangular, and it's made of wood powder and plastic.
It's more common in balcony and swimming pool,It can be customized in many colors.in China, Hanming is the Manufacturer which can Supply Stable wpc decking tiles , Hanming's wpc decking tiles is made of wood fibers and recycled plastic, and under the WPC decking ,there is a Plastic Base, they are connected with each other by Stainless Steel Screws.Some of the suppliers in China use machines to screw, some by hand.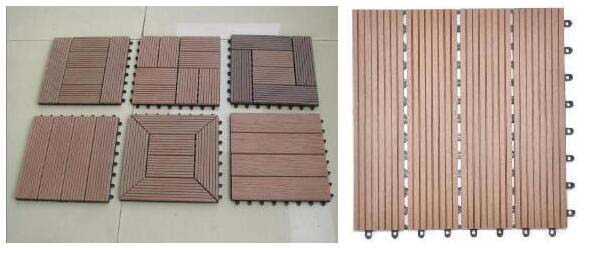 The  designs on the WPC tile's surface can have a wide variety of styles.
In China, WPC interlocking decking or WPC DIY  board is aslo named  for this kind of decking.
no matter the rain or Moist air ,it will be the best decking.
300X300x22mm is just one of the sizes,We also have 300X600x22mm,If the size is not appropriate, it can be cut , and the gap is decorated with pebbles.Limited balcony space in the home.Spread a layer of plastic wood floor is a good choice.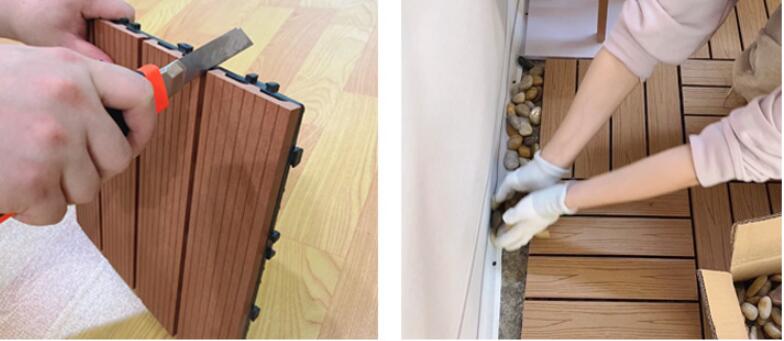 WPC has the double advantages of natural wood and plastic profile, high material density, easy to clean, maintenation-free, long service life, recyclable and biodegradable, it is a new kind of green and environmental protection material.The new material is waterproof, moisture-proof, mildew-proof, insect-proof, no deformation, no cracking and so on. It is the new environmental protection material in line with the current social development.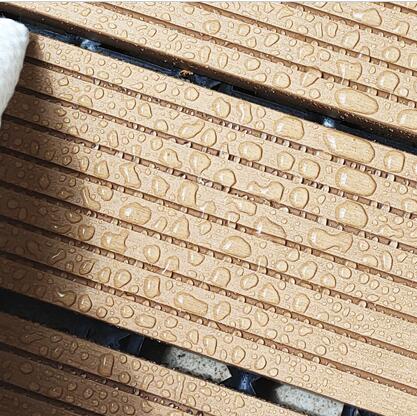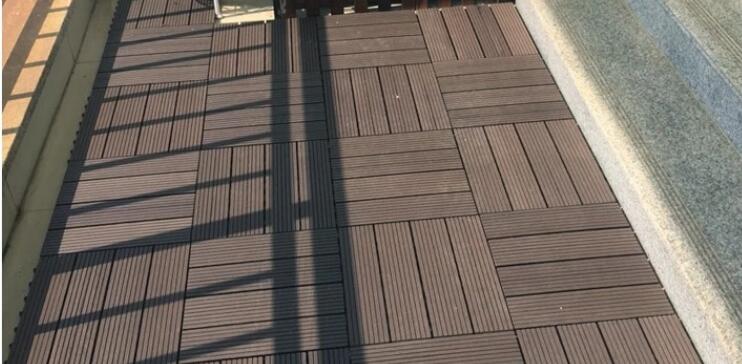 Our composite decking tiles will be the quick and simple solutions if you want to transform your balconies or roof tops. We provide a range of WPC Decking Tiles with a series of color and wood grain for selection. The product standard size is 12″x12″(300x300mm), the versatility is strong. The installation is also very easy, as long as it's on the flat surface, simple steps can complete the outdoor floor laying, no need to use other tools.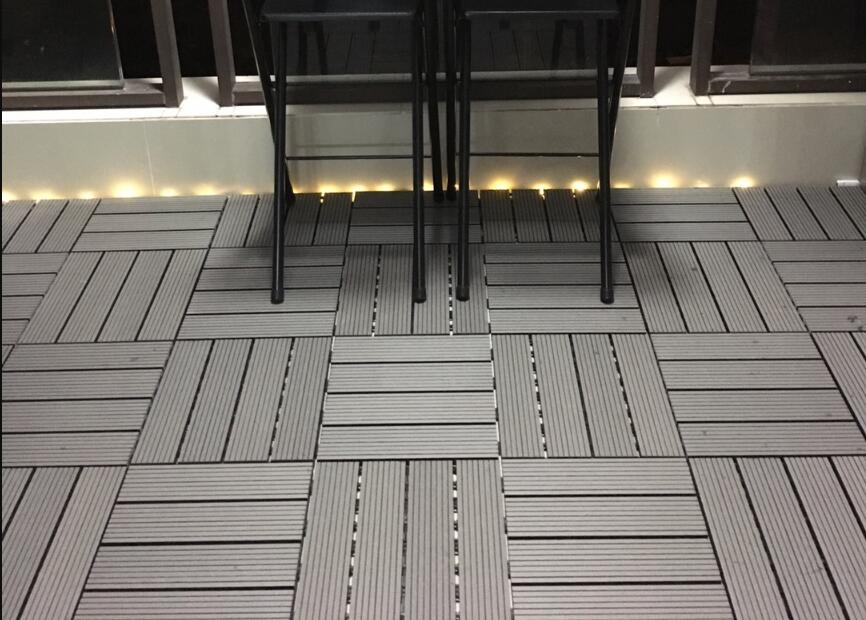 The Manufacturer of Stable Wpc interlocking decking tiles For Outdoor |300X300X22mm
WPC decking tiles have a non-slip deck surface. You can use it as a non-slip decking next to the swimming pool. Decking Tile Composition: 55% Wood Fiber+35%High density PE+10% Additives,Wpc Interlocking Decking Tiles is eco-friendly ,Beautiful and elegant ,The surface can be printed with nature wood grain texture.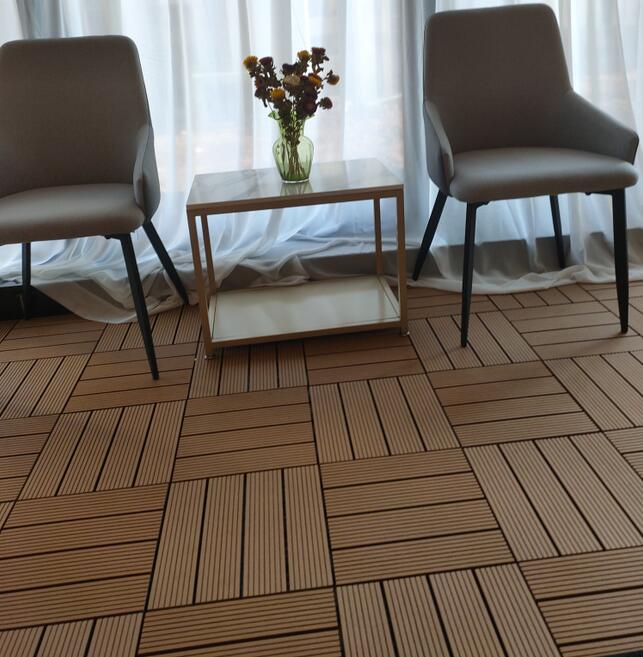 Stable WPC decking tiles features: 
1.  Made of recycled plastic (HDPE) and wood powder, plus non-hazardous chemical additives such as anti UV agent, light stabilizer, lurbicant, culping agent and etc, our Composite decking board gives any decking a fantastically clean and professional finish.
2. Designed against fading has anti mildew properties and is anti slip even when wet. The full bodied colour means that the decking can be sanded down like traditional wood whilst maintaining its original colour.
3. Profiles adjustable, lengths adjustable, colors adjustable, surface treatment adjustable
4. Treads on surface of our WPC decking tiles provide a choice of desirable, tough anti-slip surfaces. The vivid wood grain look makes it more natural to see and feel. The tiles have self-cleaning anti mildew construction and require virtually no maintenance for their life.
5. Easy intallation and cost efficiency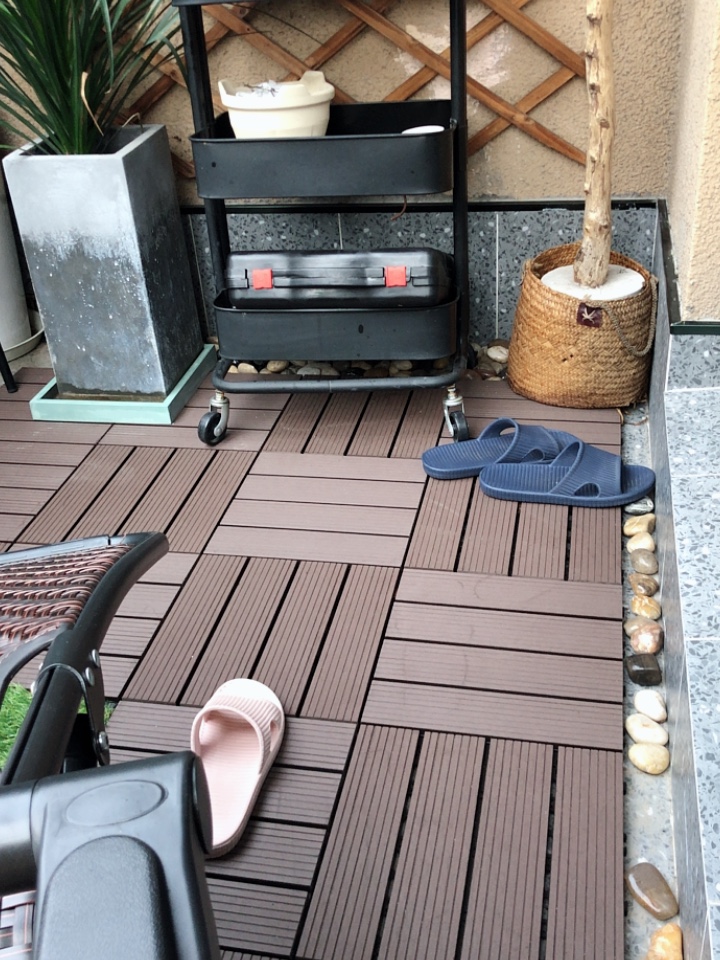 Photos installed by the WPC Decking Distributor to the Customer
Wood-plastic DIY interlocking  floor is anticorrosive and mildew-proof,It also does not contain any substances harmful to the human body,It is a real low-carbon ecological and environmental protection product,Hurry up on your courtyard balcony,  installing with DIY decking tiles, or sit or lie down there,  relax yourself!
Hanming WPC is a leading supplier of composite products with over 10 years' experience in producing durable, performance-improving and cost-effective composite solutions to a wide range of industries.
If you are interested in Outdoor WPC decking tiles, pls send email to us , our email address is admin@hanmingwpc.com