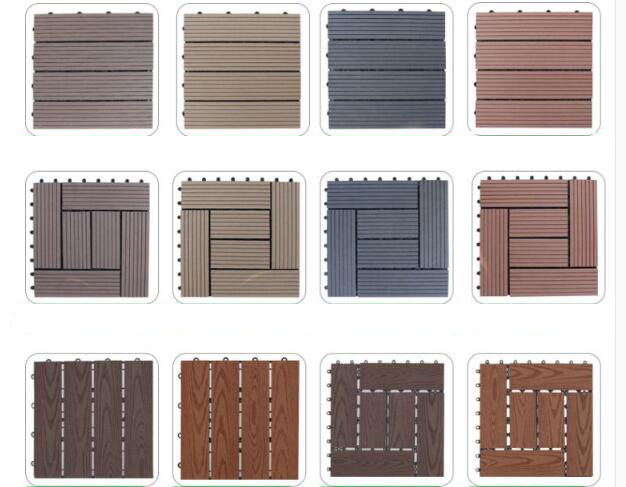 Easy installation DIY decking Tiles Manufacturer China |DIY composite deck tiles
1)Price: 1.5usd/PC–1.9usd/pc
2)Color stability and with no painting required;
3)90% recycled material and re-useable
4)Non-slip and with strong wood feeling;
5)Mildew-resistance,Anti-rot and Anti-moth
6)Stain-resistance and easy to maintain.
It's precisely because of the simple installation that Interlocking composite decking tiles are also known as DIY decision tiles,This is a kind of spliced floor, mostly square.There are several pieces of wood plastic floor splicing on the surface,and they can be with different designs.Below is a plastic base.They're connected by screws.Wood plastic boards with 3D embossing wood Texture can also be used in such decking tile.The weight of every Diy decking tile is about 1.3kg,The wood plastic deckingon the surface can have a variety of colors to choose from.
Hanming is one of WPC decking Tiles Manufacturer in China.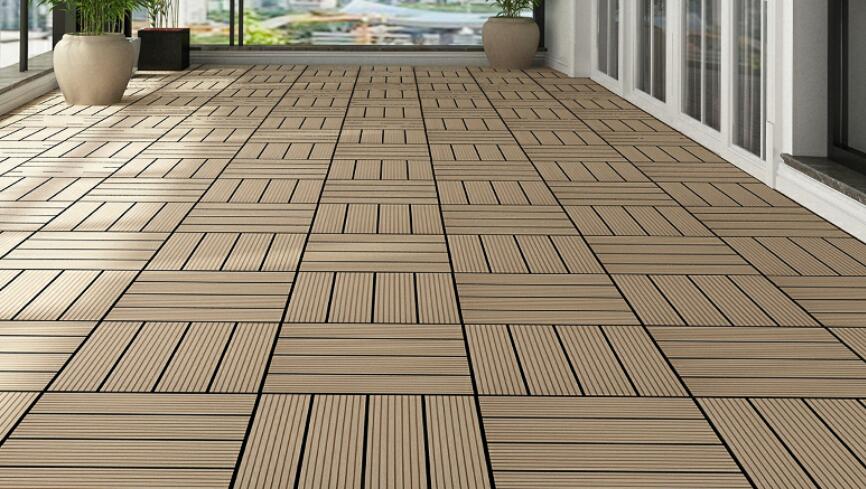 China DIY decking tiles | DIY composite deck tiles
DIY composite deck tiles is made of composite materials , its raw materials are mainly wood power and recycled plastic, wood power is produced in the process of producing high density fiberboard, the two kinds of raw materials are mixed together, and made into different floor materials with different styles and specifications by the way of extrusion. Wood plastic floor is environmentally healthy, pollution-free, waterproof and corrosion resistant, so it is used in many outdoor areas. Now many  landscape projects are paved on wood and plastic flooring on the road surface.
WPC DIY decking Tiles is one kind of wood Plastic floor, the sizes have 300X300mm, 300X600mm,ETC.
Manufacturer usually Produce 72X12mm or 55X10mm wpc boards, and then cut them into small PCS. The boards are Put on a Plastic substrate, connect with it by screws.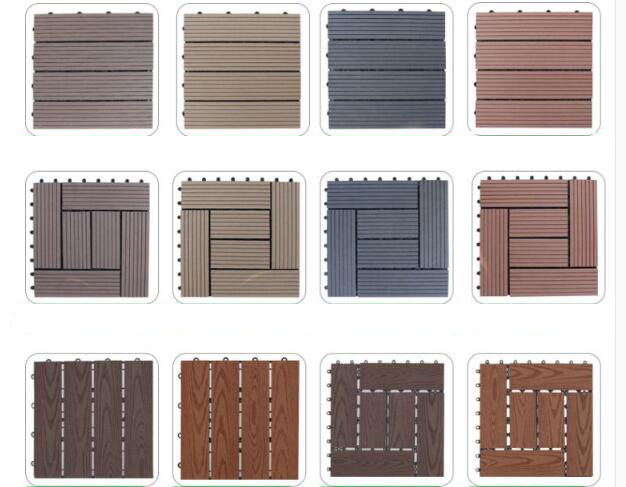 300x300MM waterproof diy wpc decking tiles with good quality
Why do we call this floor DIY decking? DIY is actually do it yourself, which means that it is very easy to install and only one person can do it,Strictly speaking, this kind of floor is a Mosaic floor,At the moment, it's not a lot of sizes.The surface of the wood plastic board above may have tooth grooves, also may be printed with decorative pattern.Gardens and balconies are more common.
Price  of wpc decking tiles:
It typically costs between $1.50 and $2.0 a piece,Of course the recent emergence of co-extrusion DIY Decking Tiles will be higher than that.A square is usually 11 pcs.
Color of DIY decking tiles:
We offer a range of 5 Composite Decking Colors, Teak, Black Light Grey, Redwood and Coffee. A simple choice you might think when choosing from just 5 colours.
600x300MM WPC Deck Tiles | wholesale wpc deck tile in China
WPC decking tiles quick details: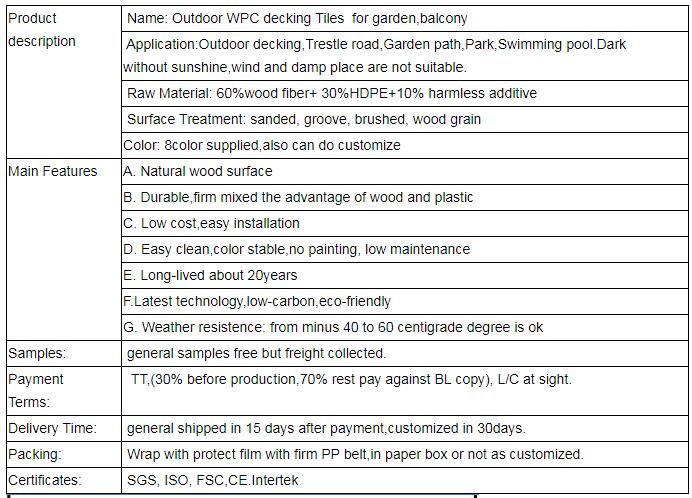 The Application of Interlocking DIY decking tiles:
DIY decking tiles is mostly used in swimming pool FLoor, balcony floor, garden, etc.This kind of floor is best installed in a place that only people walk by. if there are cars drive the floor, we don't suggest use the DIY composite decking tiles.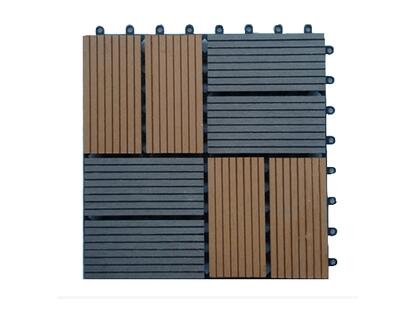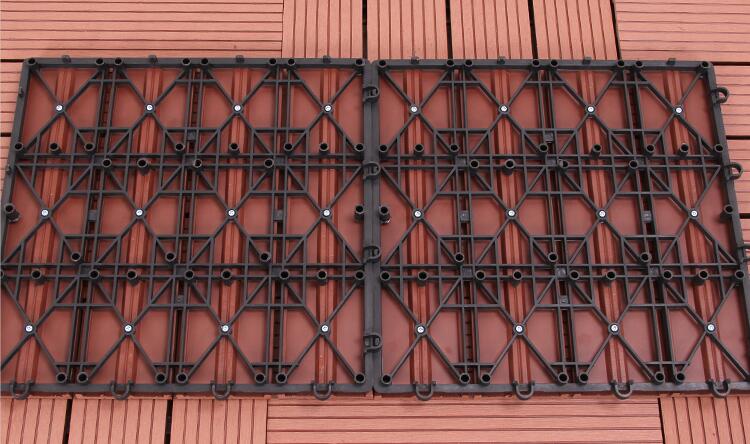 Packaging: 11PCS As one sqm in a Carton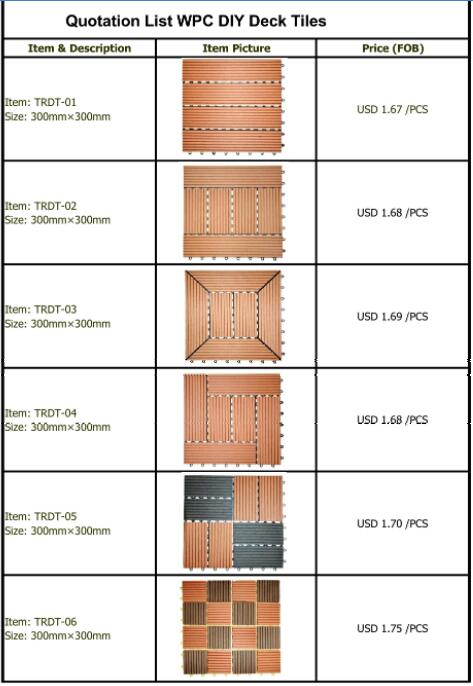 WE ASLO PROVIDE THE SIDE OF WPC DIY DECKING TILES TO OUR CUSTOMERS.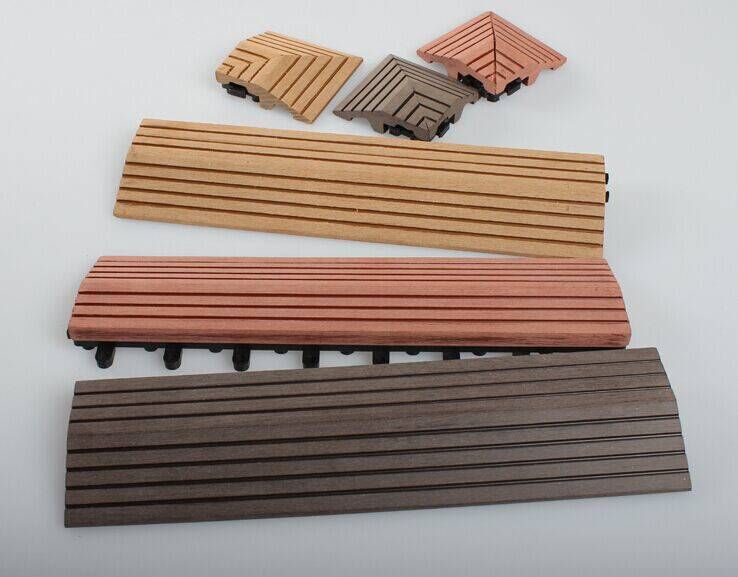 How to install DIY decking tiles by Hand ?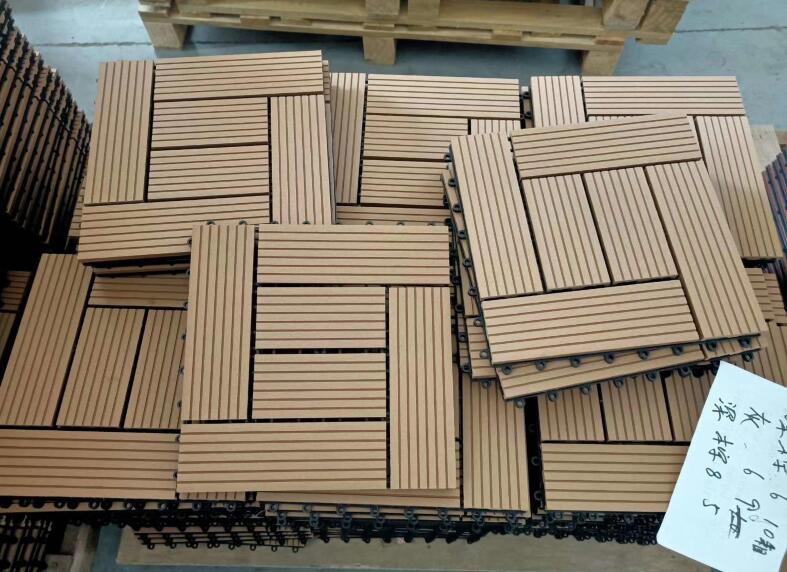 China WPC Interlocking DIY Decking Tiles
Characteristics Of WPC Decking tiles
1. Water and moisture resistance. The characteristic completely solve the problem that wooden materials easily decay, expand and deform. Therefore it can be used in many environment where traditional wooden materials can not be applied.
2. Colorful, many colors for option. Embodied with the sense of natural wood and wood texture, the color can also be customized according to clients different requirements.
3. High plasticity. It can easily be made for different personal styles, fully reflecting personality style.
4. Easy to install. There is no need for complicated construction process, saving installation time.
5. Anti-fading, weather and insect Resistance.
6. More eco-friendly and more durable compared to solid wood outdoor decking. It is 100% recyclable and can effectively reduce solar radiation.
This wood plastic composite tile , each PC with a size of 30 x 30cmX2.2cm, comes complete with 11 pieces, providing a total size of 1 square meter approximate. It is perfect for patios, balconies, bathrooms, any place that is next to a pool or spa. These high-quality WPC tiles feature quick connect interlocking function, which offers you easy and tool less installation. Made of quality wood plastic composite, our tiles are water resistant and very durable.
If u are interested in our interlocking decking tiles or other WPC Products, Pls contact with us 
Admin@hanmingwpc.com 
Whatsapp:+86 18705825615
Skype: NICKWPC88