Interlocking wood decking tiles can be replaced by Plastic wood composite material
Type: Engineered Flooring

Place of Origin: Zhejiang, China (Mainland)

Brand Name: Hanming WPC

Model Number: 300X300X22mm

Technics: Wood-Plastic Composite Flooring

Color: Red,coffee,yellow,grey,black,Brown

Certificates: SGS,CE,ISO,FSC

Surface: Sanding

Usage: Engineer Project

Material: Wood + HDPE +Additives

Product name: Interlocking wood decking tiles
when we talk about Interlocking wood decking tiles,Surface materials are usually made of wood, or anticorrosive wood, bamboo floor.These are traditionally widely used.Interlocking wood decking tiles is used on the balcony  floor,In your spare time, it is a pleasure to sit on the ground and drink a cup of tea.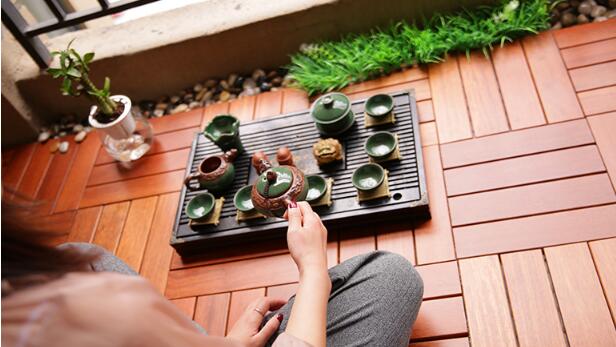 However, due to the natural defects of wood, people use better materials to replace it. With the maturity of wood-plastic extrusion technology, some people think of using wood-plastic extruded plate instead of wood or bamboo.
It is  a new eco-friendly tiles for outdoor use. WPC is composed of HDPE, wood flour and 1additive (anti-UV, paint, coupling-agent etc.) Waste wood is retrieved from demolition sites, lumber mills, factories, wood shops and other sources utilizing wood as a basic raw material in the production of goods. The waste wood is the retrieved and ground to hundreds of microns and is then mixed and kneaded with the waste plastic. The resulting WPC mixture is extruded with heat through custom made molds and cooled with water immediately thereafter. It gains these advantages: Wood textures, Various colors, Anti-surge, Anti-mildew, Anti-decay, Insulation, sound insulation resistance, Anti-aging, stagnation flammable adjustable, No formaldehyde, benzene and other harmful substances, No radioactivity.
 HOW to install WPC DIY decking ?
Interlocking wood decking tiles can be replaced by  composite material
| | |
| --- | --- |
| Products Name: | WPC decking tiles instead of interlocking wood tiles  |
| Brand: | HANMING WPC  |
| Size: | 300*300*22MM  |
| Color: | Black, Gray, Olive Green, Red Wood, Coffee, Wood |
| Surface: | Smooth, Brushed, Scratched, Grain & Sanded |
| Component: | 30~35% HDPE+ 55~60% Wood Fibers +10%chemical additives |
| Material Introduction | WPC ( Wood Plastic Composites), a new kind of composite material.Plastic and wood powder are mixed according to above proportion after hot extrusion molding plate. |
| Applications: | Garden, Lawn, Balcony, Corridor, Garage, Pool & SPA Surrounds, Boardwalk, Playground. |
| Certificate: | ISO.9001/ISO.14001/CE/INTERTEK |
| Appearance: | Looks and feels like natural wood. |
| Advantage: | Waterproof,mildew resistant,Moisture resistant,no rotting,low flame spread ; Available in different colors and wood grain design ;Green ecological, Innovative technology, Lifestyle |
| Particularity: | High degree of UV and color stability. |
| Cost: | Easy to install and clean ,low labor cost. |
| Maintenance: | Requires no painting, no glue, low maintenance. |
| Recycling: | 100% recycle, environmental friendly, saving forest resources. |
| Environmental friendly: | Barefoot friendly, anti-slip, no cracking. |
| Low/High Temperature resistance: | Weather resistant, suitable from -40 to 60. |
Interlocking wood plastic decking tiles
Interlocking DIY decking tiles
The raw material of the plastic wood decking and others: 55% WPC powder, 35% HDPE, 10% additive
Anti-Slip Composite diy Decking Advantages:
1.Recyclable, environmentally friendly:
Wood plastic composite (WPC diy decking ) made of 100% recycle raw material.
2.Water-proof, termite-resistant:
Wood plastic composite(WPC DIY decking ) can stand up to wind, rain and sun. Installation and operation is easy. It is widely used in places near water and moist environment: outdoor decking, bypath, pavilion, platform, wall decoration.
3.High Cost Performance:
The primary input of WPC product is a little higher than common lumber, but because of less maintenance, anti-moth and long life time, it is a highly cost performance product
4.Easy to intall, minimal maintenance required:
Could be cut,drilled or nailed.Adjustable specification and shape,very flexible
Edge cover of the interlocking wood plastic decking tiles
Colors:
Product and Application:
This kind of decking  installation is extremely convenient, one person can complete, just insert one floor into another floor.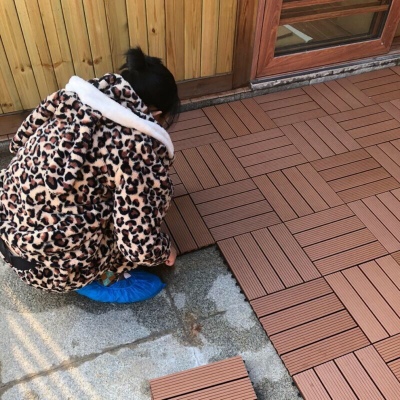 So, with the new wood-plastic composite floor, will the traditional interlocking wood decking tiles  disappear?
No, some people still like wood decking tiles, and the price may be cheaper.
If you are interested in our interlocking composite decking tiles, Pls send inquiry to us .
or mail to admin@hanmingwpc.com
Whatsapp:+86 18705825615