Warszawa, Polska Taras kompozytowy z drewna i tworzywa sztucznego na zewnątrz
Price: 14usd/sqm–23usd/sqm
Brand: Hanming WPC in China
Product name:hanming wpc  plastic composite decking
Application of composite decking:outdoor decking,garden decking, swimming pool decking, marina decking
Color:Teak,Redwood,Coffee,Light grey, Brown, Black,etc
Length:2.2m,2.7m,5.4m,or customized
Type of composite decking:Solid board
Surface treatment of composite decking:Grooving, Sanding, Embossing
Maintenance of composite decking:Requires no painting, no glue, low maintenance.
Features of floor tiles:Durable,Waterproof,mothproof, Anti-UV, Anti-slip, etc
Lifetime:25 Years
Weather ability: -40c~60c
With the breakthrough of industrial technology, the new processing technology has greatly improved the performance of WPC composites, and the market of WPC products has opened up rapidly.
1.Recyclable, przyjazny dla środowiska:
Kompozyt z drewna tworzywa sztucznego (WPC) wykonany w 100% z recyklingu surowca.
2. Wodoodporny, odporny na termity:
Kompozyt z tworzywa sztucznego (WPC) może wytrzymać wiatr, deszcz i słońce. Instalacja i obsługa są łatwe. Jest szeroko stosowany w miejscach w pobliżu wody i wilgotnego środowiska: na zewnątrz taras, bypath, pawilon, platforma, dekoracja ścienna.
3. Wysoka wydajność kosztowa:
Pierwotne dane wejściowe produktu WPC są nieco wyższe niż zwykłe tarcice, ale ze względu na mniejszą konserwację, działanie przeciwko molu i długą żywotność, jest to produkt o wysokiej wydajności kosztowej
4. Łatwy w obsłudze, minimalna wymagana konserwacja:
Mogą być cięte, wiercone lub przybijane. Regulowana specyfikacja i kształt, bardzo elastyczne
The texture of WPC board is beautiful and generous, as a dialogue and natural material, virtually can give people warm and calm, WPC outdoor floor material environmental protection renewable, sustainable design, but also high temperature resistance, anti-aging, waterproof and non-slip, flame retardant and other advantages.WPC Can be used in parks, pro level, residential, villa, port, seaside and other municipal projects and outdoor landscape projects.
| | | |
| --- | --- | --- |
| Size | | 140x25mm,150X25mm,146X24mm and others |
| Usage | | Outdoor |
| Raw Material | | 60% Wood Power+35%HDPE+5%Chemical additives |
| Color | | Brown, Black,Coffee,Gray,Natural |
| Surface | | Tongue & Grooved, Smooth,Brushing,Sanding,Embossing |
| Technique | | Extrusion Molding |
Wood plastic decking  is a new kind of environmental protection  material products, the main characteristics are: WPC decking is waterproof, moisture-proof. WPC solves the problem that wooden floor is easy to rot and deform in wet environment,It can be used in environments where traditional wood products cannot be applied,Such as landscape, villas and other outdoor platforms.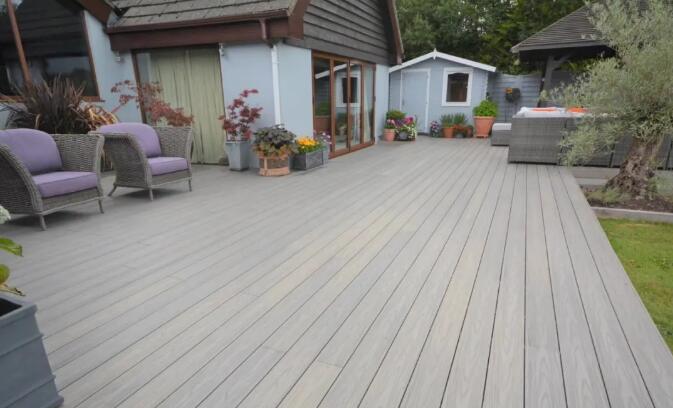 The development prospect of wpc industry is optimistic not only in China, but also in the whole world.This is not only because of the excellent characteristics of the wpc product itself, but also because it is determined by the significance of its resource recycling and its important contribution to environmental protection.As an ideal environmental protection material,WPC with low cost, and can be reused and recycled, it is gradually replacing some products that cause environmental pollution.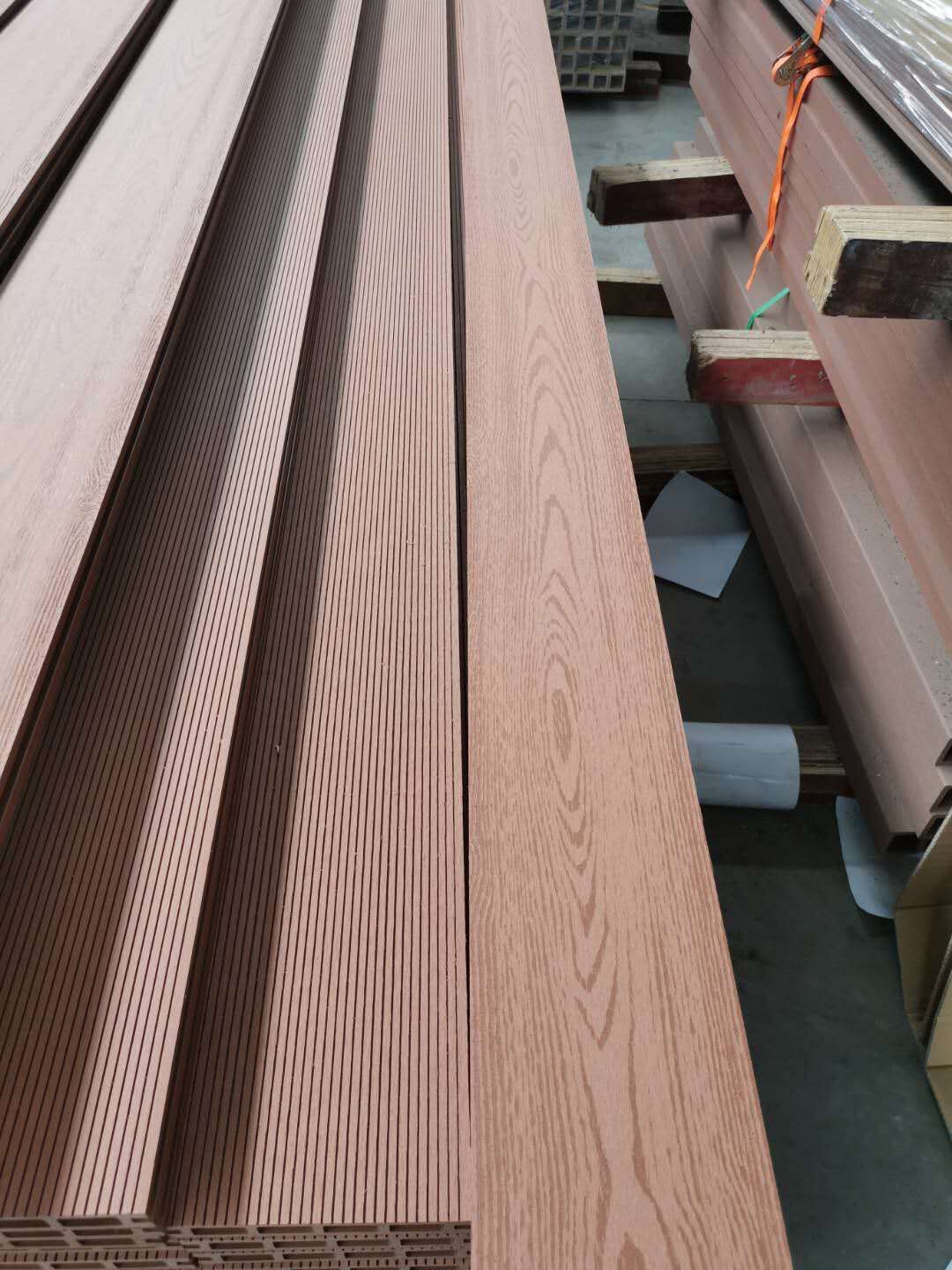 Nowadays, the WPC decking has been a large range of application, whether it is public place decoration or home decoration,we often can see its figure.It can be said that it is the shining star on the decoration market, and it will also make great achievements in the future.If you want to decorate the floor, you might as well consider the composite decking, but you need pay attention to find a regular manufacturer to buy.
Because the wood-plastic material does not absorb water, so it is very durable,And it does not contain machine matter, So it does not rot.Unlike wood, wood-plastic flooring does not require polishing and re-staining.This means after installing plastic wood flooring. You can enjoy the convenience of wood-plastic floors without spending a lot of time on maintenance.