Warszawa, Polska Taras kompozytowy z drewna i tworzywa sztucznego na zewnątrz
Price: 14usd/sqm–23usd/sqm
Brand: Hanming WPC in China
Product name:hanming wpc  plastic composite decking
Application of composite decking:outdoor decking,garden decking, swimming pool decking, marina decking
Color:Teak,Redwood,Coffee,Light grey, Brown, Black,etc
Length:2.2m,2.7m,5.4m,or customized
Type of composite decking:Solid board
Surface treatment of composite decking:Grooving, Sanding, Embossing
Maintenance of composite decking:Requires no painting, no glue, low maintenance.
Features of floor tiles:Durable,Waterproof,mothproof, Anti-UV, Anti-slip, etc
Lifetime:25 Years
Weather ability: -40c~60c
With the breakthrough of industrial technology, the new processing technology has greatly improved the performance of WPC composites, and the market of WPC products has opened up rapidly.
1.Recyclable, przyjazny dla środowiska:
Kompozyt z drewna tworzywa sztucznego (WPC) wykonany w 100% z recyklingu surowca.
2. Wodoodporny, odporny na termity:
Kompozyt z tworzywa sztucznego (WPC) może wytrzymać wiatr, deszcz i słońce. Instalacja i obsługa są łatwe. Jest szeroko stosowany w miejscach w pobliżu wody i wilgotnego środowiska: na zewnątrz taras, bypath, pawilon, platforma, dekoracja ścienna.
3. Wysoka wydajność kosztowa:
Pierwotne dane wejściowe produktu WPC są nieco wyższe niż zwykłe tarcice, ale ze względu na mniejszą konserwację, działanie przeciwko molu i długą żywotność, jest to produkt o wysokiej wydajności kosztowej
4. Łatwy w obsłudze, minimalna wymagana konserwacja:
Mogą być cięte, wiercone lub przybijane. Regulowana specyfikacja i kształt, bardzo elastyczne
The texture of WPC board is beautiful and generous, as a dialogue and natural material, virtually can give people warm and calm, WPC outdoor floor material environmental protection renewable, sustainable design, but also high temperature resistance, anti-aging, waterproof and non-slip, flame retardant and other advantages.WPC Can be used in parks, pro level, residential, villa, port, seaside and other municipal projects and outdoor landscape projects.
| | | |
| --- | --- | --- |
| Size | | 140x25mm,150X25mm,146X24mm and others |
| Usage | | Outdoor |
| Raw Material | | 60% Wood Power+35%HDPE+5%Chemical additives |
| Color | | Brown, Black,Coffee,Gray,Natural |
| Surface | | Tongue & Grooved, Smooth,Brushing,Sanding,Embossing |
| Technique | | Extrusion Molding |
1. What Are The Main Advantages Of WPC products?
A: 1) First of all, the wood plastic materials are 100% recyclable;
     2) it is long-lasting, stable for the outdoor conditions, like sun exposure, rain, temperature ariations etc;
    3) it requires low maintenance; etc.
2. What is the regular proportion between the accesories and decking?
A:  Keel with decking:3-4:1
     End cover with decking: 1:1
     T-clip with decking: 20-25:1
3. Why the keel is neceary for the intallation?
A:  When we install the flooring, firstly the keels are fixed in the ground surface with the T-clip and then we put the solid decking board on the keels. You know the wpc decking board can't be put on the ground surface directly. For one thing, it can affect of the planeness of the flooring surface after installation. For the other thing, it is not good to control the drainage of the bottom, because the wpc decking board is mainly used for outdoor, which rains a lot. So keels must be used to hold the solid decking board when installed.
4. What the distance between two pieces of keel?
A:  About 30cm.
5. If there is one piece of the decking board broken, do we need to remove all the decking board to repair it?
A:  No. If replce the broken decking, you need to break the clips of both sides of the broken decking and then take the broken decking out, it's easy.
6. What's the regualr cleaning product for the wpc decking?
A:  The soapy water  or some of oiled paint is ok for the wpc decking.
About us:
Since founded in 2008, Hanming  is growing very fast with annual growth of 40%, in 2011 we have become one of the leading WPC product  companies in China. Our customers are from more than 30 countries in the world, and more and more find us and request to start a cooperation. Hanming  has made most of the kinds in WPC, we can Supply  different  WPC decking,wall Panel,Fence,Railing,Pergola,DIY flooring,Bench ,etc. the total area of our factory is nearly 20,000 square meters, we have 20 production lines and 100 workers, the monthly capacity can reach 1800Tons.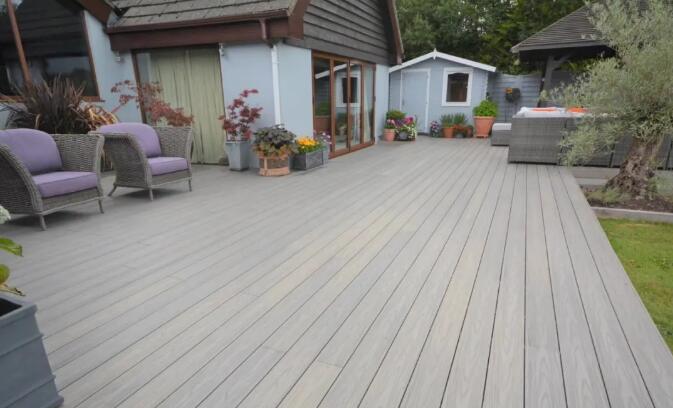 FAQ of Wood Plastic Composite(WPC) Materials
Ask: Are wood plastic composite products environmentally friendly?
Answer: Yes. Because WPC will not splinter, warp or fade the way wood does, it dramatically reduces the wasteful cycle of repair and replacement and eliminates the frequent application of environmentally harmful paint, sealers and stains.
Ask: Will WPC decking and railing fade in color?
Answer: Most materials exposed to UV and other weathering effects will fade.WPC decking and railing solutions are blended with high quality raw material and UV-inhibiting pigments to minimize fade and produce products consistent in color. All products will fade evenly.
Ask: What are the main decking installation accessories?
Answer: Decking accessories including : keel, stainless steel clip or plastic clip ,nails, expansion screw, edge skirting .
Ask: What's characteristic of WPC?
Answer: Looks and feels like natural wood·Durable,anti-impact ,wearproof ,with high density·High capacity of UV-resistance,and color stability. Highly resistant to moisture and termites·Easy to be installed and low labor cost·Requires no painting ,no glue,low maintenance.
Ask: What's the lifetime value of WPC?
Answer: Because WPC never rots or warps, painting and staining is not required, however with pressure-treated wood decks, these costs add up over time. After four years, the total cost of owning a WPC deck equals the cost of a pressure-treated wood deck. Over the life of the purchase, WPC offers a far greater value than wood. Clean it twice a year and you're done so you can spend more time enjoying your outdoor living space, rather than working on it.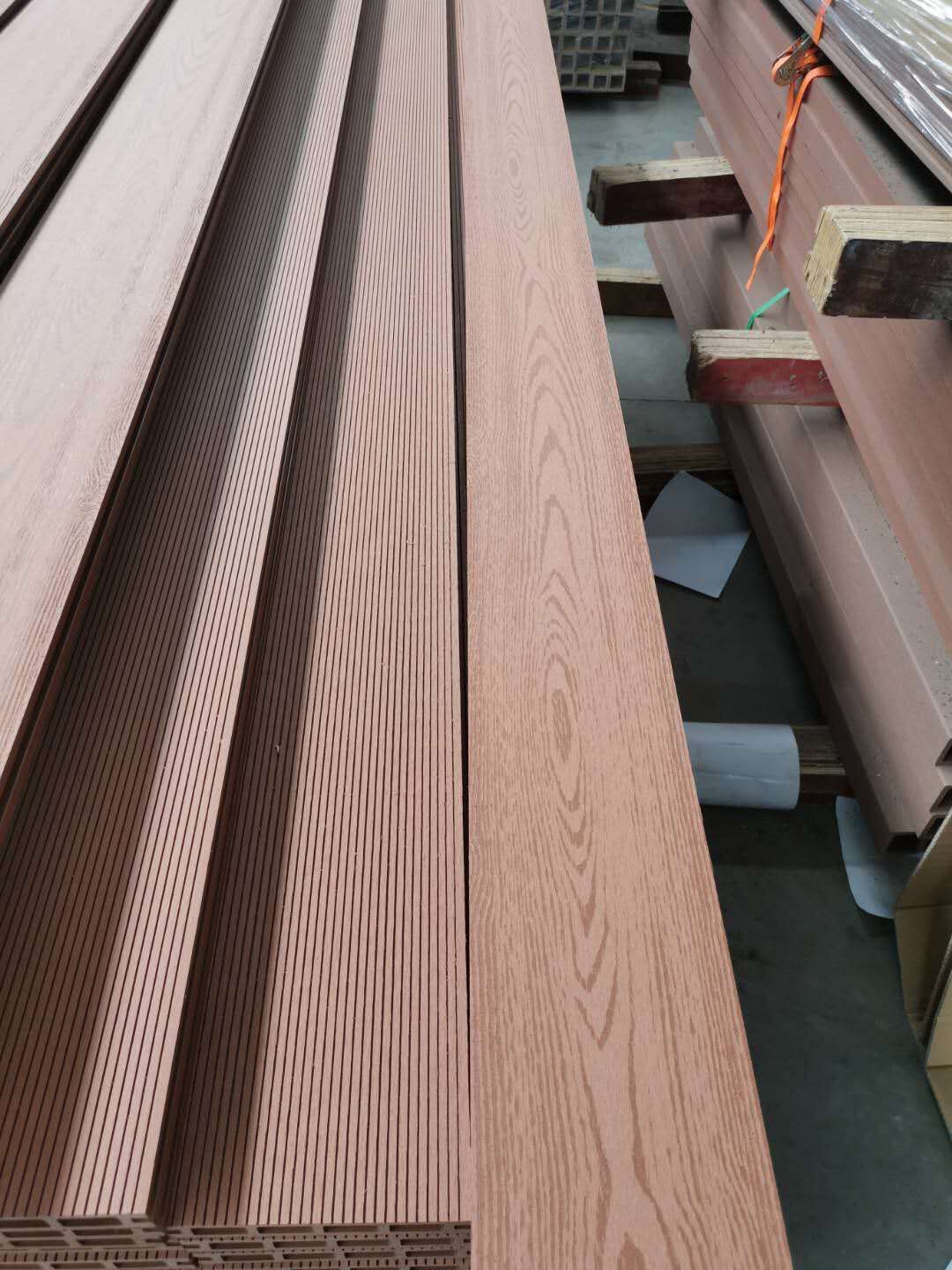 WHY CHOOSE HANMING WOOD PLASTIC COMPOSTIE(wpc)?
What are Our WPC decking and others made of?
      The raw material of the decking and others: 55% bamboo powder, 35% HDPE, 10% additive.
Where can our  WPC decking and others be used?
    Hanming  WPC decking and others can be used in virtually any type of outdoor area near water, such as boardwalks , docks,Parks,Swimming pool and Gardens.
Do Hanming WPC decking and others fade?
Our WPC decking and others will lighten over time to a beautiful, weathered tone within the same color family. This color-tone shift is dependent upon exposure to sunlight and other environmental factors. The weathering process begins upon installation and is generally complete within 60 to 90 days. Based on independent test research, it has been determined that our WPC decking and others will experience virtually no fading as it is co-extruded with a durable outer shell.
 Do Our WPC decking and others provide good traction in wet or dry conditions?
Yes, Our WPC decking and others are slip resistant.
Will chlorine or other chemicals from swimming pool damage Hanming  WPC decking and others?
While no formal testing has been done, we have not seen or heard of any ill effects from standard pool chemicals.
Why is composite product more expensive than treated wood?
Composite product is more expensive to manufacture. However, over time, the maintenance, repair and or replacement costs associated with wood outweigh the initial investment in a Hanming WPC decking and others.
Are composite materials heavier than wood?
Some composite products are heavier than wood but many are lighter. Regardless, each composite product is constructed with the span length of the product and the weight of it taken into account.
How is Hanming priced compared to other Composites?
We are a mid-range priced composite with top quality features and benefits, offering the best value in the marketplace.