This article is mainly about the service life of Composite wood decking boards .Wood-plastic board can be used for more than 10 years, for indoor time will be longer.If the installation follows the correct principles, and the manufacturer's raw materials are added antioxidants and anti-ultraviolet agents, and the formula is more reasonable, the raw materials should also use dry wood powder. the life of WPC can reach 20-30 years.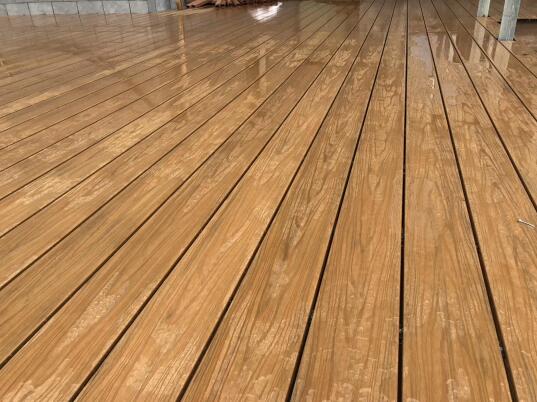 WPC decking is a new eco-friendly decking for outdoor use. WPC is composed of 35% HDPE, 55%Poplar and10% additive (anti-UV, paint, coupling-agent etc.) Waste wood is retrieved from demolition sites, lumbermills, factories, wood shops and other sources utilizing wood as a basic raw material in the production of goods. The waste wood is the retrieved and ground to hundreds of microns and is then mixed and kneaded with the waste plastic. The resulting WPC mixture is extruded with heat through custom made molds and cooled with water immediately thereafter. It gains these advantages: Wood textures, Various colors, Anti-surge, anti-mildew, anti-decay, Insulation, sound insulation resistance, Anti-aging, stagnation flammable adjustable, No formaldehyde, benzene and other harmful substances, No radioactivity.
Composite wood material from China Manufacturer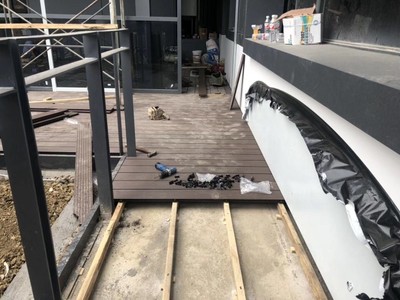 The first generation of WPC decking has a life time of 10 to 20 years, and the second generation of co-extruded board has a life time of more than 20 years. The prices between them are different.For what is co-extruded board, please refer to the following links:
China capped composite decking board Manufacturer
According to the relevant WPC manufacturers, the WPC decking for outdoor anti-aging test, at 50 degrees Celsius after a strong exposure to the sun for 6 hours, and then put in 40 degrees Celsius water vapor for 2 hours, so repeated cycle, testing bending strength and impact test, If the wood-plastic floor basically no change, then the wood-plastic floor life can reach more than 20 years.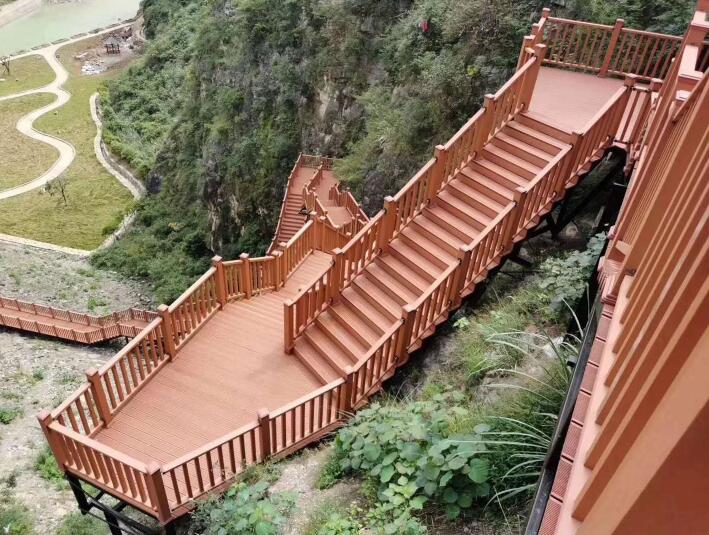 The prolonged life of WPC decking also means that you are never having to replace materials more often than you should—therefore utilising more materials than required.
WPC composite decking might be more costly in the beginning but this product continues to look great year after year and has virtually no cost of upkeep. As already stated, composite decking requires less maintenance than traditional wood decking.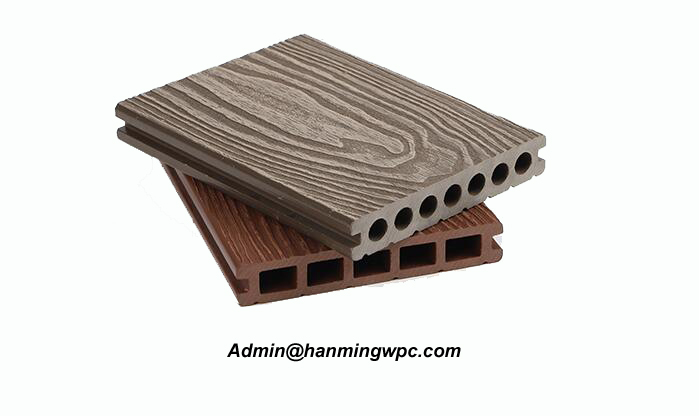 At present, when do outdoor decoration, the majority of customers will choose plastic wood composite decking.The reason chooses wpc is because of  its good performance, for example WPC has lumber and plastic two kinds of characteristics at the same time.Composite decking can prevent moisture, very suitable for outdoor use.
Why can inferior WPC decking  only use a few years?
Bad WPC uses cheap raw materials, and the process is very poor, the use of PE is little,Many manufacturers do not add antioxidants and anti-UV agents. this quality wpc Called low-end plastic wood, A lot of them don't show up on the surface, but the life is very short, After A few years will be aging.
WPC has the natural fiber and plastic characteristics at the same Time,It has excellent water resistance,Water absorption rate is only a few thousandths of wood.Abrasion resistance is 3-10 times than wood,the bearing capacity is greater than that of all plastic materials,he heat expansion and cold contraction is less than  plastic materials, the machinability is better than wood, steel, plastic and other materials.Later maintenance costs are small, so really good wood plastic, The service life can reach 25-30 years,when in the choice of purchase, it is best to choose good quality.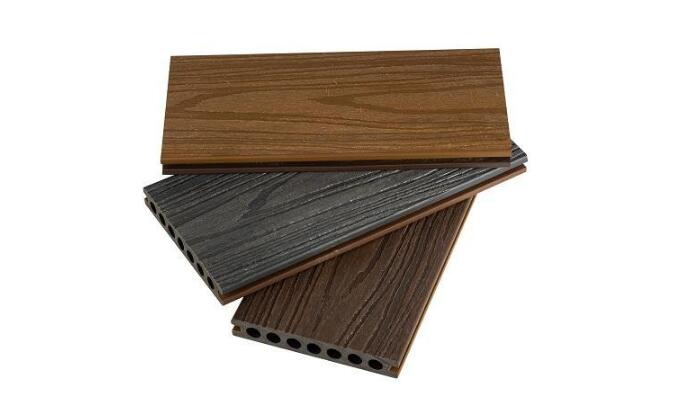 The reason why wood is inferior to WPC in service life:
Wood is aslo one of the most popular floor materials, and we can see it in many places. But at the same time, wood flooring will have some shortcomings, in frequent contact with ultraviolet rays and water will shorten its service life, wood is easy to rot and deformation cracking, and traditional wood flooring maintenance costs are relatively high.
WPC will not be affected by moisture and to be deformation & decay, this material is easy to maintain, do not need paint, just need some soap and water to do simply clean maintenance. After 10 years of use, you will find that traditional wood flooring may have turned bad and old, but your  WPC flooring still looks new.
How long can the wood texture of the wood plastic decking last ?
For the first generation WPC Decking, the surface texture could be ordinary print and 3D Embossing,Ordinary print on the decking cannot last for a long time, and usually it will be eliminated after 1-2 years. However, 3D Embossing can last for many years. The advantages of 3D Embossing are obvious.The common goal of Wood Texture is to increase the aesthetics of WPC.For some fences and wallboards, ordinary printing is OK,It's cheaper and won't wear out in these places.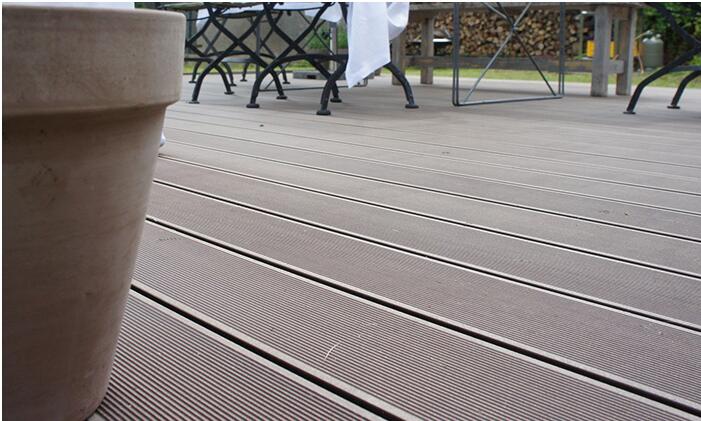 Wood plastic is a new environmental protection material,It is the world's advanced wood substitution technology, At the same time, wood plastic, as a new material, has the advantages that ordinary wood cannot achieve: waterproof, anticorrosive, moisture-proof, insect-resistant, maintenance-free,  recyclable, and easy to install.WPC profiles are widely used in building materials, decorative materials, packaging and transportation and other fields, can be processed into outdoor floor, outdoor tables and chairs, indoor and outdoor wall board, stair board, ceiling suspended ceiling, fence, railing, courtyard handrail, garden pavilion, flower box,Pergola, etc.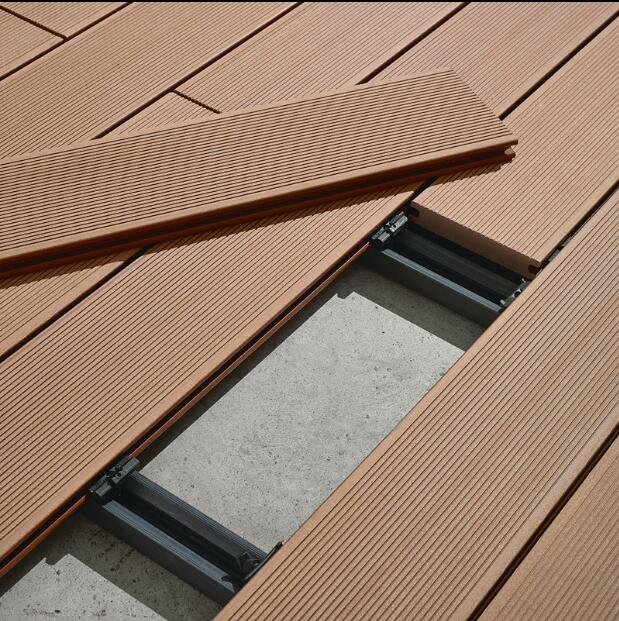 Finally we tell everybody correct installation also can increase the service life of the floor, and become very important.We have a tutorial on how to install the decking:
How to Install outdoor composite decking ?
If you are interested in our WPC products, please feel free to email us:
 Published on: Jun 24, 2017 06:02