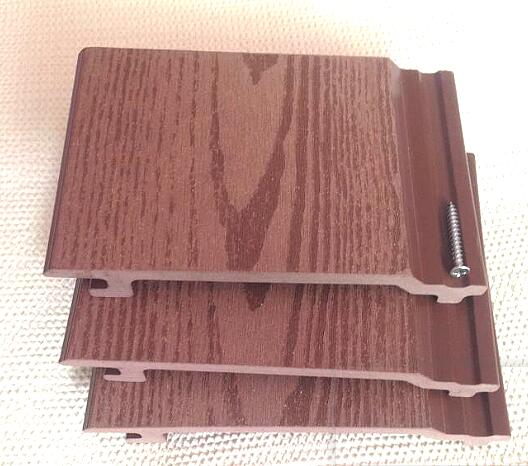 china composite exterior siding panels means composite wood siding
Place of Origin:Zhejiang, China (Mainland)
Brand: Hanming WPC 
Price :11USD/SQM –15USD/SQM 
Product name:wood plastic composite siding
Colors:Coffee, dark grey, walnut, redwood, yellow or customized
Application:Home and Villa
Surface:Natural wood appearance
Features:UV-resistant, waterproof, anti-slip
Certificates:SGS, Intertek
Product material:Wood plastic composite
wpc Wall cladding is made of wood plastic composite materials in China.Wood plastic composite is produced from retruded mold for recycled plastic and wood fiber. WPC is a completely renewable material with the advantages of high density, high stability and insulation. 
The composite exterior siding panels is actually divided into a variety of materials, is a beautiful decorative covering, the purpose is to make the wall look different and eye-catching. The cladding can be applied indoors and outdoors. It will add more creativity to your house or building.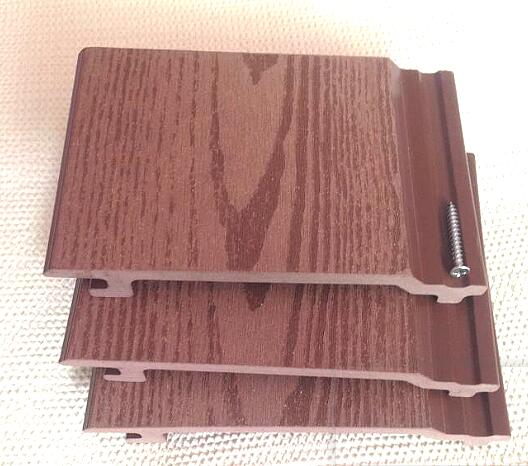 wall Sidings are standing outside all the time and it has to be very high end quality. WPC is the ideal material for the wall panels than metal, glass, stone, PVC.
WPC material is a new type of environmentally, eco friendly and energy-saving composite materials, substitute for wood. Composite Siding is wood texture design, with the features of simple, natural and beauty. WPC wall panels make the building look fresh and natural. With various assembly styles, it can help people express the creativity.
there are different materials used in constructing sidings. Among of the commonly used materials is composite. Most composite siding is used as building materials for the exterior of commercial structures and homes. Hence using such siding can give you the benefit of functionality and at the same time beauty.
The main advantages of using composite wood Siding are:
The material is very easy to maintain and clean.

The material is resistant to ultra violet light and its colour does not fade easily.

Wood Plastic Composite

 is highly durable and is not affected by rain, snow or peak summer conditions.

The material is slip resistant hence is a very good material when used as deck flooring especially near swimming pools.

WPC cladding Panels

 is highly weather resistant. It is available in many colours and textures which add to the beauty of the building.

It is a costly material but is effective in the long run.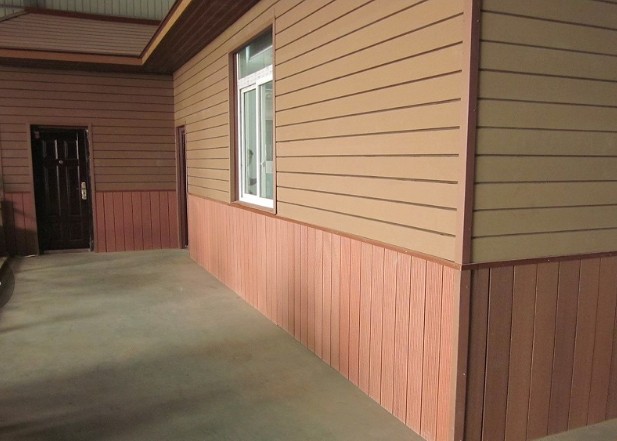 wpc wall cladding is eco-freindly wood plastic composite material for exterior wall:
Beautiful and elegant nature wood grain texture and touch
UV & fade resistance, high density, durable use
Good weather ability, suitable from  -40℃ to +60℃
Can be shaved, nailed,drilled and cut to fit different specifications.
Easy to install & low labor cost
No paintinf, no glue, low maintenance
Environmental friendly, fully recyclable and no other hazard chemical, saving forest resources
Surface Treatment —Normal wood Texture or 3D embossing Texture
In the installation of wpc wall cladding, some need stainless steel fasteners, some only need stainless steel screws,Keels need to be laid under the wall panel too.Because of the plastic composition in composite wood siding material, thermal expansion and cold shrinkage should also be considered when installing, so that there is a 3-5mm gap between the two Panels,it is aslo one Imporant Point for the installation.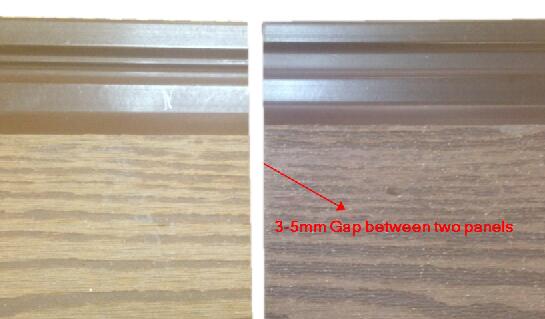 It is water resistant
Wood Plastic Composite is made of wood fibre and plastic. The result of this mixture is a material which has a very high water resistance. This is a considerable asset for a construction material. Outdoor benches, tables can be made out of it.
The material is very easy to maintain
Wood Plastic Composite requires very little care as it has a strong resistance against weather conditions. Moreover, due to the wood/plastic mixture, it does not attract bugs and is also easily cleaned. If you are considering wall cladding, you will surely be looking for a material which can be maintained easily .
It has longer life span
The material is highly durable and is not affected by rainfall, wind or hot summer conditions. In fact, using WPC is environment friendly as it takes advantage of the durability of plastic while reducing the amount of plastic landfills. A long life span means it would be an ideal choice for an outdoor fencing.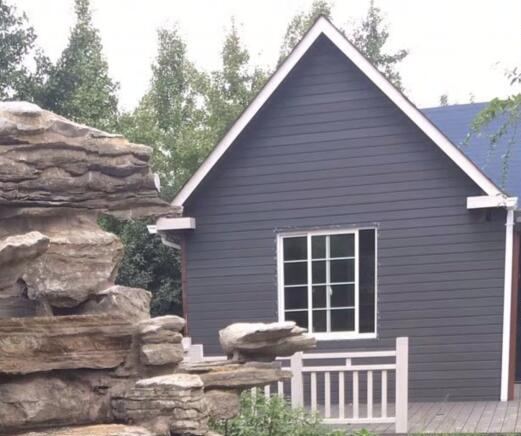 The price of composite wood siding is determined according to the quality and size of the profiles. Generally speaking, you can get more concessions from Hanming, which covers more than ten kinds of composite panels. There are 117X14mm, 156X21mm, 219X26mm,146X21mm,etc.
Hanming focus on the good quality composite Products,which help overseas customers save their time,We provide not only products, but also good service.We provide Composite Siding, outdoor flooring, Pergola,Bench, interlocking composite deck tiles, fencing,etc.
Welcome Send us your inquiry by email : Admin@hanmingwpc.com