China outdoor composite deck Railing made of wood and Plastic materials
Product name: outdoor garden wood plastic composite deck Railing
Price:24-35usd per meter
Brand: Hanming WPC
Color:Red, Brown, Yellow, Black, Coffee, Teak
Surface:Wood grain / Sanded
Material:35% HDPE+55% bamboo/wood fiber+10% chemical additives
Which material is used for the Railing of the outdoor platform? Have you ever thought about it?
We've seen the use of iron, aluminum, wood, and these materials without doubt having their own bits. But what the author recommends today is a composite material that looks like wood, but the material contains plastic inside, it is extruded by extruder at high temperature,which can have a variety of different specifications, the effect and quality of the production are quite good.
Many projects in China have already used such Railings.
Many traditional RAILING  used wood material in China and other countries, because its price is relatively cheap, but its disadvantages are also many, easy to break, rot, low-end and so on. Let's take a look at the traditional RAILING photos.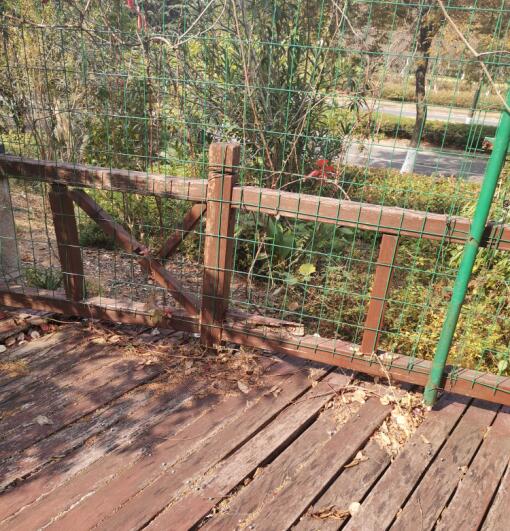 Although wood plastic composites are more expensive than pure wood, their relative high cost is gradually decreasing as manufacturers find more efficient processing methods. The use of recycled plastics in composites can also further reduce costs. Even in the face of the current cost structure, many consumers are willing to accept relatively high prices for the advantages of these composites.
Outdoor composite deck Railing made of wood and Plastic materials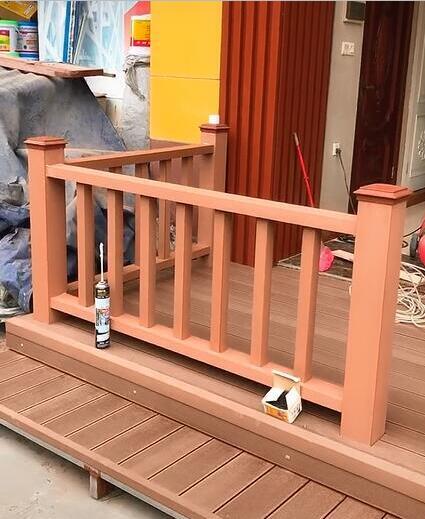 Now the actual application effect of the wood-plastic Railing is very good,The WPC railing is also widely welcomed by the society.Outdoor Railings also get rain, so it is very inconvenient to use traditional wood materials in outdoor.At this time , choosing wood-plastic Railing to replace the traditional wooden handrail is more appropriate.
The use of wood-plastic composites is quite extensive ,Railing is just one of the many applications,We list many different applications  As below:
* Landscape Works: Outdoor Decking,Garden Pavilion,Fences,Handrails, Doors, Windows, Home Decor. 
* Public Facilities: Flower Pots,Waste Bins, Lamppposts,Bus Station, Gazebo, Road Isolation Facilities,Highway Noise Barries. 
* Entertainment Facilities:Style, Ceilings,Tables and Chairs. 
* Decorative Facilities: Floor,Wall Decoration Panels, Interior Panels, Wall Panels, Stairs Board. 
* Logistics Facilities: Tray, Pad Warehouse,Packaging Equipment.

Talk about the advantages of the outdoor Composite Railing:
Durability
Due to the plastic containment of WPC Railing, the material has improved durability over its alternatives. This type of Railingis designed to be durable and its material, blend and finish make it resistant to lots of the factors that usually reduce the life of wood Railing.
WPC Railing resists fading, staining, scratching and mould and is so durable.
Low Maintenance
With WPC Railing, you never need to worry about sanding, staining or painting. The occasional soap-and-water clean is all that's required to maintain the decking for decades.
However, it is worth mentioning that composite Railing has the potential to show water stains and, although they do tend to disappear after experiencing rain, they may require a more focused clean in hotter weather as the stains can become more obvious.
Sustainable
 WPC is made from eco-friendly materials. This composite material is made to last and has many of the properties of a wood Railing without the environmental impact.
Many WPC Railing solutions are composed of recycled materials or products that have been made from maintained resources.
The prolonged life of WPC Railing also means that you are never having to replace materials more often than you should—therefore utilising more materials than required.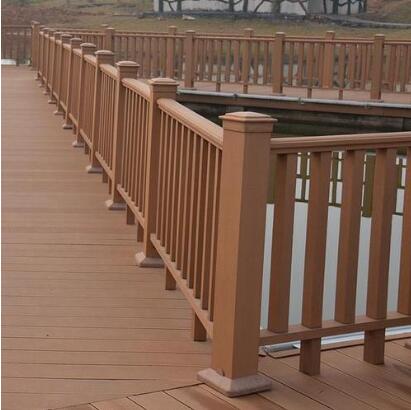 Heat and cold resistance is another feature of the outdoor deck, which has a "wooden" look and feel, wood grain variations will satisfy any preference.If courtyard railings and lighting are added, it will ensure that your deck will have a beautiful appearance.  
 Install & Maintain easily
Easy to produce and easily fabricate / Easy to cut, fix and glue; Easy to tenon, drill and nail / Require less routine maintenance / No need staining & water Sealant.
How to order our Composite Railing:
1. if you are interested in WPC Railing, let us know size, quantity, color you want to order.
2. we will make a performa invoice for your order.
3. we will deliver the produce ASAP when we receive your 30% deposit payment.
4. Payment: T/T or L/C.
5. shipping: by sea, by air, by express… ect. EXW , FOB , CIF , CNF all available.
6. production time: 15 workdays for 1x20GP order. 
7. we will prepare documents for the customs clearence before container arrives.
Our Contact email is : Admin@hanmingwpc.com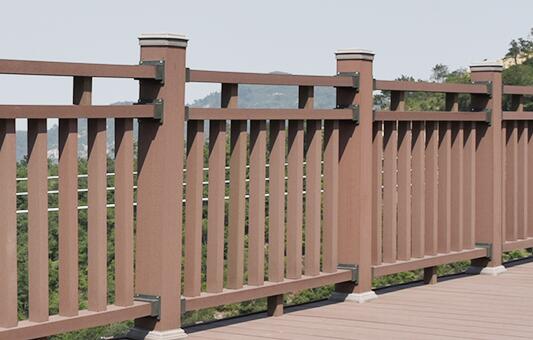 Hanming is specialized in producing WPC products with it's strong capability of development and production. With advanced production lines and high capacity equipments, we produce many types of WPC products such as decking, railing & fence,outdoor flooring, Pergola,garden Pavilion and so on. More than 60 types of WPC profiles have been researched and ploughed into market, like North America,Europe and other areas etc.