Environmental Plastic trash bin for Public outdoor space from China |China garbage bin
Place of Origin:Zhejiang, China
price:$21.42/piece-$50/Pc
Material:Plastic
Color:dark green,blue, grey,orange red
Brand: HANMING 
MOQ:500pcs
Capacity:50L, 100L, 120L, 240L,etc.
Product name:Garbage Bin
Logo:Customer Logo
Feature:Sustainable, Stocked, Eco-Friendly
Supply Ability:50000 Piece/Pieces per Month
A trash can, also known as a waste box or dustbin, is a container for storing garbage. The trash can is the container of "hides dirt" in people's life, and is also a reflection of social culture.
At present, various countries begin to pay more attention to environmental protection and health, Because it's about everyone's health, countries are sorting garbage, The demand for environmental trash cans began to flourish, currently outdoor trash cans have WPC, Aluminum alloy, plastic, and WPC & aluminum alloy combination.
Plastic trash cans is also a very popular material, which is mainly made by machine suppression, The material is made of PE particles, which is a plastic container for garbage. It can make our life become clean and tidy, urban environment beautification without it,it is our life partner. It always stains itself, but it cleans others.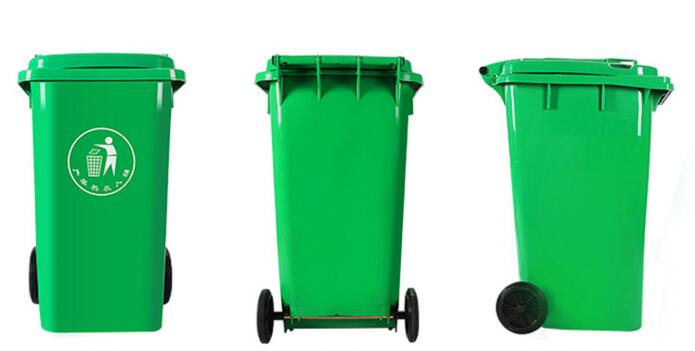 Plastic trash cans are products used in many industries of cleaning and sanitation,It brings clean, sanitation and environmental protection to cities, community health and all kinds of public places.It is a ubiquitous and environmentally friendly product in real life.
The plastic bins are available in blue, and can also be customized in red, yellow, green, black, gray, white and other colors, Our minimum order quantity is 500 pieces.We use a new high-quality, low temperature resistance, good weather resistance of modified HDPE raw materials,We Never use recycled  plastic material.Under normal service conditions (environment), the minimum service life of the garbage bin is 5 years,The annual damage rate of garbage cans is less than 1% within 5 years,Five years later, due to the natural aging of plastic, the annual damage rate of garbage cans will be more than 1%.
Our company has a wide variety of trash cans, which are suitable for all kinds of environments,For example, Medical trash cans used in hospitals and clinics,The main color is yellow, with a special medical logo; Street trash cans, it is printed with a special environmental protection logo,etc.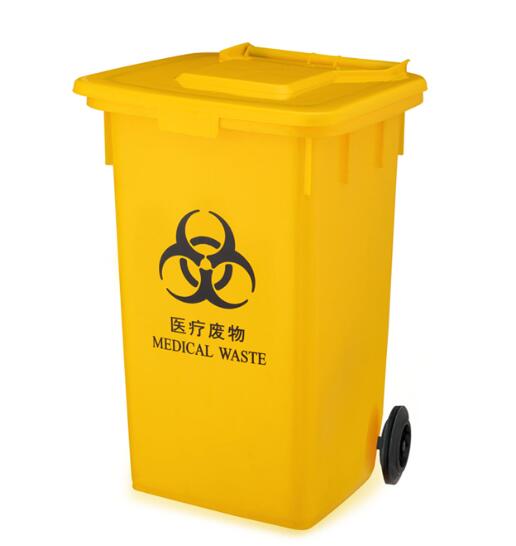 This kind wheelie bin is easy to operate and it is the perfect bin for multi-unit homes and waste containers for homes, material handling, medical practice treatment rooms, or commercial kitchens. Its UV-resistant construction also resists frost, decay and chemicals, while its wheeled design makes it portable and easy to operate.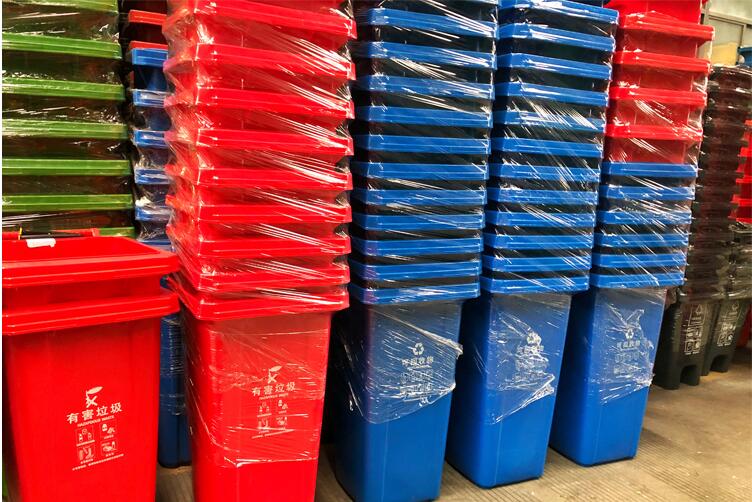 (1) Plastic garbage can processing is relatively simple. They are made of energy-saving materials. In use, they not only reduce a lot of costs, but also improve the service life. In more families, the use of trash can is relatively common, such as bedroom, kitchen, bathroom, living room, etc. It's used everywhere. However, when more use, energy conservation and environmental protection in daily life also require us to have a good sense of experience.
(2) Plastic trash cans are used well in many environments. We still need to show more and beautify our own family life in the process of mastering the environment. Only by doing a good job in sanitation can we prove that there are many warm families.
(3) Plastic trash cans also do a good job of showing more cleanliness. We habitually throw the rubbish into the dustbin. For many children, they also have better educational implications, prompting them to use different materials. Easy to clean is also a major advantage of plastic garbage can, which reflects the more humanized design concept of garbage can in use.