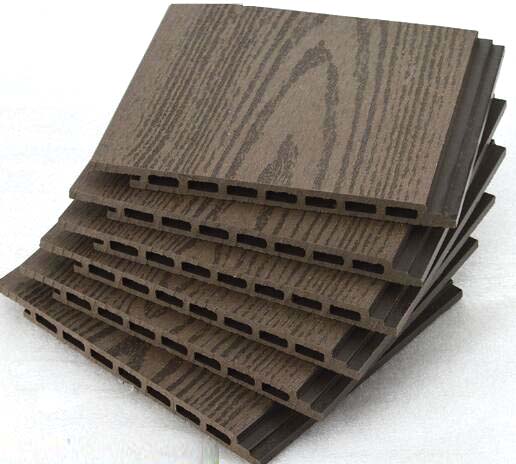 Plastic wood composite exterior wpc wall panels | Hanming WPC wallboard
Item No.: WPC panels wall
Material:  WPC(Wood plastic composite)
Price: 11usd/sqm-15usd/sqm
Normal Size:200x22mm,156x21mm,140x21mm,200x20mm,
137x22mm Etc.
Length:     2.2m, 2.9m,and 5.8m or customized
Accessories:Plastic / stainless steel clips + WPC joist + WPC skirting
WPC wall Panel is a new material wall board conceived with the development of wood plastic material in recent years, wood plastic wall Panel and wood plastic decking, are produced through the extruder, it is not easy to deform, moisture-proof, insect prevention ant, has a certain environmental protection performance.And it is  beautiful and generous, there are a variety of colors for wall panel ,Instead of anti-corrosive wood material, mostly used for the three-dimensional effect of the wall.
Material of composite exterior wpc wall panels: 35%PE+55% Wood power+10% Additives.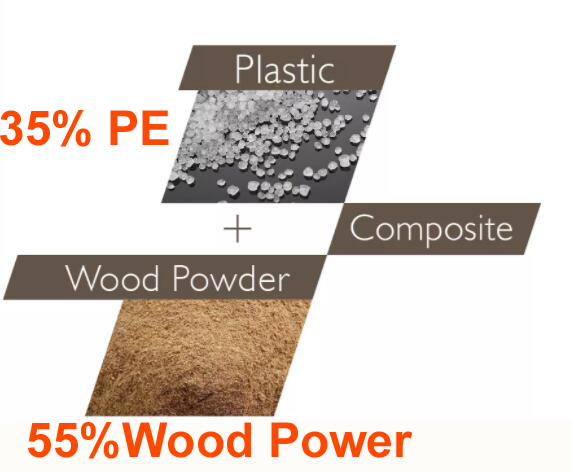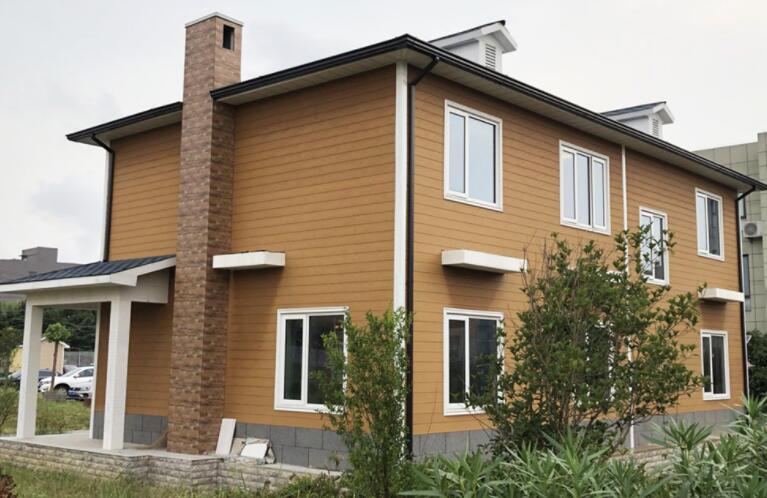 Advantages of wpc exterior wall panels:
1, low loss: plastic wood wall Panel is a kind of building materials, there are many specifications of arbitrary choice, do not waste materials.
2, the surface does not need the paint treatment: many wood or other material surface will carry on the paint or the waterborne coating treatment, from this can see the plastic wood wall board construction is simpler, the maintenance is also simpler.
3. Service life: Ordinary wood can be used for 3-4 years, while plastic wood WPC wallboard can be used for 10-50 years according to foreign data.
4. Physics: anti-slip, wear-resistant, non-cracking, non-insect-eating; good strength, high hardness; low water absorption, good sound absorption effect, aging resistance, corrosion resistance; anti-static and ultraviolet ray, insulation, heat insulation, flame retardant; can resist 75 ℃ high temperature and -40 ℃ low temperature.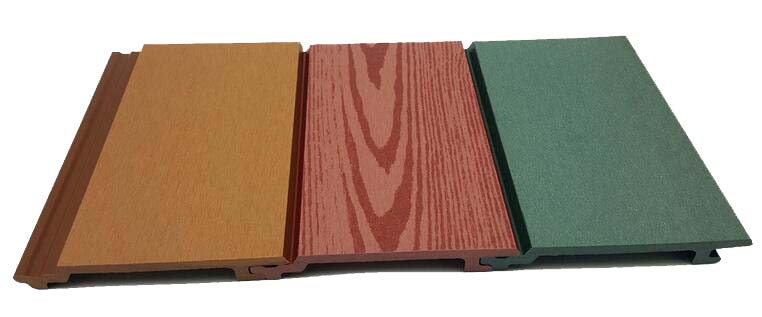 exterior wall panel made of wpc 
The industrialization of plastic-wood materials originated from the United States in the 1980's and was initially used as modified plastics. With the improvement of technology, wood-plastic has the advantages of plastic, wood, metal and so on, and has become a new material of its own system. At present, all kinds of wood-plastic products in the United States, Canada, Germany, Britain, the Netherlands, Japan and South Korea and other countries have been widely used, forming a more standardized industry and market.

Extensive application of plastic-wood materials
1: decorative building materials such as floor, interior door and so on
Wood-plastic composite materials are used to make outdoor wood-plastic flooring, sunshine room, dock guardrail, as well as decorative materials, such as flooring, moisture-proof walls, family walls, fences, walkways, flower boxes, all kinds of gymnasium decoration materials, hanging plates, Roof, blinds, window frames, frames.
2: outdoor open-air facilities
Wood and plastic materials are widely used in parks, residential areas, streets, roads, bridges, pavilions, fences, wooden planks, open air tables and chairs in public places, signs, billboards, fences, etc. Close to nature and other advantages have been widely concerned in waterfront buildings, wet environment has obvious advantages.
3: pallets, packing boxes and other packaging productsAt present, there are 80 million domestic circulation, and 200 million pallets in North America are made of wood, which consumes a lot of wood resources. If wood-plastic composite materials replace wood, it is not only cheap, but also free of fumigation. Strength, no fumigation, acid and alkali resistance, corrosion resistance, not easy to aging, no water absorption, insect prevention, moisture prevention. Solve wooden tray poor cleanliness, easy to damage, short life, but also to avoid the rigidity of plastic tray poor, high price, small specifications flexibility and other shortcomings, and wood plastic tray can be planed, nailed, assembled at will. In our country, wood-plastic application in warehousing industry has just begun, mainly shelves, pavers, flooring, beam, and so on, there will be a broad market prospects in the future.
4: other aspects
Municipal transportation facilities such as pavilions, seats, flowerpots, trash bins, waiting kiosks, because of its long life, low prices, more in foreign applications. In addition, in the automobile interior decoration, composite pipe, railway sleepers, cable pipe, well cover product development from demonstration to application test stage, I believe that in the near future, wood-plastic products application field will be further expanded.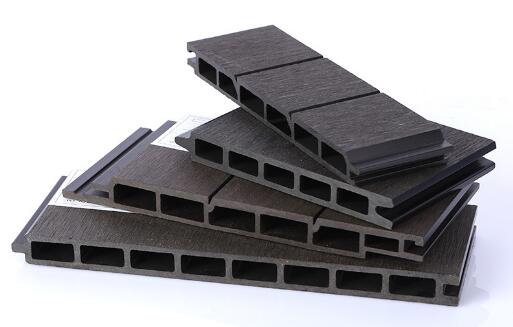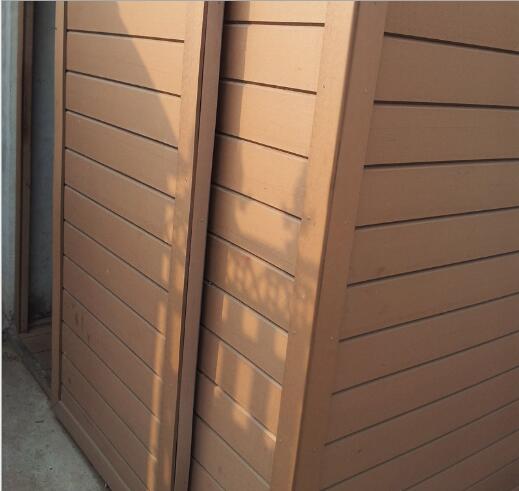 Installation procedure of WPC exterior wall panel
1: when installing the plastic wood exterior wall Panel, fix the plastic wood keel (or galvanized square tube) with the Expansion screws first.
Aslo  the distance between the keels is generally not more than 30 cm;
2: use stainless steel buckle (or self-tapping screw) to fix the plastic wood wpc wall board on the keel.
3: when installing self-tapping screws, drill holes in the corresponding position and then tighten the self-tapping screws; at the same time,The diameter of the hole should be less than 3 / 4 of the diameter of the screw.
4: when connecting with stainless steel clasp, the rubber hammer should be used to gently tap the plastic wood exterior wall board,Ensure the uniformity of the gap and the beauty of the whole construction surface
5: after the completion of the construction, in the windows, corners and other places, can be used to cover the edge with WPC Side cover and make  beautification, to prevent the external wall Panel Scratched.
Is the price of wood-plastic WPC exterior wallboards expensive?
we think it is very economic for the Outdoor Project.
Project In Thailand
Client: Abbott
Country: Thailand
Mr. Abbott is a Bangkok  expert in construction field and he has business in many countries. He first came to us for an villa wall Panels  project. The House has metal structure, so he would not need joist.we gave him suggestion on the Wpc wall Panels style: HMW-018  and later sent him samples. He was satisfied with our product quality but he wanted the style with wood texture, which we didn't send samples to. Acknowledging this, we quickly re-send him samples of this style. He was finally very satisfied with this wood texture .
For the Price, It is Only 14 USD/SQM , which is acceptable for that Projects. At last,Mr. Abbott Purchased one 20′ Container from us , He said will order another one from us  Soon.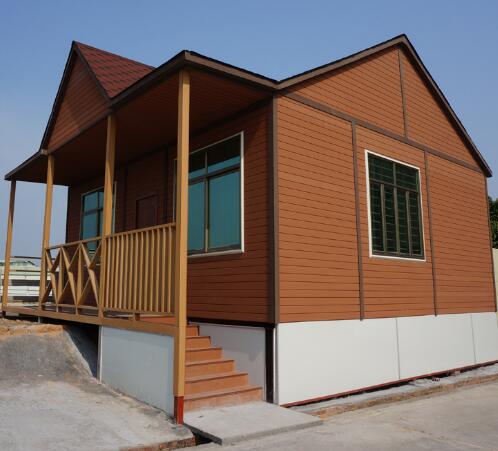 Length:2.2m, 2.4m,2.8m, 3.6m, 5.8m or customized
If you need exteior WPC hollow or Solid decking , aslo we have them.
If Any Question from you , Pls Send email to us: Admin@hanmingwpc.com 
OR Click Here to send us a Inquiry.