More details about WPC Composite decking Prices from India or China
Technics:Wood-Plastic Composite Flooring
Product name:WPC outdoor flooring,composite decking, waterproof wpc decking floor
Surface Treatment: Grooving, Sanding, Embossing
Component:60% Wood flours+30%(HDPE)+10% Additives
Application:Garden, park, summer house, villa, pool surrounds, beach road, scenic
Features:Waterproof, Anti-UV, Anti-slip, etc
Color: Teak,Redwood,Coffee,Light grey, Brown, Black,etc
Keywords:wpc outdoor flooring, composite decking,wpc decking floor
As a new type of environmental protection material, plastic wood flooring has been warmly welcomed by consumers, for this relatively new type of building materials, I believe everyone is not very familiar with the price of WPC composite decking. Today, Hanming Group will take this as a topic to bring you how much wpc composite decking  a square meter .
How much is one square meter of WPC composite decking ? At present, the price of plastic wood flooring in the market is generally calculated according to square meters, generally around 16-35 USD/SQM, according to different brands And their prices are different. Well-known brands of plastic wood flooring prices is a Little higher, although Price is higher, but the quality of products is guaranteed. If you want to know more about plastic wood flooring. How much is a square meter? The best thing is to get to know the local brand.
But in Many cities of India, like New Delhi, Mumbai, Chennai,Etc. The Local dealers always import from China.
From US , 140X25mm Hollow WPC composite decking only need about 17 USD/SQM ,but add the Shipping cost + Customs duty, It will be much higher when sell in india Market. and 150X25mm Solid decking's Price is about 30 USD/SQM.
Some Items with heavy wood grain , this kind of WPC decking will be higher than normal Items.
In additional, if u want to know WPC wall cladding or WPC pergola or WPC bench Prices,you can talk with us.
Admin@hanmingwpc.com    Nick  More details about WPC Prices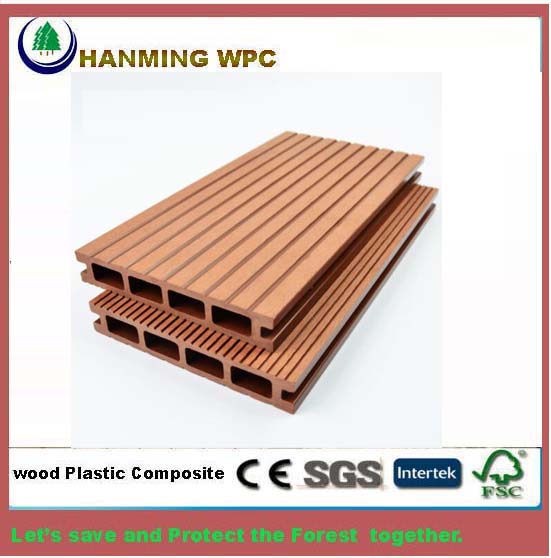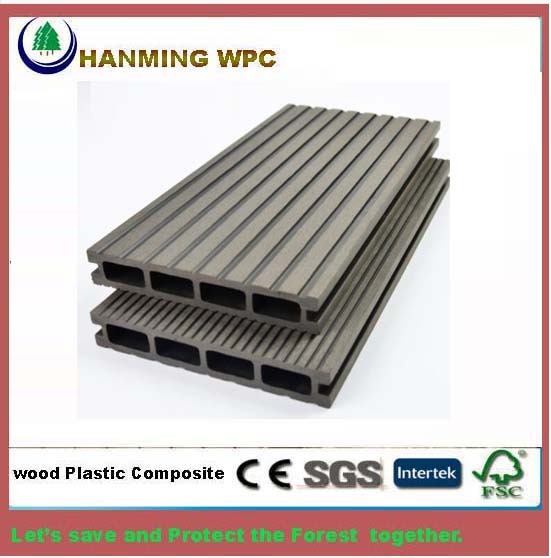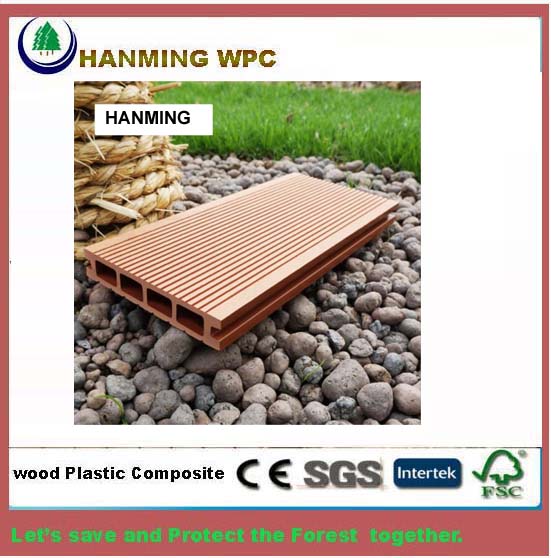 India is located in South Asia and is the largest country in the subcontinent of South Asia. The north-east borders bangladesh, nepal, bhutan and china. Indian cities include mumbai, new delhi and others. India is the world's second most populous country, so wood-plastic decking have a lot of room for growth.
 Composite Decking Advantages:
1.Recyclable, environmentally friendly:
Wood plastic composite (WPC) made of 100% recycle r

aw material.
2.Water-proof, termite-resistant:
Wood plastic composite(WPC) can stand up to wind, rain and sun. Installation and operation is easy. It is widely used in places near water and moist environment: outdoor decking, bypath, pavilion, platform, wall decoration.
3.High Cost Performance:
The primary input of WPC product is a little higher than common lumber, but because of less maintenance, anti-moth and long life time, it is a highly cost performance product
4.Easy to intall, minimal maintenance required:
Could be cut,drilled or nailed.Adjustable specification and shape,very flexible
With a natureal wood appearance ,texture. Better dimensional stability than wood, no wood knots,the product can be made into a variety of colors, the surface without secondary leaching paint.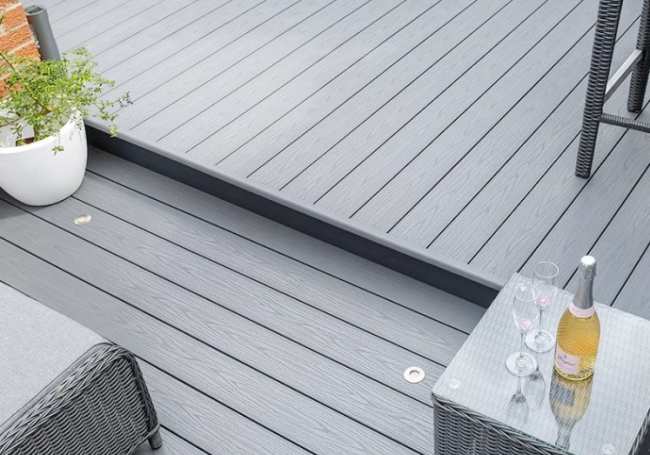 To build a deck, except knowing composite decking prices, you also need to know the price of the keel under the floor and the price of all the accessories,after you know them, you can have a good budget. Of course, the price of hollow floor and solid floor is different, and the price of solid decking is much higher than that of hollow boards.
In addition, some special color prices will be much higher, such as white and mixed color, so some customers customize the white or mixed color floor, will find the price will be much higher, and express surprise, in fact, because formula of this kind color is more difficult, and the production requirements are higher.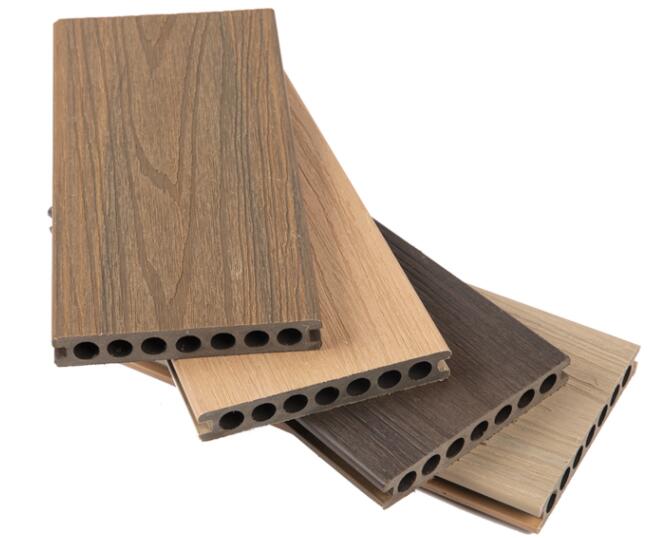 | | |
| --- | --- |
| Size | 150*25mm Hollow decking |
| Usage | Outdoor |
| Raw Material | 55% Wood Power+40%HDPE+5%Chemical additives |
| Color | Brown, Black,Coffee,Gray,Natural |
| Surface | Tongue & Grooved, Smooth,Brushing,Sanding,Embossing |
| Technique | Extrusion Molding |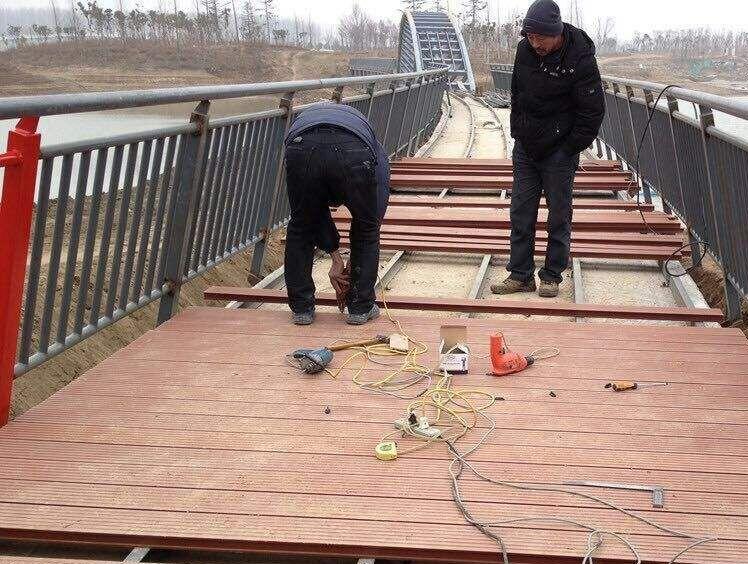 1. What Are The Main Advantages Of WPC products?
A: 1) First of all, the wood plastic materials are 100% recyclable;
     2) it is long-lasting, stable for the outdoor conditions, like sun exposure, rain, temperature ariations etc;
    3) it requires low maintenance; etc.
2. What is the regular proportion between the accesories and decking?
A:  Keel with decking:3-4:1
     End cover with decking: 1:1
     T-clip with decking: 20-25:1
3. Why the keel is neceary for the intallation?
A:  When we install the lumber, firstly the keels are fixed in the ground surface with the T-clip and then we put the solid decking board on the keels. You know the wpc decking board can't be put on the ground surface directly. For one thing, it can affect of the planeness of the flooring surface after installation. For the other thing, it is not good to control the drainage of the bottom, because the wpc decking board is mainly used for outdoor, which rains a lot. So keels must be used to hold the solid decking board when installed.
4. What the distance between two pieces of keel?
A:  About 30cm.
5. If there is one piece of the decking board broken, do we need to remove all the decking board to repair it?
A:  No. If replce the broken decking, you need to break the clips of both sides of the broken decking and then take the broken decking out, it's easy.
6. What's the regualr cleaning product for the outdoor flooring?
A:  The soapy water  or some of oiled paint is ok for the wpc decking.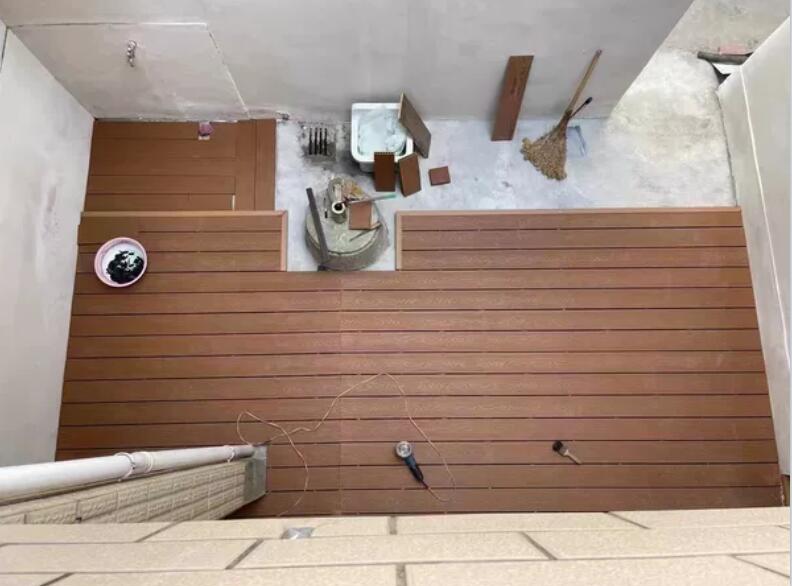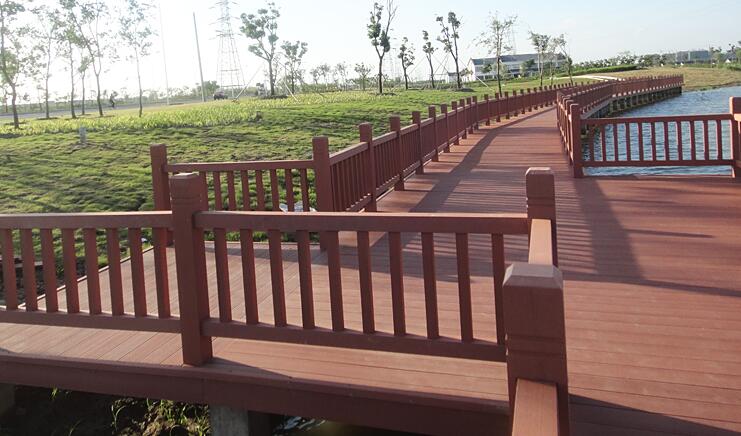 FAQ of Wood Plastic Composite(WPC) Materials
Ask: Are wood plastic composite products environmentally friendly?
Answer: Yes. Because WPC will not splinter, warp or fade the way wood does, it dramatically reduces the wasteful cycle of repair and replacement and eliminates the frequent application of environmentally harmful paint, sealers and stains.
Ask: Will WPC decking and railing fade in color?
Answer: Most materials exposed to UV and other weathering effects will fade.WPC decking and railing solutions are blended with high quality raw material and UV-inhibiting pigments to minimize fade and produce products consistent in color. All products will fade evenly.
Ask: What are the main decking installation accessories?
Answer: Decking accessories including : keel, stainless steel clip or plastic clip ,nails, expansion screw, edge skirting .
Ask: What's characteristic of WPC?
Answer: Looks and feels like natural wood·Durable,anti-impact ,wearproof ,with high density·High capacity of UV-resistance,and color stability. Highly resistant to moisture and termites·Easy to be installed and low labor cost·Requires no painting ,no glue,low maintenance.
Ask: What's the lifetime value of WPC?
Answer: Because WPC never rots or warps, painting and staining is not required, however with pressure-treated wood decks, these costs add up over time. After four years, the total cost of owning a WPC deck equals the cost of a pressure-treated wood deck. Over the life of the purchase, WPC offers a far greater value than wood. Clean it twice a year and you're done so you can spend more time enjoying your outdoor living space, rather than working on it.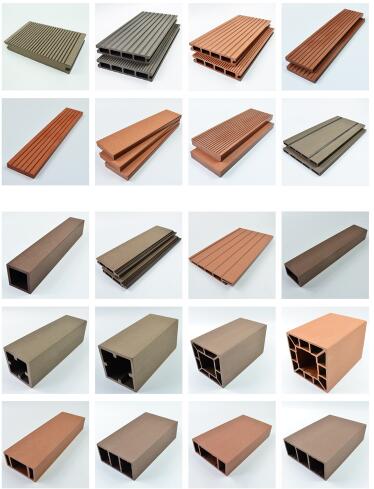 Our view on the Indian market is that the wood plastic market will continue to grow, like some of the more developed cities in India, Mumbai, New Delhi, Chennai,etc.But there will also be several WPC factories in India in near future, which will compete with products from China.But in terms of manufacturing process and supporting facilities, Chinese products have a great advantage.
The price of the composite decking  is different from one style to another, they all have different molds and weights&shapes, For the choice of raw materials, there is also good or bad quality.
when you Import WPC Decking & Flooring from China, Our Outdoor decking HS Code is : 391890 or 392690, it can help you know the Duty Prices of composite decking to Customs.
If you are interested in our WPC Composite decking , pls contact with us by email or Whatsapp