Best composite decking | Best WPC Decking Brands
Price : 15usd Per sqm —32USD per sqm 
Type: Best composite decking Flooring
Place of Origin: Zhejiang, China (Mainland)
Brand Name: Hanming WPC
Model Number: Hollow and Solid
Technics: Wood-Plastic Composite Flooring
Color: Red,coffee,yellow,grey,black,Brown
Certificates: SGS,CE,ISO,FSC
Surface: Sanding
Material: Wood + HDPE +Additives
Product name: WPC decking
For wood-plastic composite floor, many person want to know the best brand, the best wood plastic floor is what kind? In fact this is a relative issue, some brand is very famous, but the price is very expensive, and some brand general, quality and price are OK, so blind believe that a big brand is not necessarily suitable for you, but choosing big brand, after-sales service may be relatively guaranteed.
As for which kind of composite lumber is the best? Online embossing and capped composite decking are currently the most recommended.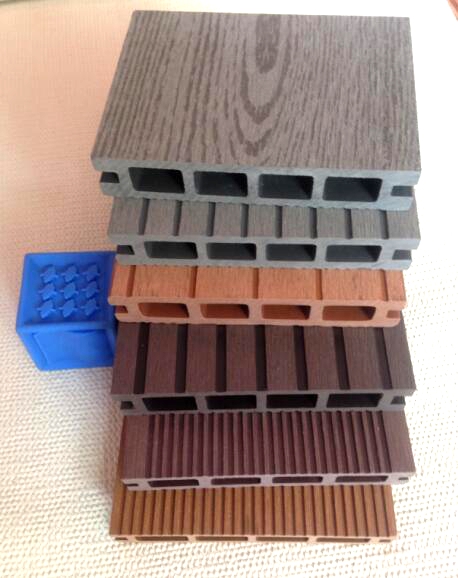 Best composite decking | Best WPC Decking Brands—-issued By Hanming  Group 
8 Major Brands for Composite Decking in the World
01 of 08. Trex. 

02 of 08. TimberTech (AZEK) 

03 of 08. Cali-Bamboo.

04 of 08. Dura-Life. 

05 of 08. Envision Composite Lumber.

06 of 08. Fiberon. 

07 of 08. CertainTeed EverNew.

08 of 08. Lumberock. 

Hanming is also a good Brand in China
Composite Decking is also called wood-plastic composite decking ( WPC ), is a special outdoor flooring popular in China & overseas in recent years. Because of its low cost, maintenance-free, anti-corrosion, water-resistant, acid-resistant and insect-resistant, and simple installation, the usage of composite decking is increasing day by day. Because it is a new type of material, many customers have used the product for the first time. In the face of materials with prices ranging from more than 16 USD to 40 USD per square meter on the market, they do not know how to choose which type of material, and according to the use of domestic wood and plastic products in recent years, Different quality wood-plastic products from a few months to 10 years, the gap is very wide. Here's the most intuitive, the easiest way to do it. Tell you how to choose the BEST Composite decking properly.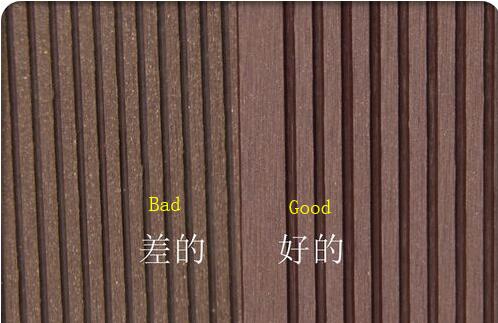 Composite decking also began more than 10 years in China, increasingly fierce competition. Many factories can only sell at low prices in order to get business done. But because manufacturers' production costs (labor, electricity, rent, etc.) are roughly balanced, reducing raw material costs is their only way. Plastic wood materials from the cost analysis of the most important raw materials are wood powder and Pe.
1:Wood flour: fine wood powder for good factory use, coarse powder for poor factory use
Grain size is the key to determine the price of wood flour. The finer the grain size is, the better the quality of wood and plastic products is. But the finer the grain size is , the higher the price (this is easy to understand, the smaller the flour, the longer the grinding time, the slower the flour sifted).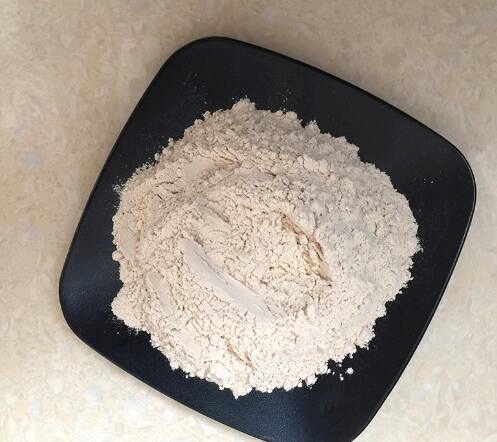 2:PE: good material for Good factory,  second use material For the Factory which don't care about the Quality
The manufacturers of good quality of plastic wood products generally choose PE particles of good quality and stable quality.In recent years, the price of PE particles has been stable, which has little impact on the cost.
Imported waste plastics because of the very low prices, has become the fastest choice for many factories to reduce costs. Although imported waste plastics are cheap in price, they are not uniform in composition, which directly reduces the strength of the finished products (direct effect: easy to break).Safety performance is greatly reduced, and poor weather resistance (direct impact: short service life), Wood powder coating differential make poor water absorption (direct impact: easy to crack). Although raw materials can not be seen, but finished wood floor, according to the following steps of careful observation, you can learn how to quickly distinguish the quality of wood products.
1:Look at the front of the plastic wood floor:
Good quality composite decking with smooth facade, glossy luster, wood powder is fine and even particle size.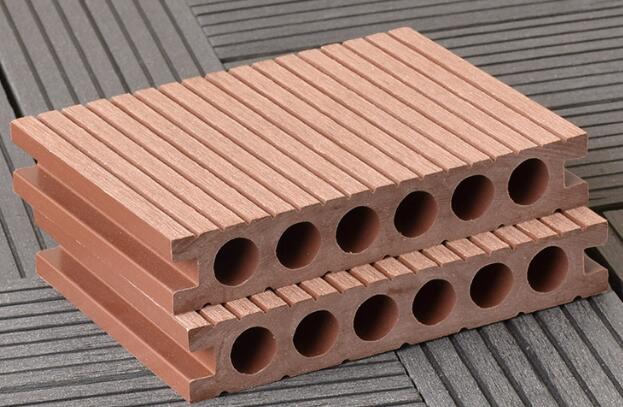 Poor quality of plastic wood flooring surface rough, gloomy, wood flour particles larger,  uneven distribution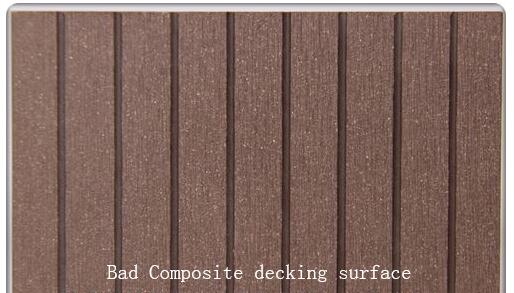 Look at the plastic wood composite decking floor cut section:
The cut surface of plastic wood flooring with good quality is compact, glossy, fine and evenly distributed.
The poor quality plastic wood floor has loose texture, dim gloss, larger wood powder particles, uneven distribution, and obvious see wood fiber.
The difference between the two floorboards is obvious.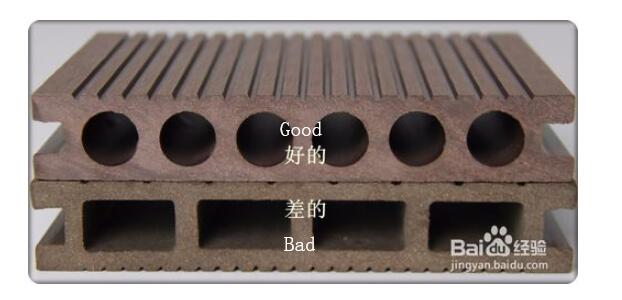 3: The Right  formula, if need the Best Composite decking , Formula is aslo Very Important.
In China, The formula of 60% Wood Power+30% HDPE+10% additives or 55% Wood Power+35%HDPE+10%Additives is Used the Most, these two formulas are OK.
But some Manufacturers use more wood Power , and Less than 30% PE, that is not Allowed, they  sell at low prices in order to get business done.if too many wood Power, the WPC decking may Cause Rot, musty and short lifetime.
meanwhile, if the WPC composite decking is used for Hot weather, like Kuwait, Oman, African countries,the Materials should include antioxidant and anti-ultraviolet agent.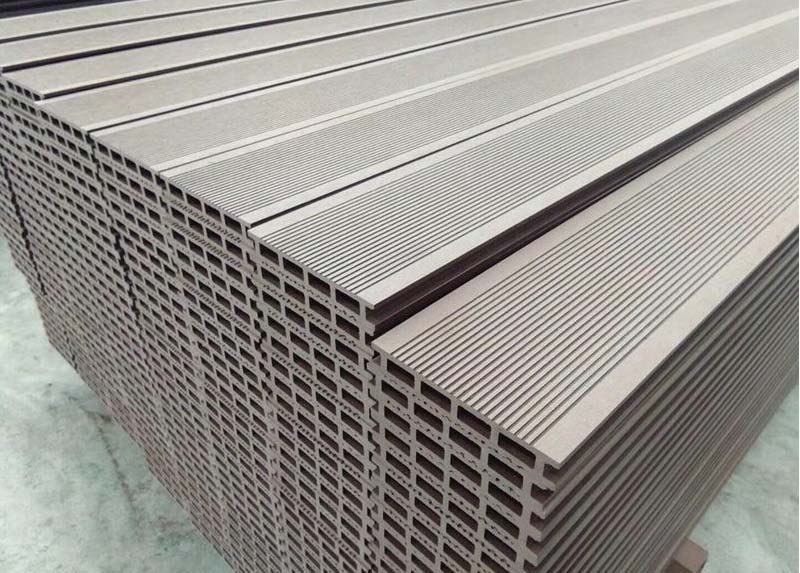 4: Best composite decking need  the Right Installation way;
composite decking industry has always said that the floor is "3/10 is floor and 7/10 is installation", that is, the quality of the installation of the floor determines the Usage lifetime.
Here there is video from our customer for you to Learn how to install the Best WPC decking well.

You needn't Purchase from Fiberon,Trex, Azek Decking, Timbertech, Cali-Bamboo decking,Newtech these Composite DECKING Brands, because they Provide the Products with very high Price.
In China, you can Purchase from Hanming Group.
WPC decking   10 Years experiences for this field. Cost-Effective, complete in specifications, Good service, 3-5 Years warranty,Production Lead Time short.Many colors for your Option.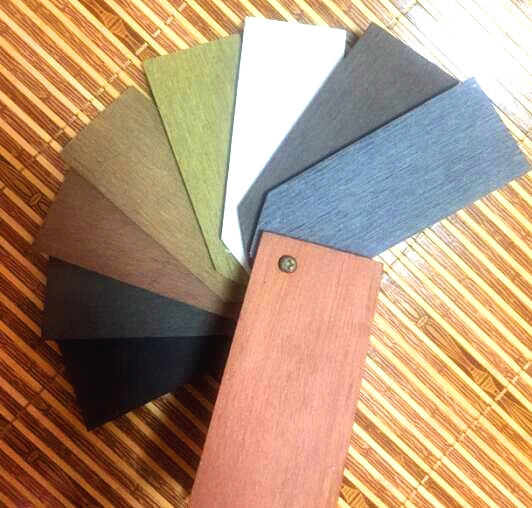 What is Best Composite Decking 2019:
Best Composite Decking 2019 stands for Capped Wood-plastic composite. Best Capped Composite Decking is a water-proof, antiseptic, durable material, which can be used for a variety of purposes in all weather conditions. 
Strong and durable polymer shield capping the core 360 degrees. The Core is made of wood fiber, PE polymer, and additives. The Shield is made of special engineering grade polymer and additives with extremely low water penetration.
The Shield prevents moisture penetration inside the core, resisting problems like:
No Rotting

No Splitting & Cracking

No Fungus & Mold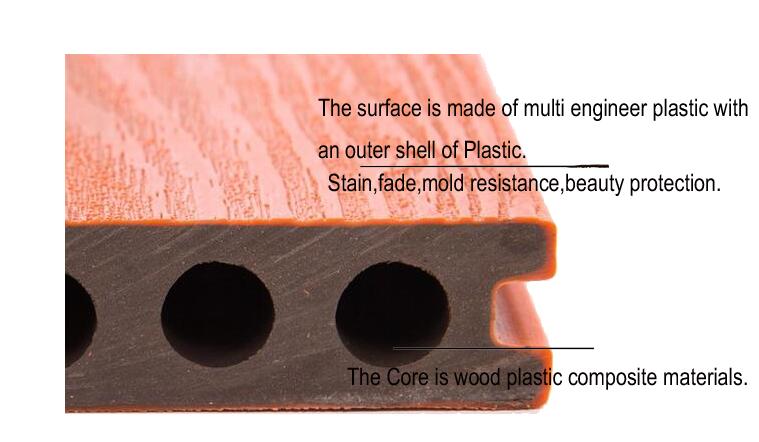 TELL US U NEED HOLLOW OR SOLID  AND THE SIZE OF COMPOSITE DECKING.
Projects Show:Best composite outdoor decking For different countries.