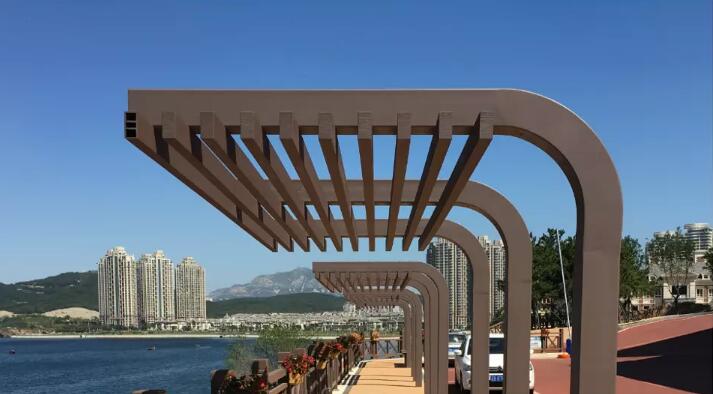 Uvioresistant decoration open-air WPC Square Tube | Offer Accessories
Place of Origin:Zhejiang, China (Mainland)
Price: 2.0USD/M-8.0USD/M
Certificates:CE, ISO9001, FSC, SGS test report
Feature:anti-water,anti-UV,Durability,sun-proof,high wood texture,low maintenance cost ,Moisture protection,mildew proof,avoid worm-eaten
Color:Brown,Green,Dark brown,Maroon,Ivory,Chocolate,Black,Coffee,ect. or according to customer's requirement
Application:  Commercial Projects,Residential Projects,
Government & Public Projects, Education Projects,
Hospitality Projects,Heath & Aged Care Projects
What is WPC Square TUBE?
As a name suggests, "plastic wood" can be understood as a material that mainly uses plastic+wood as a raw material to replace wood. Its promotion and application can save a lot of natural wood and protect the ecological environment. Therefore, many countries in the world are developing Quickly.
It is aslo called WPC lumber, Wood plastic composite decking, BPC decking, ECO wood ,ETC.
WPC Square Tube have many different Models and Styles, It can be Used for Pergola, Railing, decoration board,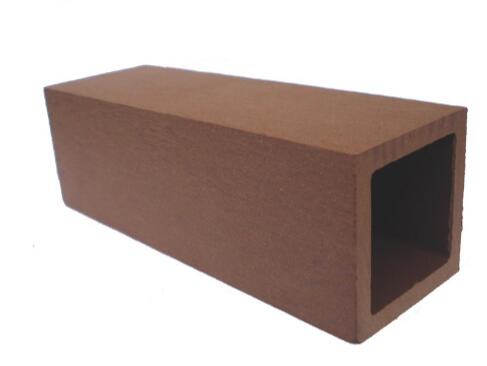 50X50mm WPC Square Tube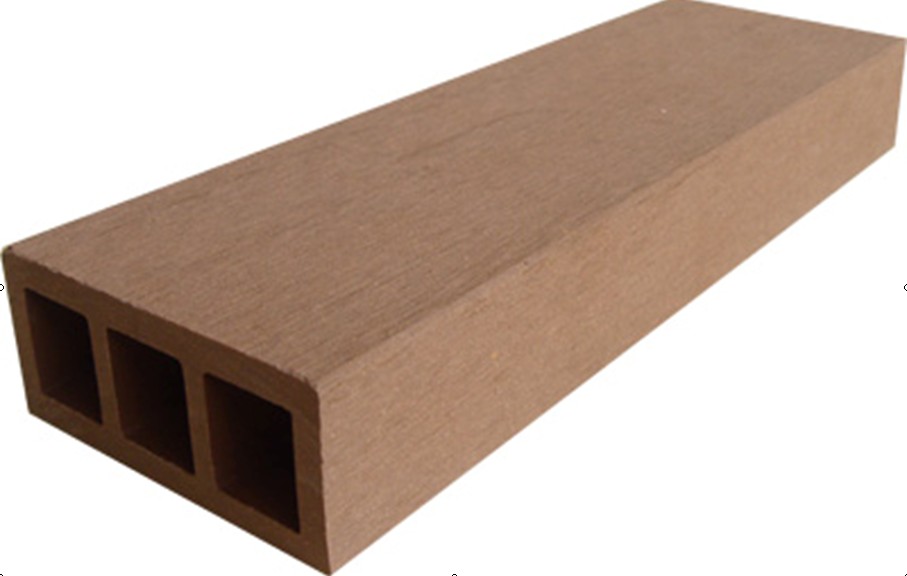 90x40mm WPC Tube for Handrail.
When WPC Tube is used for railings, it is usually lined with steel pipe or square steel.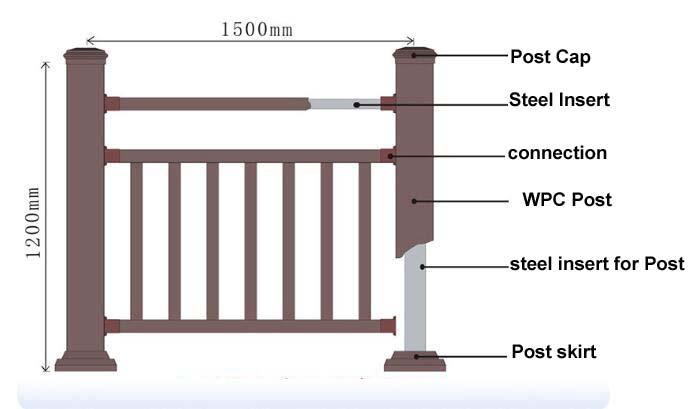 The following are some advantages of WPC lumber materials in the application
1. The loss of plastic wood profiles is the lowest.
WPC lumber is a profile that can be produced according to the needs of customers. The length of all the wood is prescribed to be dead.
2:WPC Tube is a profile with a lot of hollow specifications. Save a lot of material.
Everyone knows that aluminum alloy doors and windows can be popularized so quickly because it is a hollow profile. If it is solid, the price is incredibly high. The plastic wood hollow part is cheaper, although it is not as high as aluminum alloy, but it is also objective. Everyone knows that hollow can not only reduce weight but also increase strength. Plastic wood can be hollow, and wood is impossible.
3:The surface of the WPC Tube is not required to be painted.
Generally wood needs to be treated with surface paint or water-based paint.
4:Plastic wood products can be maintenance-free.
Wood generally needs to be maintained or painted in one year. In the long run, the maintenance cost of plastic wood is far below that of wood products.
5:The service life of WPC tube can generally reach 3-4 times that of ordinary wood. Foreign data shows that plastic wood can be used for 10-50 years.
WPC Square Tube used for Pergola.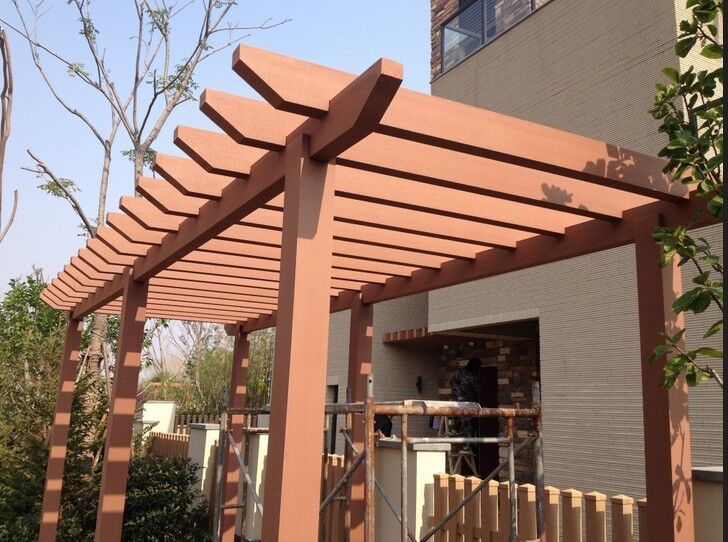 Decoration WPC Tube for House: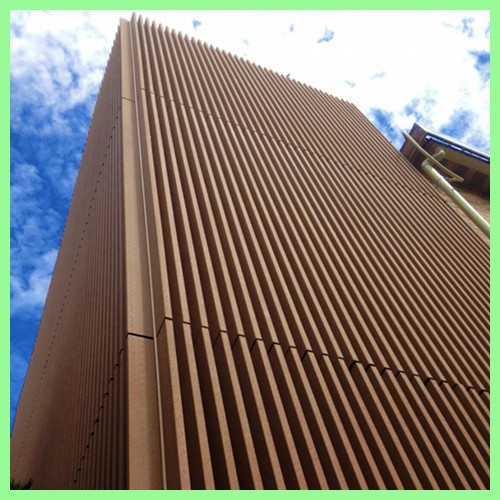 Projects of WPC outdoor Tube: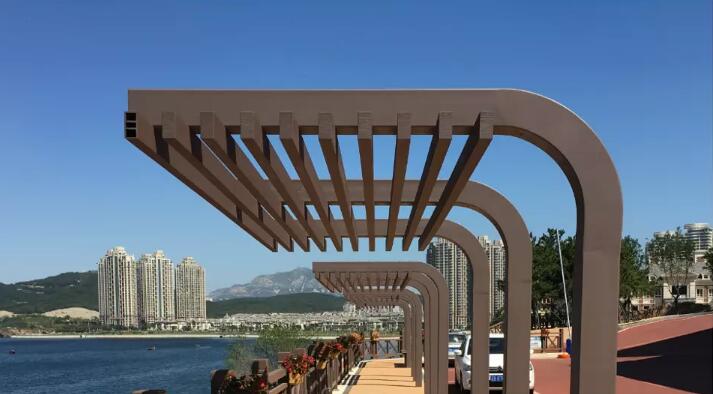 Q1:What is wood plastic composite Tube products?
WPC Tube is a new green building template material,It's a good product instead of steel board,bamboo and wood.
Which made of of 60%~65% natural wood fiber(professionally dry treatment),30%~35% of eco-friendly HDPE/PP/PE/PVC materials and 5%~10% chemaical additive(anti-UV agent,anti-oxidation agent,reinforcing agent,stabilizers,colorants,anti-fungus agents,coupling agent ect)
The service life of WPC is 15-20 years,it is suitable from -40℃~70℃.
It is light weight,waterproof,stronger,easy to install,smooth surface,no crack,less seams,sawing,can be nailed by keel,can be processed into any length and many other advantages.
Q2:Will WPC wall panel rot or decay like wood?                                                                                                       
WPC has been extensively tested under hostile accelerated aging conditions by outside laboratories. It is warranted to resist rot and fungal decay when properly installed and maintained.
Q3: Can you manufacture products according to sample?
A: Yes, We can produce by your sample or technical drawing, we can also help to develop new molds and texture.

Q4: Do you offer free samples?
A: Free sample is available with delivery cost paid by customer.
Q5: What is your payment term?
A: L/C, TT ,Western Union

Q6:What about your lead time?
A: Generally, 2-3 weeks after confirmation of your deposit payment. Specific time depends on order items and order quantity.
Q7: Do you check all your products' quality before delivery?
A: 100% checked before delivery.

Q8. What trade terms do you do?
A: FOB, CIF, EXW, or by customer's request.
Q9. What type of tools are required?
A:WPC Decking can be easily installed with standard woodworking tools, including hammer, skill saw, rasp, level, and square. Standard carbide saw blades with less than 20 teeth are recommended.
If u are interested in our WPC Tube or other WPC Products, Pls contact with us 
Admin@hanmingwpc.com 
Whatsapp:+86 18705825615
Skype: NICKWPC88