Garden Ideas and Designs with composite decking | back garden WPC composite decking
FOB shanghai Price:14usd/sqm –32usd/sqm
Brand: Hanming 
surface treatment:sanded, brushed, wood grain, groove
Advantages:Use of waste and recycled materials
Used for such as boardwalks , docks,Parks,Swimming pool and Gardens.Our WPC decking and others are slip resistant.
The raw material of the decking and others: 55% bamboo powder, 35% HDPE, 10% additive
A good design and idea of a garden is always on the floor,What kind of material is used for the floor of the back garden?I think there are a lot of answers.But now a lot of people choose wood-plastic composite floors.As composite lumber's advantages match the Back garden.
WPC flooring is made of wood fiber and recycled plastic, the finished products obtain nice appearance of solid wood, also the same touching. It's widely used in: 
1) Outdoor project–park flooring, swimming pool decking, outdoor chair, flower boxes, pavilion etc. 
2) Yard facility–garden flooring, fencing, log cabin etc. 
3) We researched a new item today, injection moulding WPC material, which have the characteristic of good liquidity, easy to mold unloading, low price and widely used such as clothes dryer, flower pots, etc. 
Compared with solid wood, WPC could anti-rot, anti-crack, anti-UV, waterproof, more durable in outdoor life.
As a new material which can save wood instead of wood, after more than ten years of independent development, wood-plastic composites are gradually developing into a new industry. In recent years, domestic enterprises are speeding up the application and development of wood-plastic composites in interior decoration furniture and other fields.
At present, it is widely used in foreign countries, and the downstream fields are related to architecture, decoration, furniture, logistics, packaging, garden, municipal, transportation and so on. People can not only see wood-plastic composite materials in the outdoor plastic wood gallery, plastic pavilion, green landscape, municipal facilities, but also in the interior decoration materials, home, floor and other fields, wood-plastic composite materials. It is also popular with consumers.
Anti-Slip Composite wood Design Feature:
WPC as a new type of environmentally friendly composite materials, with high strength,impact resistance,non-deformation,waterproof, anti-corrosion,anti-moth,anti-virus effect .
Physical Feature
Noise insulation, fire-retardant, processing obviously superior to a timber and plastic products,in order to hardwood standard modular design,light and easy to transport.
Envionmental Feature
No radiation, no formaldehyde and other volatile products,recyclable,green environmental protection.
Appearance Feature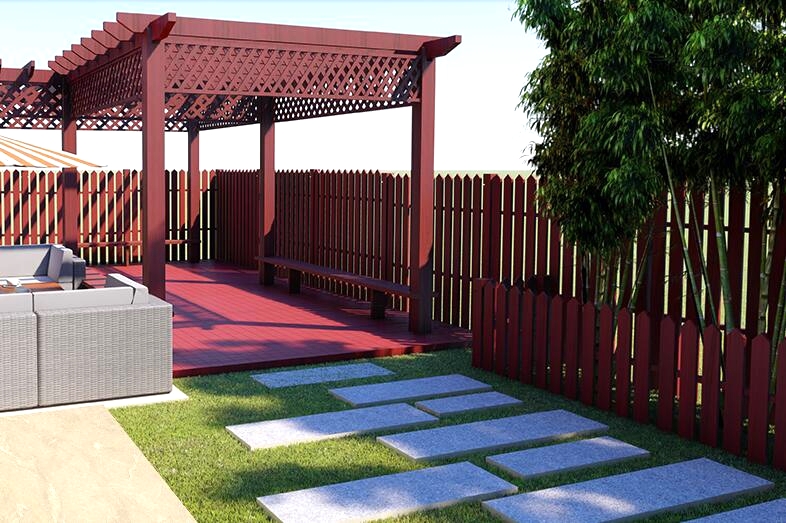 With a natural wood appearance ,texture. Better dimensional stability than wood, no wood knots,the product can be made into a variety of colors, the surface without secondary leaching paint.
                                      Garden WPC decking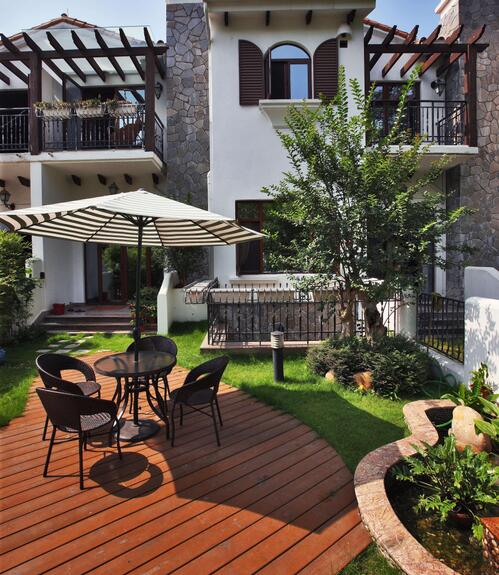 | | |
| --- | --- |
| Size | 140x25mm Hollow garden decking |
| Usage | Outdoor |
| Raw Material | 55% Wood Power+45%HDPE+5%Chemical additives |
| Color | Brown, Black,Coffee,Gray,Natural |
| Surface | Tongue & Grooved, Smooth,Brushing,Sanding,Embossing |
| Technique | Extrusion Molding |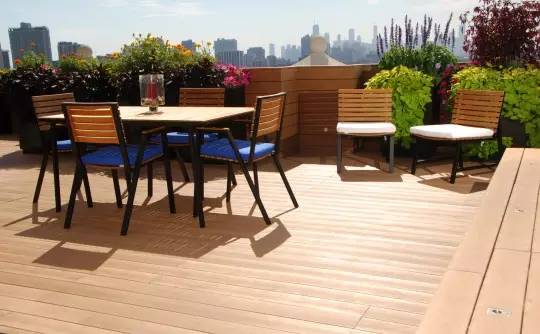 1. What Are The Main Advantages Of WPC products?
A: 1) First of all, the wood plastic materials are 100% recyclable;
     2) it is long-lasting, stable for the outdoor conditions, like sun exposure, rain, temperature ariations etc;
    3) it requires low maintenance; etc.
2. What is the regular proportion between the accesories and decking?
A:  Keel with decking:3-4:1
     End cover with decking: 1:1
     T-clip with decking: 20-25:1
3. Why the keel is neceary for the intallation?
A:  When we install the flooring, firstly the keels are fixed in the ground surface with the T-clip and then we put the solid decking board on the keels. You know the wpc decking board can't be put on the ground surface directly. For one thing, it can affect of the planeness of the flooring surface after installation. For the other thing, it is not good to control the drainage of the bottom, because the wpc decking board is mainly used for outdoor, which rains a lot. So keels must be used to hold the solid decking board when installed.
4. What the distance between two pieces of keel?
A:  About 30cm.
5. If there is one piece of the decking board broken, do we need to remove all the decking board to repair it?
A:  No. If replce the broken decking, you need to break the clips of both sides of the broken decking and then take the broken decking out, it's easy.
6. What's the regualr cleaning product for the wpc decking?
A:  The soapy water  or some of oiled paint is ok for the wpc decking.
back garden decking designs
When we have Ideas and Designs of a back garden and floor materials, we can consult the designer or browse some cases of garden floor.The pattern and color of the floor surface can be chosen as you like.The length of wood Plastic Composite Decking can be cut according to the length of the installation site.Garden ground woodiness material pavement can give a person to bring a kind of very strong affinity, warm sweet feeling.In addition, WPC is also a versatile decorative material of garden style, which can be used in classical style, rural style or American rural town style. There are many kinds of wpc materials on the market.WPC Pergola, WPC Pavilion can also be installed in the garden.
If you are interested in our WPC Garden decking , pls send inquiry to us,
or mail to admin@hanmingwpc.com
whatsapp:+86 18705825615