6′ x 6′ cheap composite waterproof wpc Fence | Affordable high quality backyard wpc fence
Place of Origin:China
Product name:WPC Fence
Metal Type:Aluminum
Frame Material:metal
Size:1.8*1.8m(6′ x 6′)
Price:90Usd/pc
Function:Water-proof,easyclean
Application:Garden, Park, House
Color:Teak,Red,Chocolate,Wood,or Customised
Feature:Easily Assembled, Sustainable, ECO FRIENDLY, Waterproof
Fence Panel Material:Wood + HDPE +Additives
Usage:Garden Fence, Highway Fence, Sport Fence, Farm Fence
Imitation wood and better than wood –WPC Fencing ,made of wood plastic composite materials.More and more WPC Fences are appearing around you and me, in the park district, courtyard garden, road riverside, with the anti-corrosion and anti-mildew effect beyond.
Advantages of composite wpc Fence: bright color, bright surface, high strength, strong toughness, corrosion resistance, antistatic, no fading, no cracking, no embrittlement.The varieties are diverse and beautiful, suitable for residential areas, courtyards and villas.Because wood usually has a certain growth period, WPC balustrade  is conducive to environmental protection. Its service life is also longer than ordinary wood balustrade, ensuring the stability of the environment.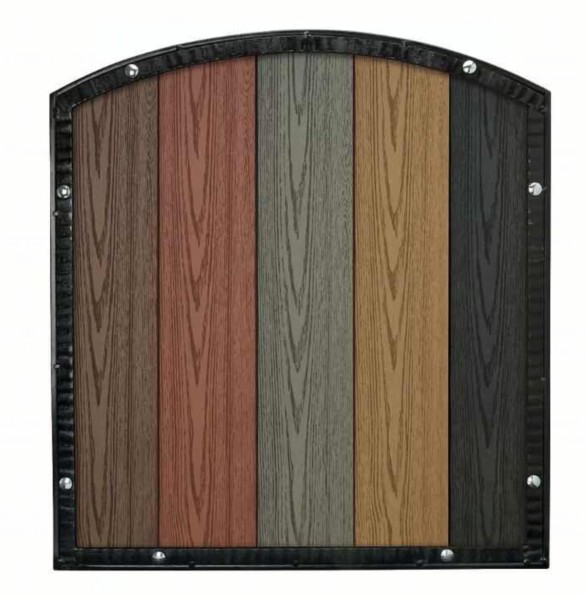 There are many different designs for WPC Fencing,Common spans of WPC Fence are 1 meter, 1.2 meter, 1.5 meter, and 1.8 meter.The modeling style of plastic wood Fence can be customized according to the design needs of the project.WPC Fence is commonly used in Britain, Germany and other European countries, and it is generally used for backyards, golf courses, horse courses, parks and other places.WPC Fence of high quality is not cheap, but it is affordable.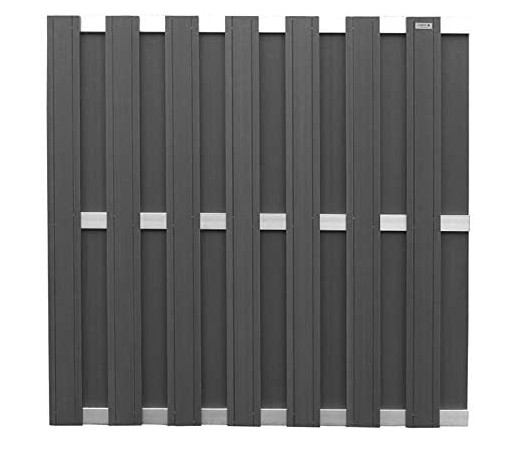 Our Affordable high quality  Fencing is a wood-plastic composite product. The Fence panel surface comes in many colors to give a natural wood appearance without the wear and tear of actual wood. This fence material requires little to no maintenance which in turn saves money.WPC Material is also waterproof, its water absorption rate is only 0.6%.It is engineered to endure harsh weather abuse which includes rainstorms, heatwaves and snow.This material looks and feels like wood and has the durability of strong plastic.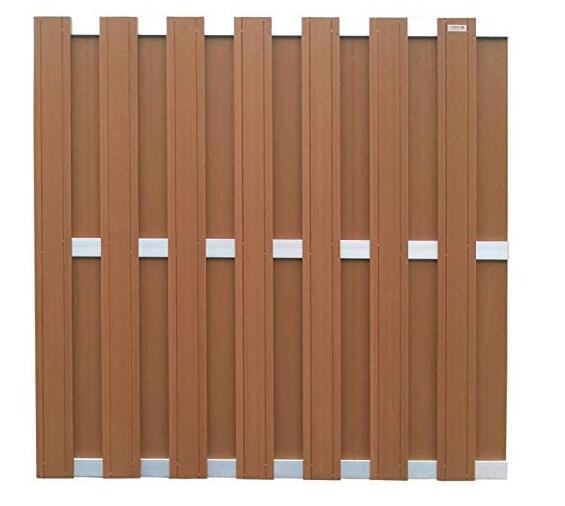 Wholesale WPC Fencing from China—Hanming WPC Group
Privacy fence is very popular in Australia, Europe, and American. Compared to traditional rail fence, This fence not only HAS better Mechanical properties but also a more durable lifetime and also provides a more beautiful appearance and easier installation.Standard size:6′ x 6′ or 1.8 x 1.8 Meters (Width x Height).This classic styled 6ft. x 6ft fence is designed to complement all homes.It can be used as a barrier for a garden or for security and privacy.It comes in two beautifully striking colors, Mocha and Gray. Both made for easy installation and with the best quality materials. It's a lightweight fence panel is designed to add instant curb appeal to your home. Comes with two posts, fence boards and all necessary accessories Seamless design made for all fence patterns Professional grade composite – Requires low maintenance Easy Install. Made to expand your fence easily Made to be very durable.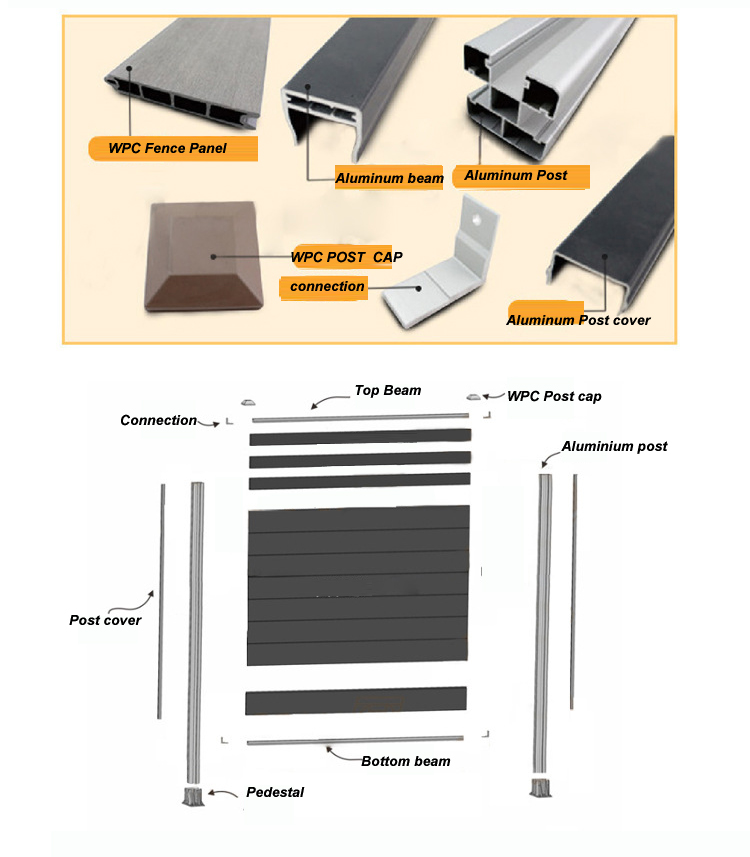 This is our another style of Fence
Outdoor Fencing, WPC Privacy Fence Boards Manufactuer, Maintenance Free Garden Fencing For Sale from China.
WPC fencing is a natural wood flour and polyethylene plastic polyethylene plastic as the main raw material,, then add some of the necessary chemical additives,wpc fencing is widely used in landscaping and municipal projects
like water platform, parks, garden, sides of the cliff, river and lakeside etc.
1) Style: Private Fence
2) Material: Wood Plastic Composite(WPC) + Aluminum
3) Fence Colors: Grey, Brown, redwood etc..
4) Standard size: 1.8(W)x1.8(H) or 2.0(W)x1.8(H)
5) Applications: Garden landscape, square, port, waterscape, dock, municipal gardening etc 
6) Features: Low care, No color fade,Easy and fast installation, No painting or protective lacque application necessary, Fully recyclable etc..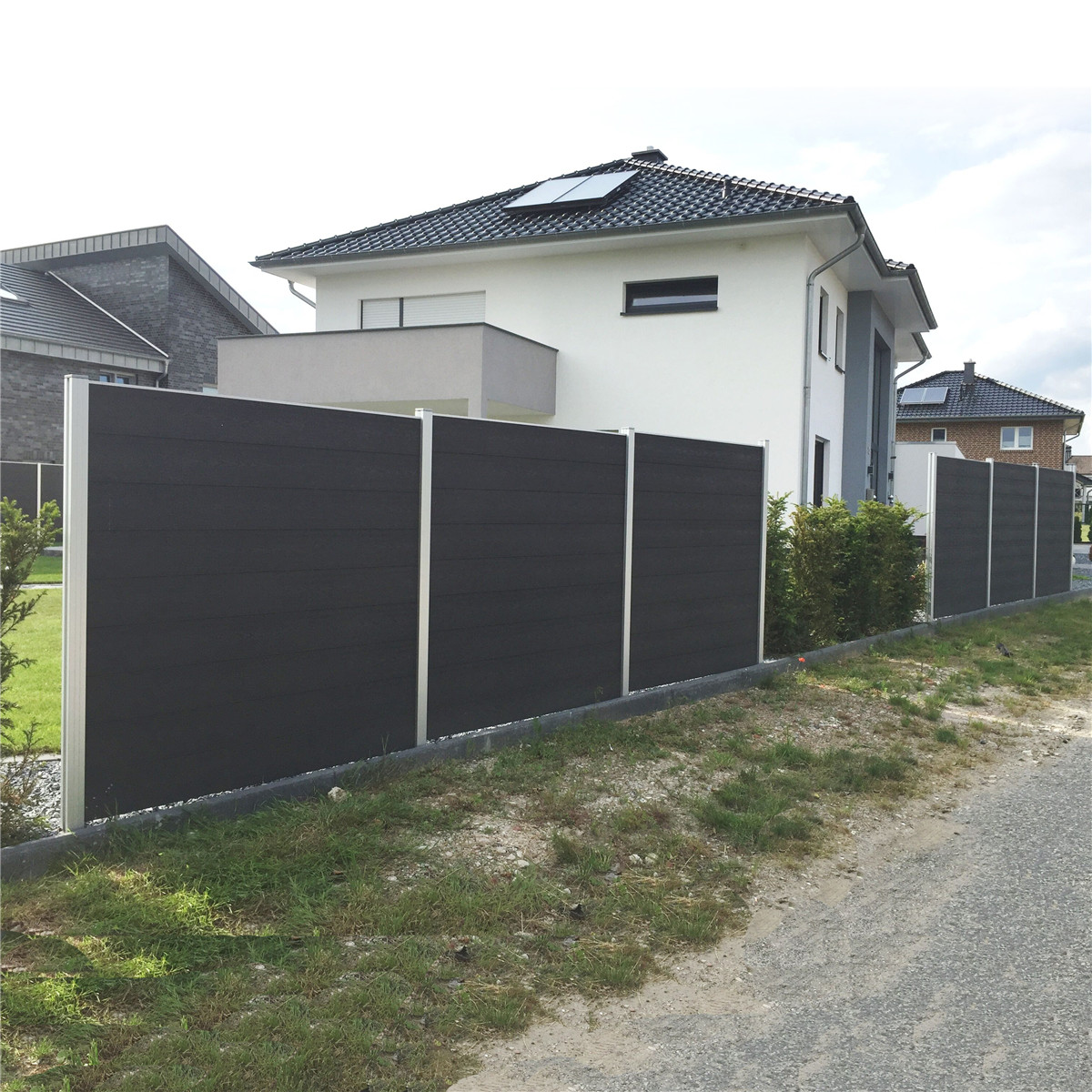 Sample:Sample is free ,freight charge need paied by customer
The WPC Fencing that Uses for outdoor, what should have above all is the advantage of waterproof and moistureproof, So don't worry about damaging the outdoor Fence too much even in rainy and snowy days.Composite fence has such advantages, which fundamentally solves the problem that wood products are easy to rot and deform after absorbing water and moisture in wet and multi-water environment, which can not be realized by traditional ordinary boards.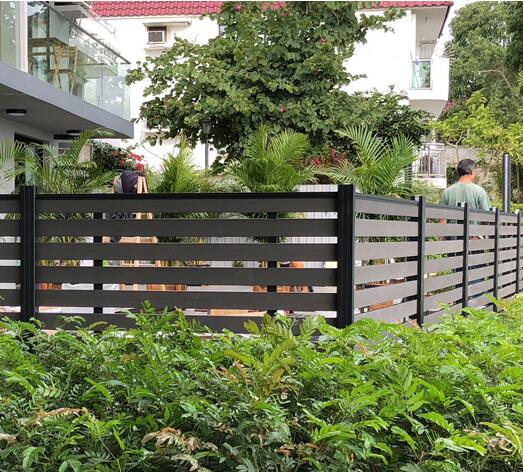 Many people think that WPC Fence is not cheap, but in fact many clients buy our Fence and think that it is worth the price and affordable.As the material of WPC Fence USES WPC and aluminum alloy, this kind of product does not need maintenance in the later stage, which is also the reason why the customer thinks the price is not expensive.This type of product is a high quality Fence for outdoor.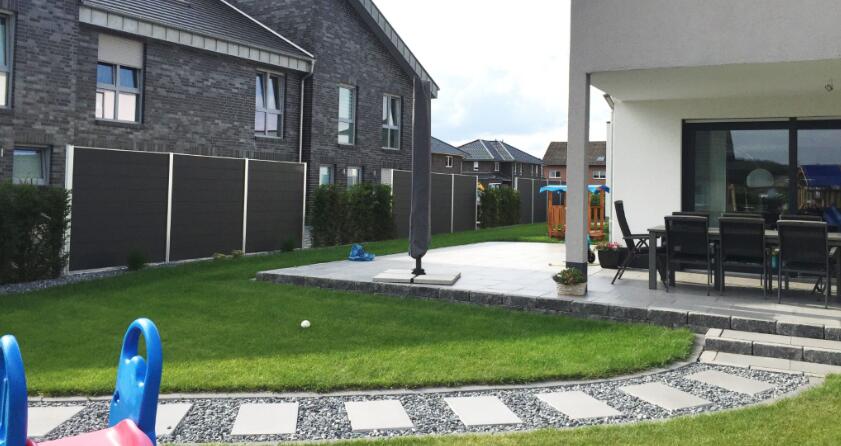 About the WPC Fencing Order:
1.WPC Fence is generally priced by  meters or PCS.
2.Please inform US  the specific style, specification and quantity of WPC Fence you need, so that we can give you a quotation.If you have not confirmed the style and specification, you can tell us Some information About the fence Project. We will recommend the appropriate style and specification of WPC Fence and related accessories according to our professional experience.
3.Due to the large number of product specifications and colors, most of the specifications need to be ordered for production. According to the order quantity (moQ 50 PCS), the delivery time is generally 5-15 days.
Our Email : Admin@hanmingwpc.com