best timber for decking in UK and Australia from China | WPC flooring UK and Australia
Price:14usd/sqm-22usd/sqm
Brand: Hanming WPC 
Product name:Hanming wpc solid wood plastic composite Co-extrusion decking
Application of composite decking:outdoor decking,garden decking, swimming pool decking, marina decking
Color:Teak,Redwood,Coffee,Light grey, Brown, Black,etc
Length:2.2m,2.7m,5.4m,or customized
Type of composite decking:Solid grooved wpc decking
Surface treatment of composite decking:Grooving, Sanding, Embossing
Maintenance of composite decking:Requires no painting, no glue, low maintenance.
Features of floor tiles:Durable,Waterproof,mothproof, Anti-UV, Anti-slip, etc
Lifetime:25 Years grooved wpc decking
Weather ability: -40c~60c
Many friends in the UK and Australia talk about which material for deck to use.Because in Britain and Australia, the construction of deck is quite common,in front of many villas are built a deck, for leisure, sunshine and so on.Then the choice of deck materials has become a topic of discussion.
Traditional DECK material is made of wood.However, due to the shortcomings of the wooden floor itself, composite flooring has become popular now. At the moment, the best timber for deck is composite decking in the UK and Australia.
Providing a fresh and modern yet natural look that is easy to clean and maintain,grooved wpc decking offers a great alternative to traditional timber decking.
If you are thinking about installing decking in your garden and are undecided about which material to use, take a look at what composite wood decking is and the multiple advantages of this alternative form of decking.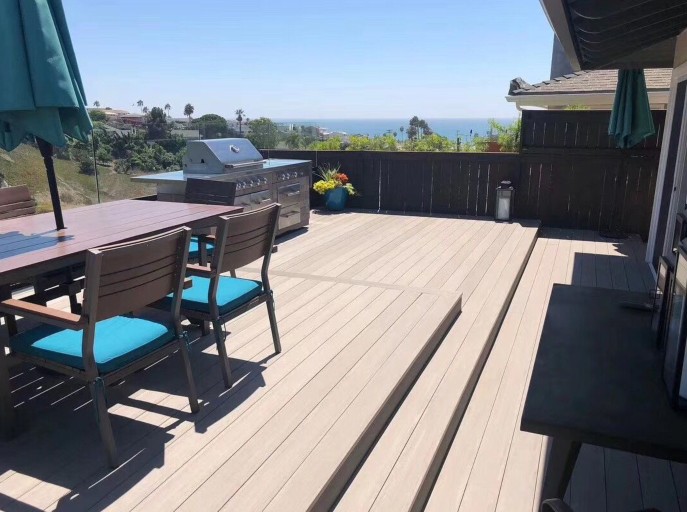 Main Features of composite decking boards for Deck.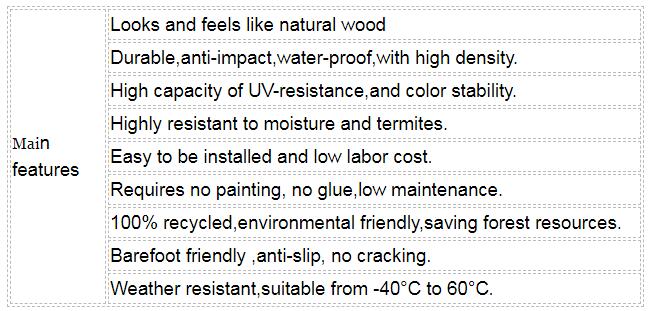 It is precisely because of these characteristics of the composite  lumber, as the raw material of deck, adapts well to the environment of UK and Australia.
best deck material—WPC decking is extruded by exturder under high temperature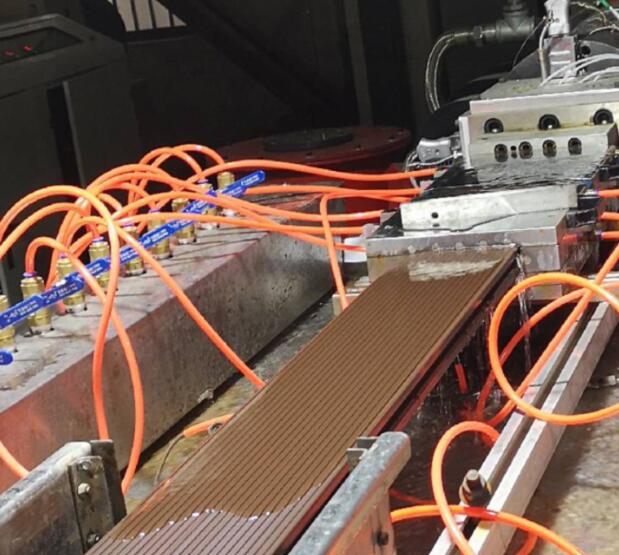 Composite wood has come a long way in terms of variety, offering a wide array of natural-looking wood shades.
Composite decking has an average lifespan of 20 years with only minimal upkeep in comparison to natural wood decking
 composite decking will save you time, energy and money in the long-run, there is no such thing as a truly no-maintenance decking material.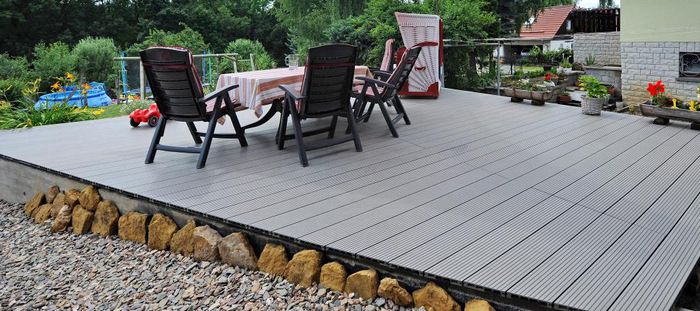 we focus on production new type environmental protection wood plastic composite material——WPC.w ood plastic composite new material is green energy-saving &environmental protection product. Our main products: outdoor floor, fence,composite Siding ,pavilion,outdoor table and chair,  gallery pergola, Pavilion, etc. Hanming provide high quality, low cost, superior performance of the new type outdoor environmental protection material for domestic and oversea customers.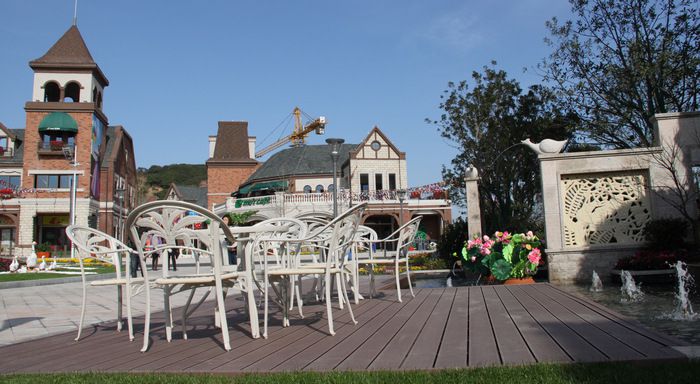 After modification, wood plastic composites have been widely used in many fields due to their good dimensional stability, mechanical strength and corrosion resistance. At present, all kinds of wood-plastic composite products have been widely used in the United Kingdom, Australia and other countries, forming a certain scale of industry and market.
In the UK or Australia, if you might as well consider importing from China in order to choose DECK materials, of course, this also has to be based on a certain quantity, which will bring you more convenience and cost savings.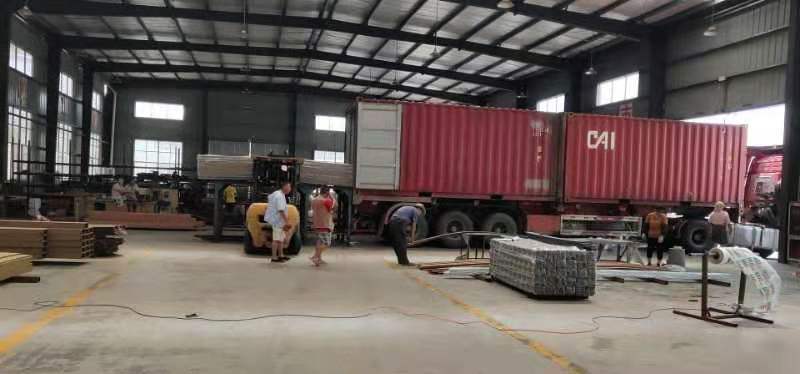 1.We are offering 24 house online service for customer enquires.
2.We provide individual customization service from tooling to the finished products, enable to customize your own WPC that meet your market needs. (Any WPC product customization can be provided)
3.We ensure you to have a competitive price with good quality products.
4.We provide installation instruction, as well as installation team (if customer can provides visa for them).
If you are interested in WPC from China, welcome Send us email to Admin@hanmingwpc.com 
You may want to know  How to install composite decking for deck